Palm Jaggery or madha god (as known in Goa) gives the Coconut Palm Jaggery Filling or chunn (Konkani) its distinct flavor. This filling is used to stuff pancakes as also other Goan sweets like patoleos, holles, sweet sannas, etc. It is very easy to make the filling and the filling can be stored in the refrigerator for 7 to 10 days at 4° c and below.
In the recipe entailed below, I have used both palm jaggery and sugarcane jaggery. The palm jaggery for the flavor and sugarcane jaggery for the sweetness, thus balancing the overpowering flavor of the palm jaggery. Enjoy as and when required to make a delicious evening snack to accompany your cup of tea.
Prep. Time: 15 Mins.
Cooking Time: 4 Mins. on low heat
Ingredients:
[ Standard Measure – 1 cup = 250 ml ]
Coconut (semi-ripe, grated) – 1 ½ cup (tightly packed)
Palm Jaggery (grated) – 1/3 cup
Sugarcane Jaggery (grated) – 1/3 cup
Powdered Sugar – 2 tbsp. (optional)
Cardamom Powder – ¼ tsp. or to taste
Salt – a small pinch
Step 1: Mix 1 cup grated coconut and the palm and sugarcane jaggery. Then put this mixture in a non-stick pan and place on low heat. Add the remaining grated coconut, powdered sugar and mix. Allow to cook for a minute or two and then take off the heat.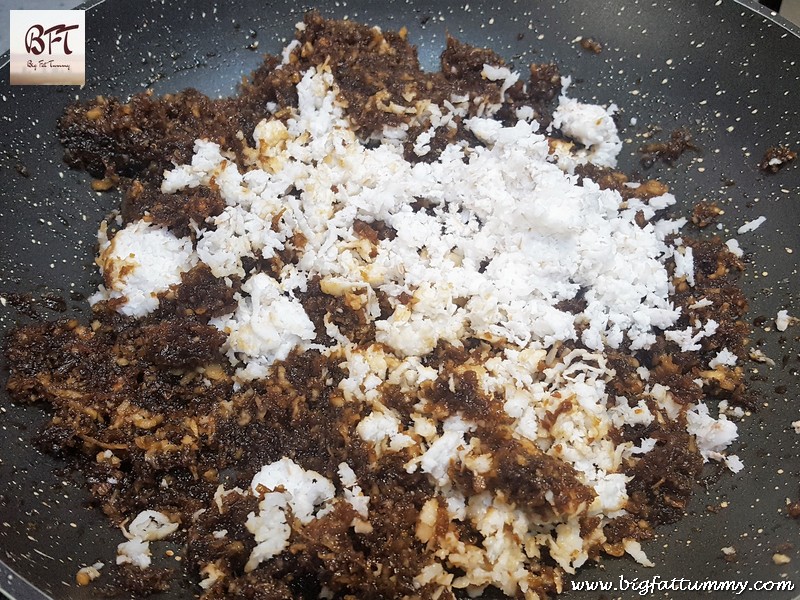 Step 2: Add the cardamom powder and mix well. Allow to cool before storing or using it for your sweets
Notes:
Always cook on low heat. Do not cook for a long time.
Try and use only semi-ripe coconut. If you can't get your hands on some and are using a ripe coconut, add a tbsp. or two of water to add to the moisture.