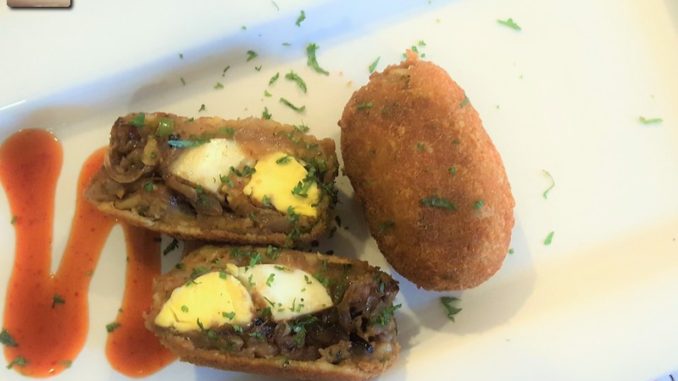 Potato Chop is potato mash stuffed with meat or vegetables and deep/shallow fried. Varied variations of the dish exist in different parts of India. Some eat it just the way it is or some prefer to eat it with pao. Try the egg potato chop – the caramelized onions give it a nice flavour.
Serves: 3 to 6 Persons
Prep. Time: 40 Mins.
Cooking Time: 10 Mins.
The Potatoes:
Potatoes (boiled) – 3 large
Onion (finely chopped) – 1 medium
Garlic (finely chopped) – 6 cloves
Green Chillies (deseeded and finely chopped) – 1 or 2
Corriander Leaves (finely chopped) – 2 tbsp.
Red Chilly Powder – 1 tsp.
Corriander Powder – 1 tsp.
Cumin Powder – ½ tsp.
Garam Masala Powder – 1 tsp.
Olive Oil / Butter – 2 tbsp.
Salt – ½ tsp. or to taste
The Stuffing:
Eggs (hard boiled) – 3
Onions (sliced) – 3 medium
Pepper Powder – ¼ tsp.
Chaat Masala – ½ tsp
Sugar – ¼ tsp.
Salt – a pinch
Oil – ½ tbsp.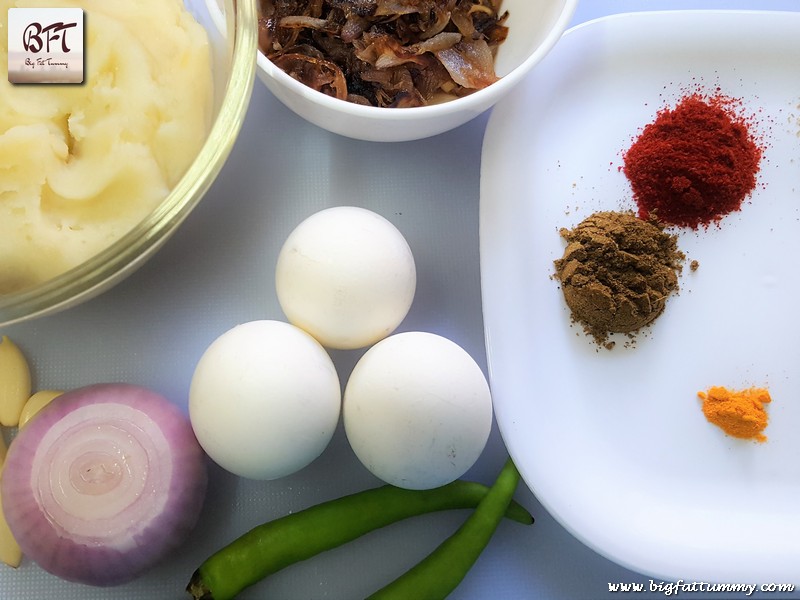 Coating:
Egg – 1
Breadcrumbs (Panko/regular) – 1 cup
Salt – a pinch
POTATO COVERING:
Step 1: Grate the boiled potatoes and season with salt and keep aside.
Step 2: Heat oil or butter in a pan. Add the garlic and sauté for 30 seconds on medium heat. Add the onion and the green chillies and sauté for a minute.
Step 3: Add the spice powders and sauté for 30 seconds. Add the grated potatoes and mix for about 1 ½ minutes. Season if needed.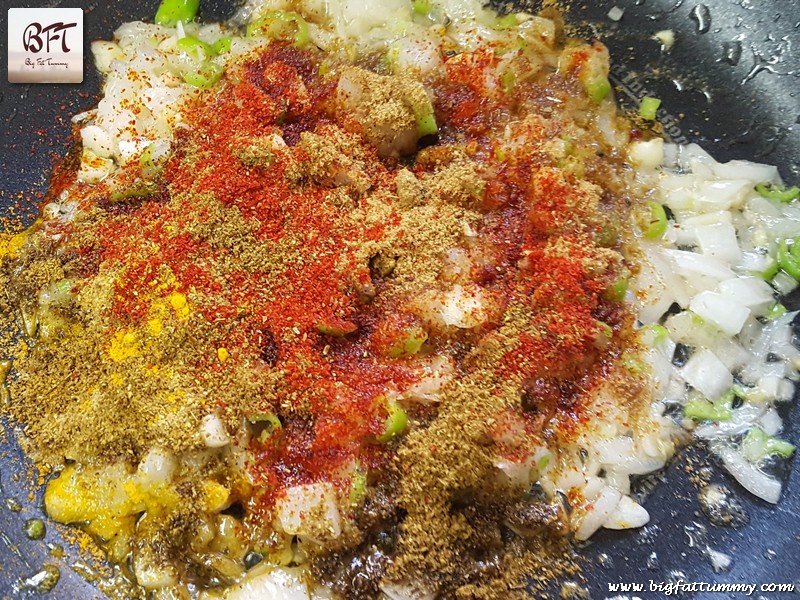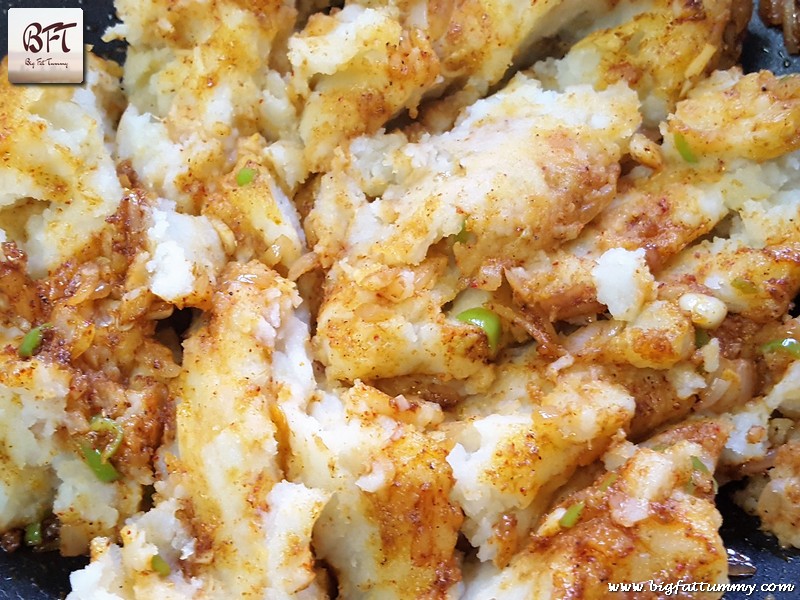 Step 4: Turn of the heat. Add corriander, mix and while still warm divide the mash into 6 portions.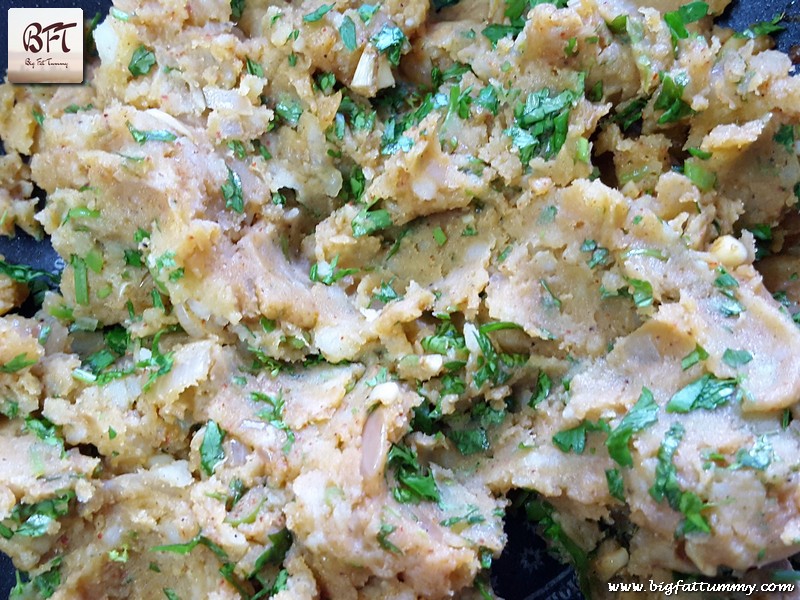 STUFFING:
Step 5: Heat ½ tsp. oil in a pan. Add the sliced onions and ¼ tsp sugar and cook on low heat till they start browning (caramelizing) Switch off the heat.
Step 6: Halve the eggs and season with salt, pepper and chaat masala.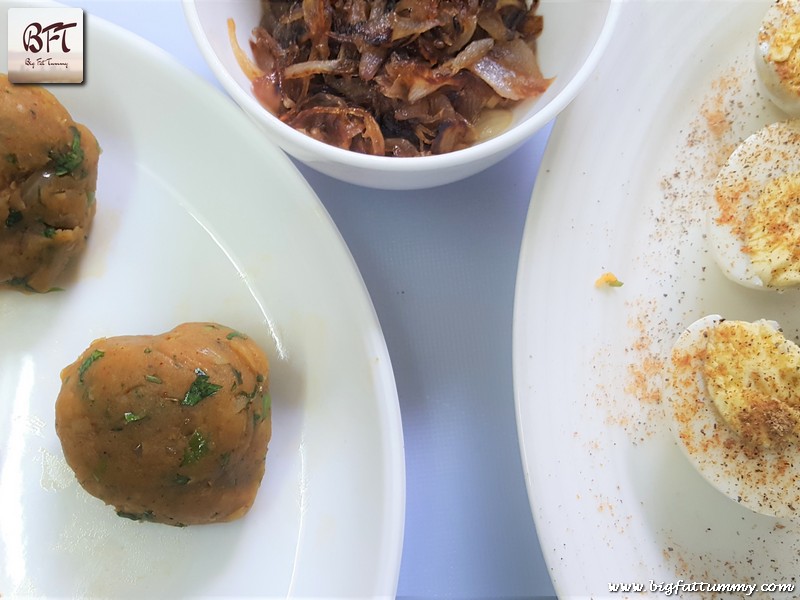 ASSEMBLY:
Step 7: Take one portion of the potato mixture and flatten it on your palm. Place an egg half in the centre and a little caramelized onions on it. Use the potato mixture and cover the stuffing with it. Shape it oval like an egg. Repeat for all portions to make 6 chops.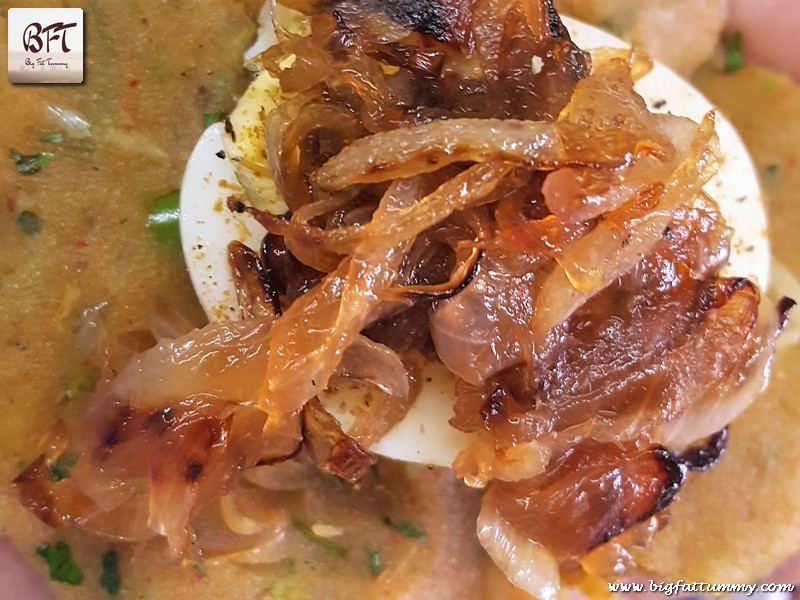 Step 8: Beat the egg with 2 tbsp. of water to make an egg wash. Season it with salt. Blitz the panko bread crumbs.
Step 9: Arrange your chops, the egg wash and panko bread crumbs. Dip your chops in the egg wash and then roll in the panko bread crumbs. Repeat again to double coat it. Do this for all 6 chops.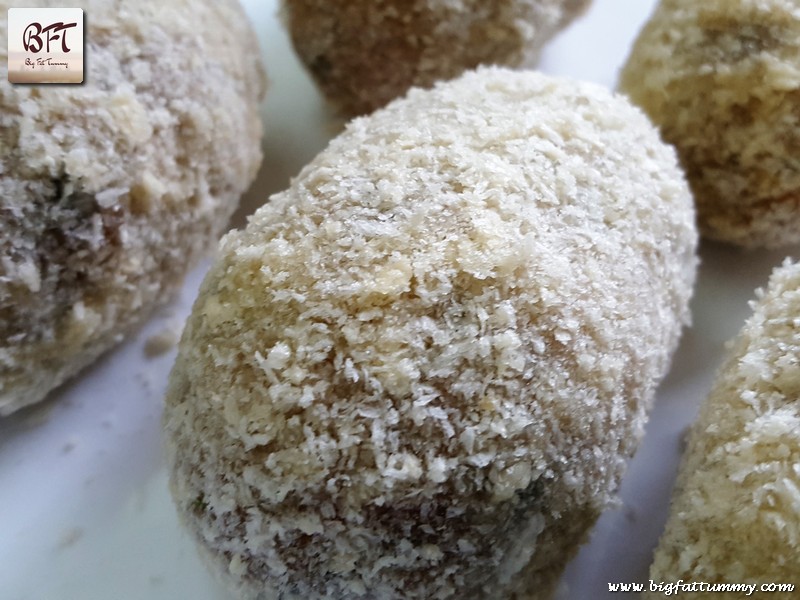 Step 10: Arrange the chops on a flat plate, cover with cling film and refrigerate for 30 to 40 minutes.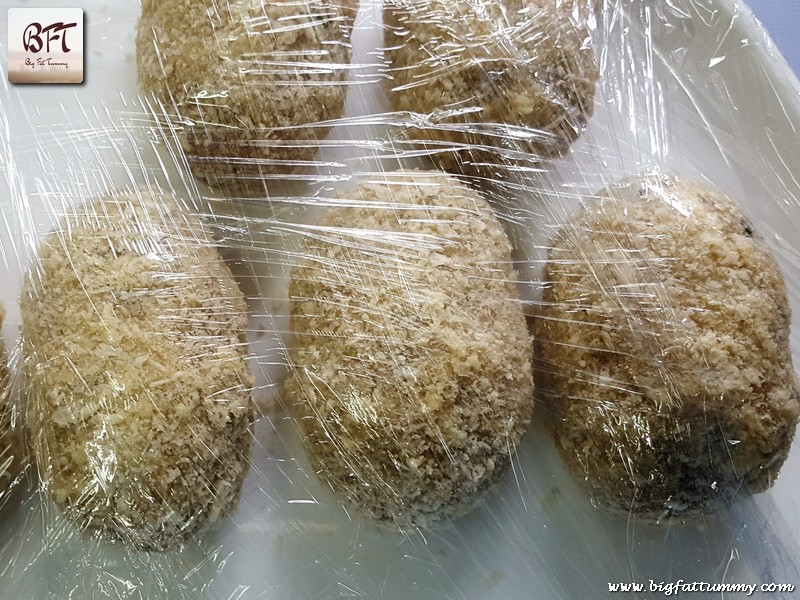 FRYING:
Step 8: Take oil in a pan suitable for deep frying. Heat the oil (check by sprinkling a crumb or two to check if it is hot enough). Deep fry the chops two at a time on medium heat till they are a nice golden brown. When done, drain and place on a plated lined with paper towels.
Your egg chops are ready to be devoured. Fry them just before meal time so that they are served warm.