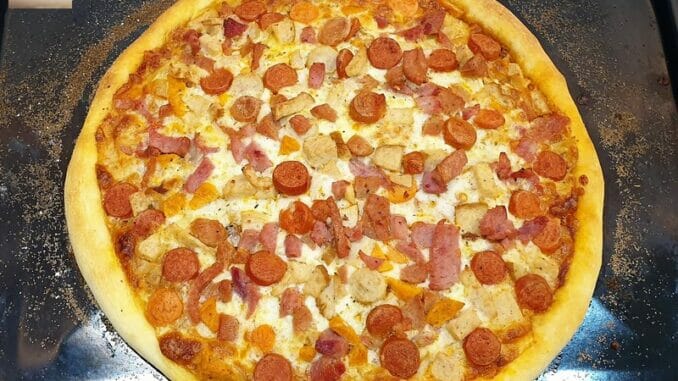 The Meat Feast Pizza is made with homemade dough and Pizza Sauce. It is a favourite with my kids and naturally this is my first Pizza post. To make the Meat Feast Pizza, you will need to make the dough (click here) and the Pizza Sauce (click here) before you begin to assemble the Pizza. You need mixed cold cuts like sausages, ham, etc. for the toppings. The Meat Feast Pizza is a delicious Pizza which children and adults alike will like.
Yield: One 12 inch or two 6 inch
Prep. Time: 15 Mins.
Baking Time: 12 to 15 Mins
Ingredients:
[ Standard Measure: 1 cup = 250 ml ]
Pizza Dough – 1 Portion (click here)
Pizza Sauce – 2 to 3 tbsp. (click here)
Mozarella Cheese (shredded) – ½ cup or more
Mixed Cold Cuts (chopped) – 1 cup or more
Pizza Seasoning – ½ tsp.
Olive Oil – 1 tbsp.
Corn Flour – 1 tbsp. (for dusting)
Wheat Bran – a little (for sprinkling – optional)
Chilly Flakes – as needed (for topping – optional)
Step 1: Take a baking tray of size 14 x 18 inch and sprinkle the bran over it. Dust your palms with the corn flour and place the dough onto the baking tray if making one 12-inch pizza or divide into two portions and then place on the tray to make 2 x 6-inch Pizzas.
Step 2: Dust your palms again and spread the dough with your palms to flatten and form a circle of 12 inches round (Press out from the center and spread. Form a ½ inch rim along the edges of the circle)
Step 3: Take a fork and pierce the flattened dough lightly all over as shown in the picture (Do not pierce through)
Step 4: Brush the olive oil all over the surface and the edges of the flattened dough.
Step 5: Next spread the pizza sauce evenly (Leave the rim un-coated).
Step 6: Spread the cheese all over and sprinkle the pizza seasoning all over.
Step 7: Now spread the chopped cold cuts all over.
Step 8:     Set your oven to pre-heat for 15 to 20 minutes at 230° C. After the oven has pre-heated, put your pizza tray in and bake at 230° C for 12 to 15 minutes till the edges look golden.
Step 9: Later, take out of the oven and sprinkle the chilly flakes all over (optional) and slice the pizza with a pizza cutter and serve hot.
Note:
We recommend using wheat bran, but in case you don't have it, you can sprinkle corn flour on the baking tray.