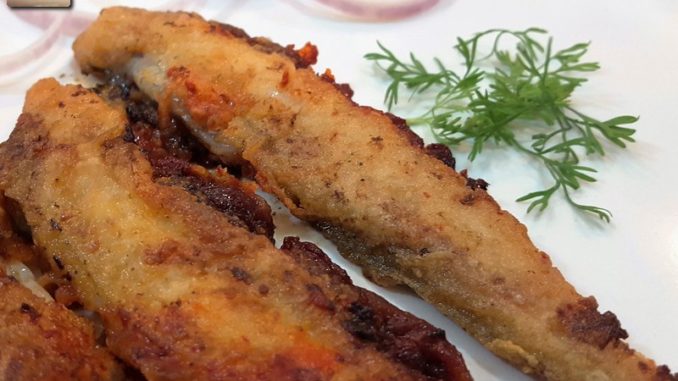 Bombay Duck, the misnamed fish, is iconic to Maharashtra's seafood cuisine. The fish is found all along the coast of Maharashtra and also along Bengal and Bangladesh. The fresh fish is juicy and will just melt in the mouth. Try this Goan style Bombay Duck Recheado which tastes yummy.
Serves: 3 to 4 Persons
Prep. Time: 20 Mins.
Cooking Time: 20 Mins. (active)
Ingredients:
Fresh Bombay Ducks [bummalo, bombil] (cleaned and deboned) – 10
Onion (finely chopped) – 1 small
Recheado Masala (click here)– 2 ½ tbsp.
Lime Juice – 2 tsp.
Salt – 1 ½ tsp.
Rice Flour / Semolina / Corn flour – ¼ cup
Oil – 1 tbsp. + for shallow frying
Step 1: Apply salt and lime juice to the cleaned Bombay Ducks and allow to marinate for 30 minutes.
Step 2: Heat a tbsp. of oil in a small pan, add the onion and sauté for a minute. Add the recheado masala and sauté on low heat for a minute and a half. Take off the heat and let the stuffing cool completely.
Step 3: Squeeze the marinated bombils gently to drain excess fluids. Lay each bombil flat with the slit portion facing upwards. Spread the stuffing along the centre and fold the bombils.
Step 4: Roll in the rice flour and shallow fry in two batches, 4 to 5 minutes on each side, on medium heat till the coating is crispy.