Instead of having your children eat ready to eat processed foods as snacks, it is better to feed them these fun cheesy potato squares. You can also serve the cheesy potato squares a vegetarian option for an appetiser at your parties. They are easy to make and delicious. You can make the squares and store in the deep freezer and fry them just when you want to serve them.
Yield: 10 to 12
Prep. Time: 30 to 40 Mins.
Cooking Time: 10 Mins.
Ingredients:
[Standard Measure – 1 cup = 250 ml]
Potatoes (boiled, peeled & grated) – 250 gms
Pizza Cheeze (a mixture of mozzarella & cheddar – grated) – ¼ cup
Garlic Paste – ¼ tsp.
Paprika Powder – ¼ tsp.
Mixed Italian Herbs – ¼ tsp.
Black Pepper Powder – ½ tsp.
Bread Crumbs – ¼ cup + as needed for coating
Corn Flour – 1 tbsp. (optional)
Maida [APF] – ¼ cup
Oil – for deep frying
Salt – ½ tsp.
Step 1: Take the grated potato in a bowl and add all the ingredients except the maida, oil and bread crumbs. Add only ¼ cup bread crumbs and knead into a smooth dough. Divide the dough into 10 to 12 portions and shape each portion into a square.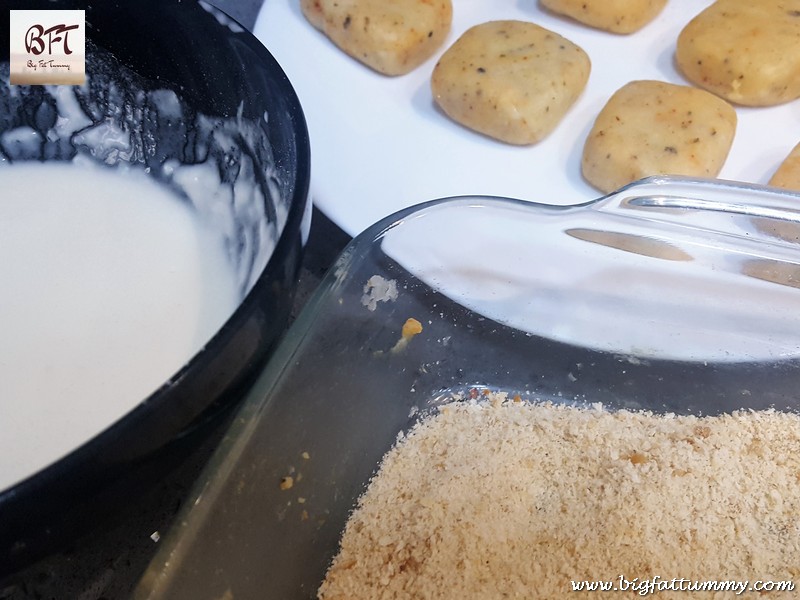 Step 2: Take the maida in a bowl and make a slurry of it using 80 ml water.
Step 3: Place the bread crumbs on a flat plate. Dip each square in the maida slurry and coat with bread crumbs. Place them on a plate and cover with cling film and keep in the deep freezer for at least 30 minutes before deep frying.