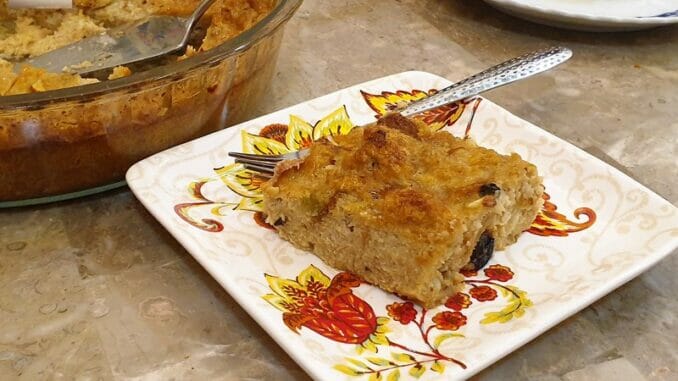 The Hot Cross Bun Pudding has been made with the left over Hot Cross Buns (Click here). But you can also make it with plain bread by adding a few raisins. It is very easy to make and tastes delicious. I have used brown sugar in the recipe but you can also use regular sugar if you don't have it. (For more Pudding Recipes, click here)
Serves: 6 to 8 Persons
Prep. Time: 15 Mins.
Cooking Time: 40 to 45 Mins.
Ingredients:
Hot Cross Buns – 4 (200 gms)
Full Cream Milk (at room temp.) – 700 ml
Eggs – 3
Almonds (chopped) – 15
Brown Sugar – 4 tbsp.
Honey – 4 tbsp. + for brushing
Nutmeg (grated) – ½
Vanilla Essence – 1 tsp.
Lime – ½ (optional)
Salt – a small pinch
Step 1: Set your oven to pre-heat at 180° C.
Step 2: Tear the buns into small bits and place in a baking dish and sprinkle the chopped almonds all over.
Step 4: Take the sugar, salt, honey and the nutmeg in a mixing bowl and mix well. Add the milk, eggs and vanilla essence and whisk again. Then pour this mixture over the bread in the baking dish.
Step 4: Squeeze the juice of the ½ lime into the baking dish and lightly mix all ingredients.
Step 5: Bake at 180° C for 40 to 45 minutes. Brush with some honey (optional) and serve warm with a scoop of vanilla ice cream.