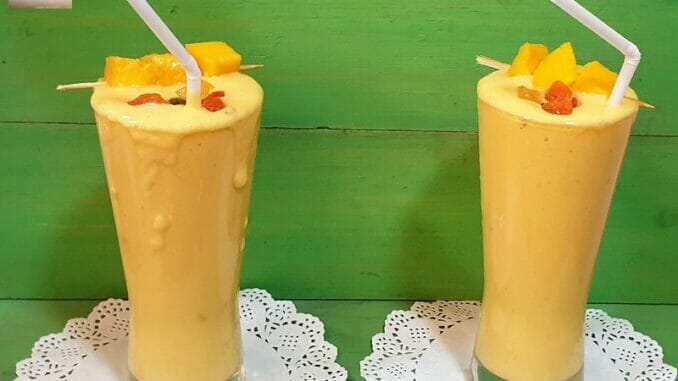 Who can miss a chilled Mango Milkshake in the Mango Season? Fortunately, both Summer and the Mango Season coincide. And all the mango lovers use the fruit in all types of dishes, desserts and drinks. We have quite few recipes using mango which might interest you and which you can find here. But enjoy the Mango Milkshake for now.
Serves: 2 Persons
Prep. Time: 15 Mins.
Ingredients:
[ Standard Measure: 1 cup = 250 ml ]
Ripe Mangoes (pulped) – 2 (about 1 ½ cup)
Milk (boiled, cooled & chilled) – 500 ml
Milk Powder – ¼ cup
Sugar (castor or powdered) – 2 tbsp. or to taste
Take all the ingredients in a blender and blend till smooth. Serve garnished with some mango pieces and tooti frooti.
Notes:
You can add ice cubes while blending. I did not use as the kids were also going to have it.
You need to adjust sugar according to the sweetness of the mangoes.
The secret ingredient is Milk Powder – My Dad used to use it. Makes the Mango Milkshake tastier.