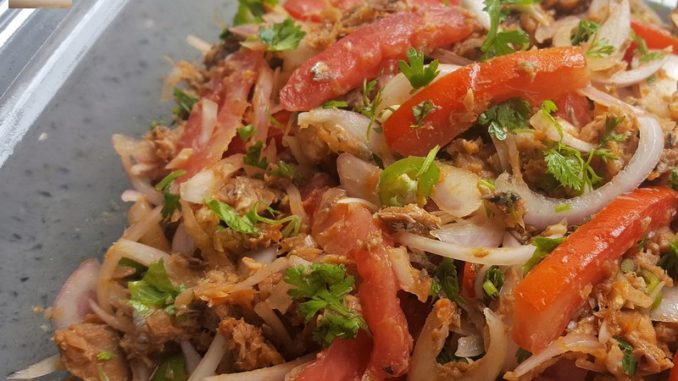 The Goan mackerel salad is an easy to make salad commonly served at a family get-together or at lunch/dinner. You can use canned mackerels (in brine/oil/tomato) or you can use my recipe for mackerels in tomato (click) for the salad. Or you can also boil some mackerels and use them instead (see note below).
Serves: 2 to 4 Persons (as a side)
Prep. Time: 10 Mins.
Ingredients:
Mackerels (tinned/boiled/my recipe) – 4 to 6 pieces
Onions (sliced) – 3 medium
Tomato (deseeded) – 2 medium
Light Green Chillies (deseeded & finely chopped) – 2 to 3
Green Corriander (finely chopped) – 2 tbsp.
Palm Vinegar – 1 tbsp. or to taste
Sugar – ½ tsp. or to taste
Salt – ½ tsp. or to taste
Step 1:     Mash the mackerels with a fork and keep aside.
Step 2:     Mix the sliced onions, tomatoes, chillies, sugar, salt and vinegar with your clean fingers.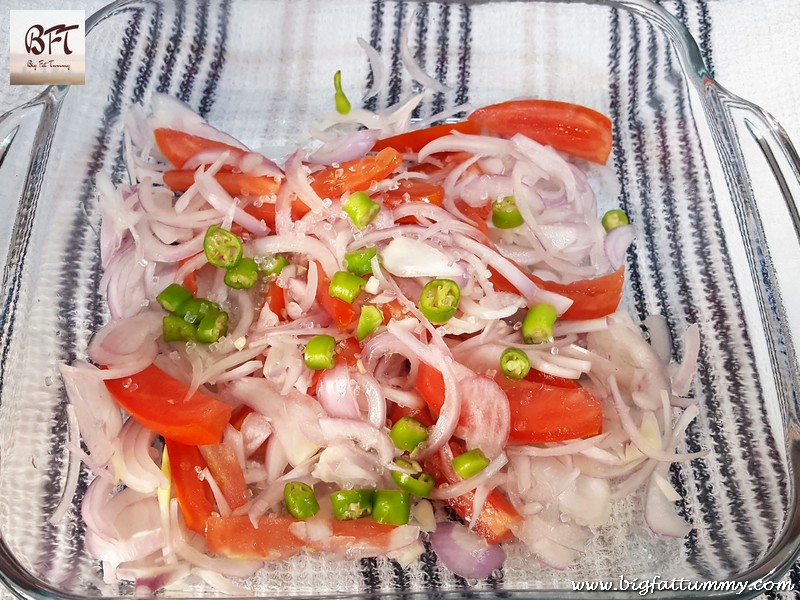 Step 3:     Add the mackerels to the salad and mix well. Garnish with corriander.
Note:
You can use lime instead of vinegar.
For boiled mackerels – Steam 2 medium mackerels with ½ tsp. salt, ¼ tsp. ginger-garlic paste, 4 black peppercorns and a small pinch of turmeric in 100 ml water for 10 minutes, covered, on medium heat. Cool, de-bone and flake.