Breadfruit is a fruit found all over the world. Breadfruit is used at different times of its maturity to cook various different dishes from savouries to desserts. It is known to people of Goa as neer phanas or nirponos and is popularly used in coconut curries or is also served shallow fried. The Goan Prawn Breadfruit Verdur is a combination of  prawn and breadfruit in a peppery coconut milk curry and it tastes just fantastic. (Click here for traditional Dry Prawn Pumpkin Verdur or here  for a short cut version with fresh prawns)
Serves: 6 Persons
Prep. Time: 30 Mins.
Cooking Time: 10 Mins. (active) + 20 Mins. (passive)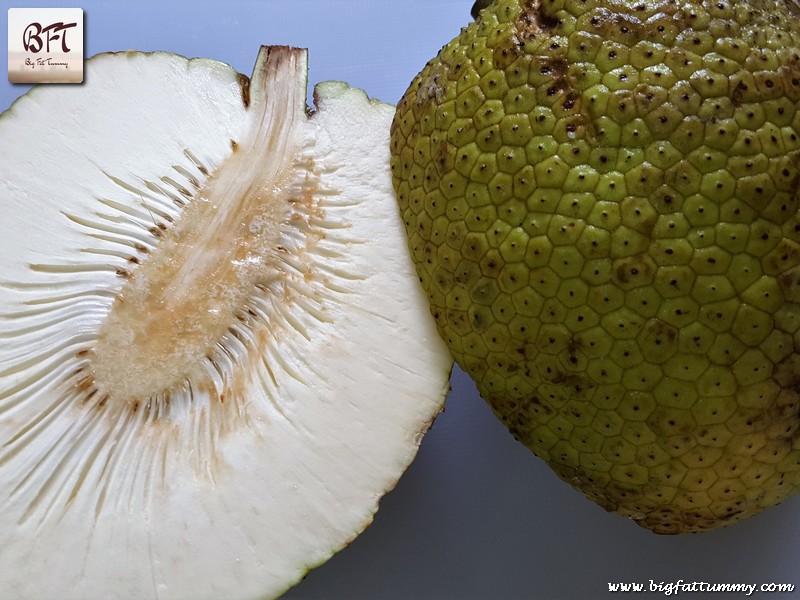 Ingredients:
Breadfruit – ½ of a medium fruit
Prawns – 10 to 12 small
Onion (finely chopped) – 1 medium
Tomato (finely chopped) – 1 large
Green Chillies – 2
Coconut (grated) – 2 tbsp.
Thick Coconut Milk ( see here )– 250 ml.
Corriander Seeds – 2 tsp.
Cumin Seeds – a pinch
Black Pepper Corns – 10
Cinnamon – 1 inch stick
Cloves – 4
Turmeric – ¾ tsp.
Ginger – ½ inch piece
Garlic – 4 cloves
Oil – 1 tbsp.
Salt – 2 ¾ tsp. or to taste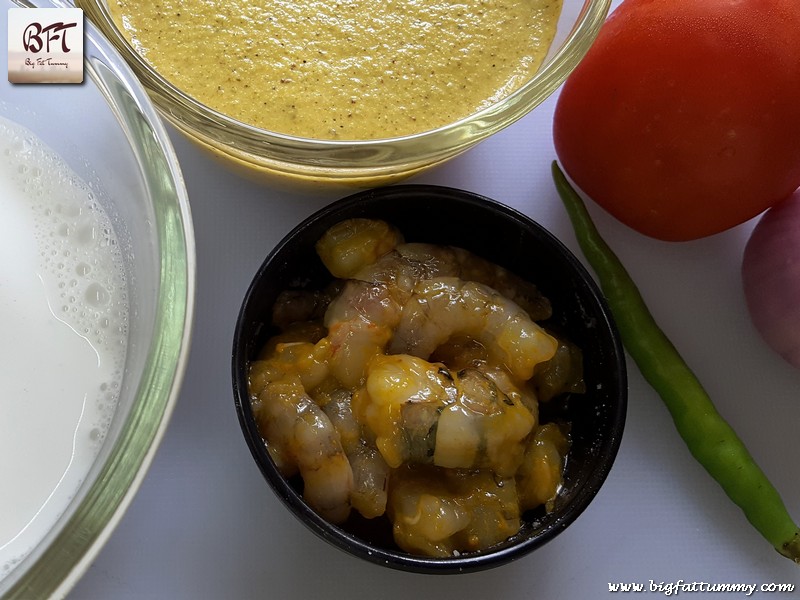 Step 1:     Peel the breadfruit and cut into pieces. Add 1 tsp. salt to some water and soak the breadfruit in it.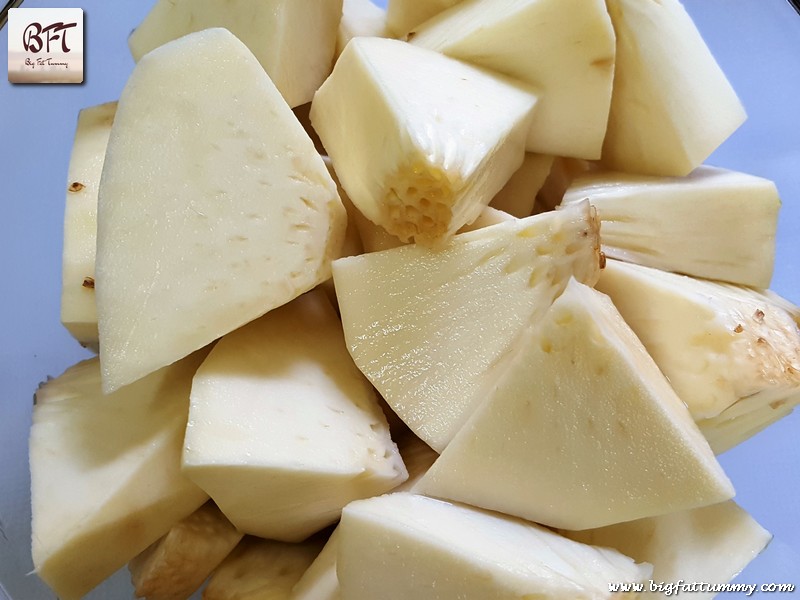 Step 2:     Shell and devein the prawns. Marinate with ¼ tsp. turmeric and ¼ tsp. salt and keep aside for 10 to 12 minutes.
Step 3:     Grind the coconut along with corriander seeds, pepper corns, cinnamon, cloves, turmeric, ginger, garlic, one green chilly and a little water to a smooth paste.
Step 4:     Heat 1 tbsp. oil in a vessel. Sauté the onion on medium heat till translucent. Add the tomatoes, ½ tsp. salt and cook covered for 4 to 5 minutes on low heat. Stir one or two times in between.
Step 5:     Add the ground spice paste, mix and cook covered on low heat for 5 minutes. Stir in between.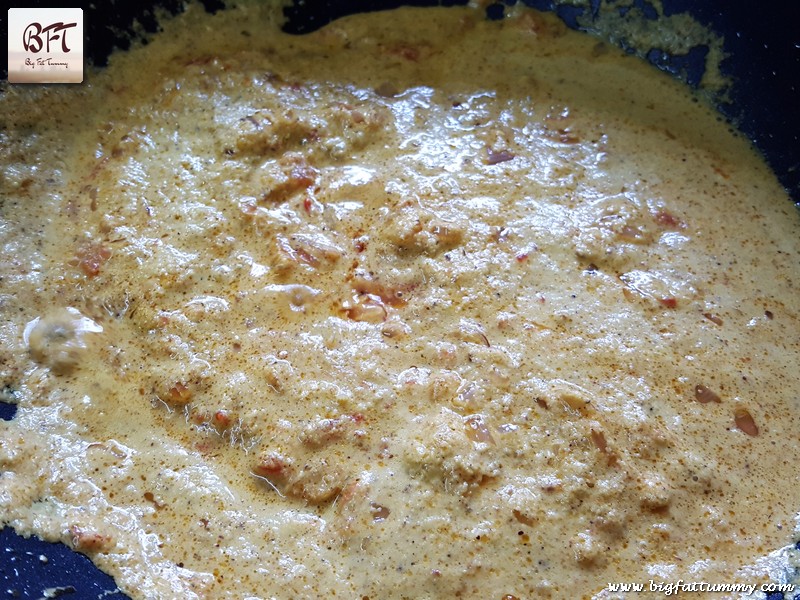 Step 6:     Drain the breadfruit pieces and add to the vessel. Mix well. Add 200 ml. warm water and a tsp. of salt and cook covered on low heat for 12 to 15 minutes till the breadfruit is fork tender.
Step 7:     Add the coconut milk, shrimps and slit green chilly. Half cover the vessel and cook on low heat for 4 to 5 minutes.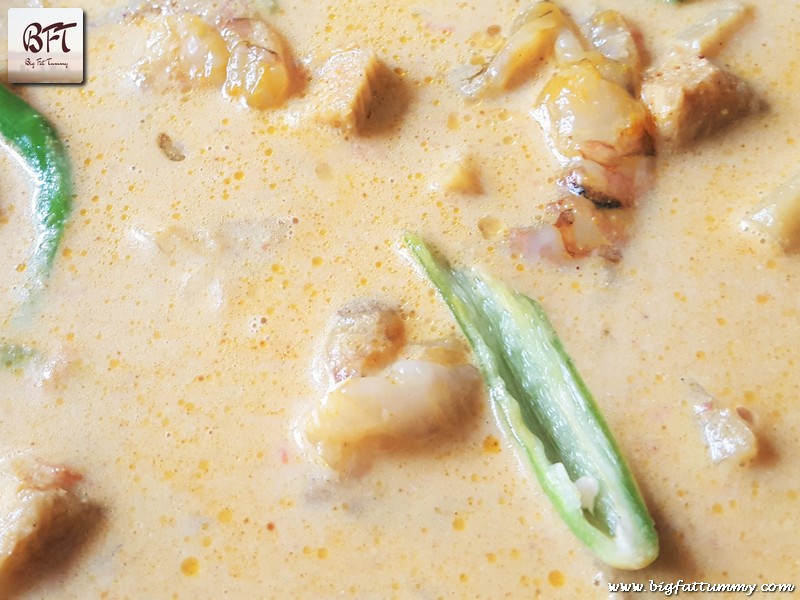 Serve with hot steamed rice or pao.