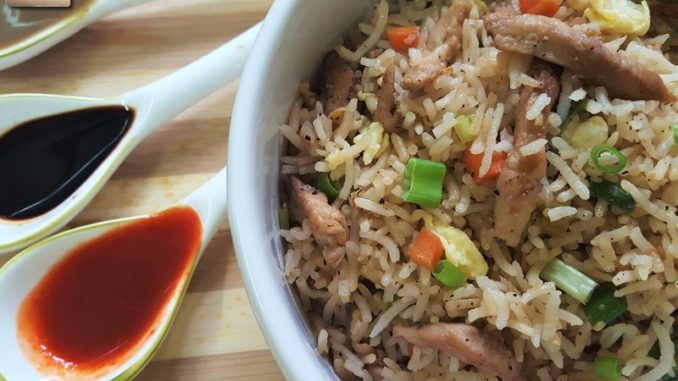 Chicken Fried Rice needs no introduction. Try this recipe, it's different!
Serves: A Family of Four
Prep. Time: 20 Mins. + 20 Mins. (marination)
Cooking Time: 10 to 12 Mins.
Ingredients:
Cooked Rice (see here)
Boneless Chicken Breast (cut into strips – see here) – 150 gms.
Eggs (well beaten with ¼ tsp. salt) – 2
Carrot (finely chopped) – 1 medium
Capsicum (finely chopped) – 1 small
Spring Onion Whites – 6
Spring Onion Greens chopped – 3 tbsp.
Ginger (finely chopped) – ½ tsp.
Garlic (finely chopped) – 1 tsp.
Black Pepper Powder – ¼ tsp.
White Pepper Powder – ½ tsp.
Soya Sauce – 2 tsp.
Green Chilly Sauce – 2 tsp.
White Vinegar – 1 ½ tsp.
MSG [Ajinomoto] – a pinch (optional)
Corn Flour – 1 tsp.
Oil – 4 tbsp.
Salt – 1 tsp.
Step 1: Marinate the chicken strips with ½ tsp salt, black pepper powder, ½ tsp. soya sauce and 1 tsp. corn flour. Leave aside for 20 minutes.
Step 2: Heat 1 tbsp. oil in a pan / wok and fry the marinated pieces of chicken on low heat for 30 seconds. Cover and cook for a minute. Open the lid and fry till light brown. Remove from the pan and keep aside.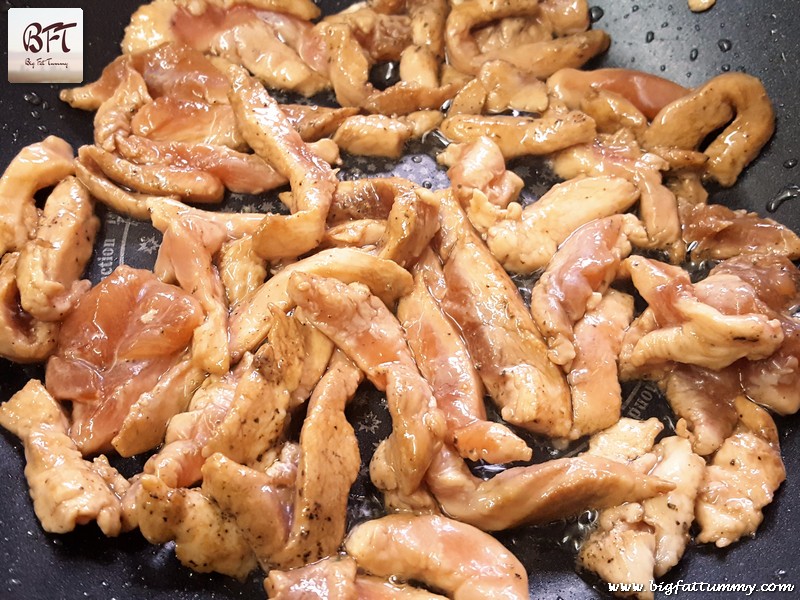 Step 3: Heat 3 tbsp. oil in the same pan / wok. Add the ginger and garlic and sauté for a minute on medium heat. Do the same with the spring onion whites, then the carrots and finally the capsicum.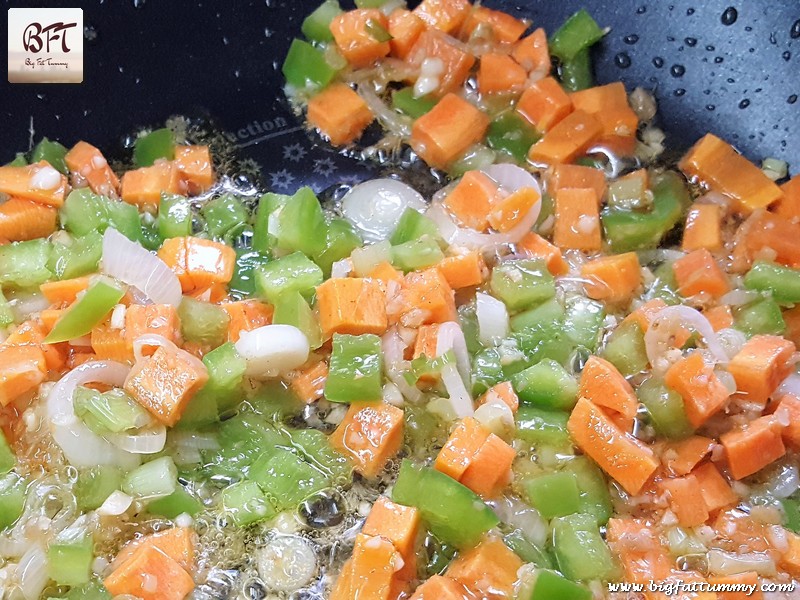 Step 4: Gather the sautéed vegetables on to one side of the pan. Pour the beaten egg on the empty side of the pan and scramble the eggs. When the eggs are set, mix them with the veggies.
Step 5: Add the chicken pieces, remaining soya sauce and the cooked rice and toss well taking care not to break the rice for 1 to 2 minutes on high heat. Add the white pepper, vinegar, a pinch of ajinomoto and ½ tsp. salt and toss again for 2 minutes on high heat. Finally add the spring onion greens and toss.