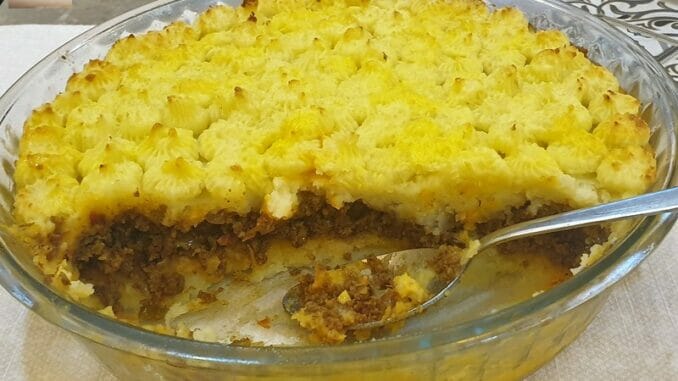 The Goan Beef Mince Pie is a layered pie. The mince is placed between two layers of potato mash like a sandwich. It is easier and faster to make than Potato Chops (click here) and further it is baked and not fried. (Click here for other Pie Recipes)
Serves: 6 to 8 Persons
Prep. Time: 60 Mins.
Baking Time: 50 to 60 Mins @ 180° C
Ingredients:
For the Mince Filling:

Beef Mince – 500 gms
Onions (finely chopped) – 4 medium
Tomatoes (finely chopped) – 2 medium
Green Chillies (finely chopped) – 4
Ginger-Garlic Paste – 1 tbsp.
Kashmiri Red Chilly Powder – 1 tsp.
Black Pepper Powder – ½ tsp.
Clove Powder – ½ tsp.
Cinnamon Powder – ⅓ tsp.
Cumin Powder – ⅓ tsp.
Turmeric Powder – ½ tsp.
Vinegar – 2 tbsp.
Ketchup – 2 tbsp.
Sugar – ½ tsp. or to taste
Oil – 3 tbsp.
Salt – 1 ½ tsp. or to taste

For the Potato Mash:

Potatoes (Peeled & Boiled) – 1.75 kg
Egg Yolks – 2 + 1
Butter – 4 tbsp.
Salt – 1 tsp. or to taste
Part 1 – Preparing the Potato Mash:
Step 1: Wash and drain the mince. Apply 1 tsp. salt, 1 tbsp. vinegar, ½ tsp. turmeric powder and leave aside for an hour or overnight in the refrigerator.
Step 2: Later, transfer the mince to a vessel and place on heat. Once it starts changing colour and it releases liquids, add ½ cup hot water and cook covered for 15 to 20 minutes on medium heat. Keep aside.
Step 3: In another pan, heat 3 tbsp. oil and sauté the onion till light golden on medium heat. Add the green chillies and sauté for a minute. Next add the ginger-garlic paste and sauté for another minute.
Step 4: Add the tomatoes, ½ tsp. salt and sauté till the tomatoes turn soft.
Step 5: Next add the cooked mince and the powdered spices. Cook covered for 10 minutes.
Step 6: Then add the ketchup, vinegar and sugar. Mix and cook till dry. Check for seasoning and add as needed.
Part 2 – Preparing the Potato Mash:
Step 7: Wash the potatoes well to remove any dirt. Peel the potatoes and boil them in a large pot (Add potatoes, salt and cook till done but not mashy).
Step 8: Remove / strain the cooked potatoes and place them on a large plate. Grate / Mash the potatoes whilst still hot / warm. Add the butter, salt and 2 egg yolks and then knead the grated potatoes with your knuckles so that there are no lumps and a smooth dough / mash is formed.
Part 3 – Assembling the Pie:
Step 9: Grease a baking dish (10 inch – preferably glass) with a little butter.
Step 6: Divide the potato mash into two portions and use one portion to line the bottom of the baking dish.
Step 7: Next, spread the beef mince filling. Then top with ¼ of the remaining potato mash. Spread evenly.
Step 8: Use a piping bag and nozzle and pipe the remaining potato mash on the pie.
Step 9: Beat one egg yolk and glaze the top of the pie with it using a pastry brush.
Step 11: Pre-heat your oven to 200° C for 15 minutes and then bake the pie at 180° C for 50 to 60 minutes till you see light specks of browning. Serve hot.
Notes:
It is important to work with the potatoes when they are hot as they are more pliable.
Always use aged / old potatoes to make the mash and check to see that the skin does not have the slightest of green colour.