We believe the Mutton Pepper Curry is a perfect curry when you are carrying those niggles of a common cold in winter or during the monsoons. The easy to make broth will relieve you of your stuffed nose and open up your sinuses. Even otherwise, this no coconut gravy is easy to make, has zero oil and will definitely please your senses. Try it soon. (see note) For an equally good peppery chicken gravy click here or you could try the Chettinad Pepper Chicken Fry here.
Serves: 6 to 8 Persons
Prep. Time: 15 Mins
Cooking Time: 40 to 45 Mins
Ingredients:
[ Standard Measure : 1 cup = 250 ml ]
Mutton (on the bone) – 750 gms
Onions (sliced) – 3 medium
Ginger-Garlic Paste (fresh) – 1 ½ tbsp.
Black Pepper Powder – 3 + 1 tsp.
Turmeric Powder – ¼ tsp.
Light Green Chillies (slit) – 4
Thick Curds (whisked) – ½ cup
Salt – 1 ½ tsp. or to taste
Step 1:     Wash and drain the mutton pieces well. Transfer to a pressure cooker and add 1 ½ tsp. salt, the turmeric powder, 3 tsp. pepper powder, ginger-garlic paste and the sliced onion and mix well.
Step 2:     Place the pressure cooker uncovered on medium heat and cook till the colour of the mutton changes (turning over once or twice in between). This should take 8 to 10 minutes.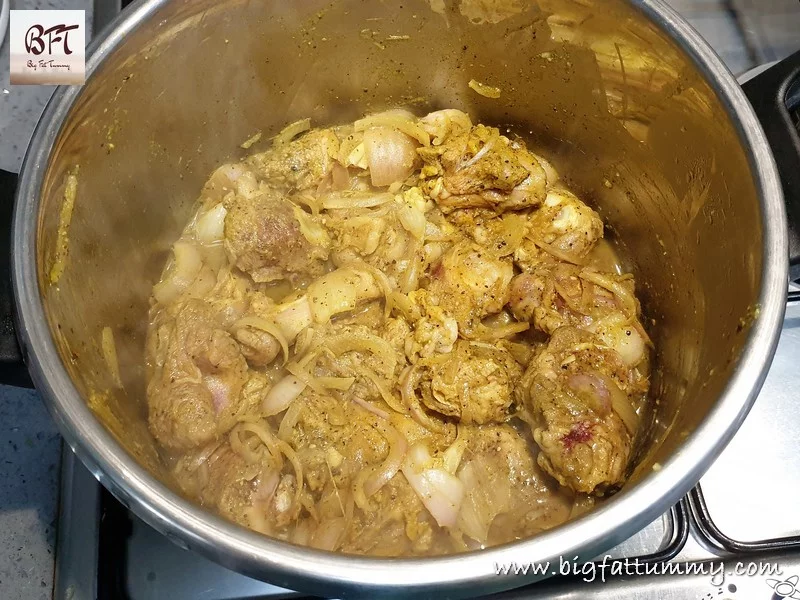 Step 3:     Now add 150 ml hot water, close the lid of the pressure cooker and cook on high heat till the 1st whistle. Then cook on low heat for 20 minutes. Later, switch off the heat and allow the pressure to release naturally. Open the lid. The mutton should be cooked and tender.
Step 4:     Add the green chillies and the curd and mix well. Cook uncovered on low heat for another 8 to 10 minutes.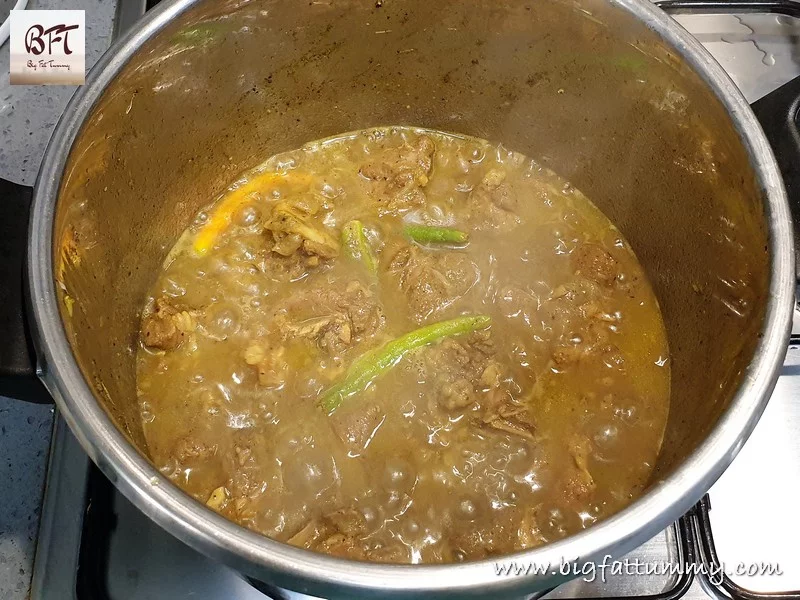 Step 5:     Finally add the remaining 1 tsp. of the pepper powder (optional), mix and switch off the heat. Leave to rest covered for 5 minutes before serving. Serve with hot rice or Indian bread.
Note:
We prefer to use the raan or the hind leg / leg of goat to cook our mutton dishes – less bone, more meat.