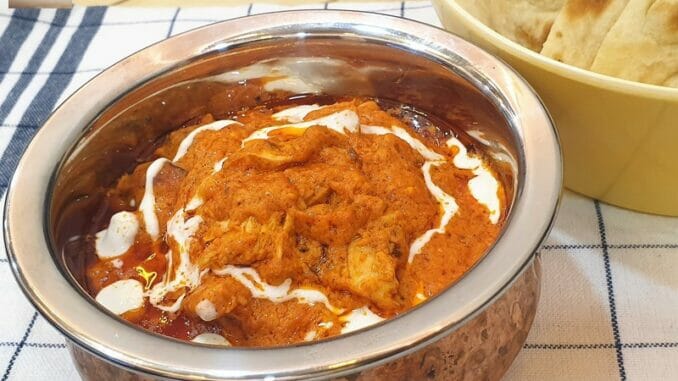 Butter Chicken, also called Murg Makhani, needs no introduction but for the sake of propriety it is a deboned roasted chicken cooked in a creamy, buttery and sweetish gravy. The dish is one of the few famed Indian dishes worldwide. To make this, you will of course need a whole roasted / grilled / tandoori chicken before you begin to cook your gravy. You can make that too (click here for the grilled chicken) or choose to buy one from the supermarkets which sell it these days and then proceed to make the gravy. My version is a fast and easy one and tastes super. Make it to believe me.
Serves: 6 Persons
Prep. Time: 30 Mins
Cooking Time: 25 to 30 Mins
Ingredients:
[ Standard Measure: 1 cup = 250 ml ]
Grilled Chicken – 1 (click here)
Butter – 50 gms + 2 tbsp.
Tomato Puree – 1 cup (click here)
Kashmiri Red Chilly Powder – 2 tsp.
Turmeric Powder – ½ tsp.
Cumin Seeds – ¼ tsp.
Green Cardamom Seeds (powdered) – 4 (only seeds)
Curds (whisked) – ½ cup
Milk Cream – 1 cup + for garnish.
Orange Food Colour – ¼ tsp.
Lime – 1 small
Sugar – 1 tsp.
Oil – 1 tsp.
Salt – ½ tsp.
Step 1: Debone and shred the chicken.
Step 2: Heat the oil and 50 gms of the butter on low heat (Low heat only or it will burn out soon). Add the powdered cardamom seeds and cumin seeds and saute for 30 seconds. Then add the chilly and turmeric powder and cook for a few more seconds.
Step 3: Add the tomato puree and continue cooking on medium heat whilst stirring in between till the raw smell disappears.
Step 4: Now add the whisked curds and mix and cook for 2 minutes on low heat.
Step 5: Add the milk cream and give a mix. Continue cooking for another 2 to 3 minutes on low heat.
Step 6: Next add the orange food colour and the shredded chicken and mix. Cook on medium low heat for 5 minutes.
Step 7: Finally, add the salt, sugar and the juice of the lime and mix. Switch off the heat and add the 2 tbsp. of butter. Mix and serve garnished with the milk cream. Goes very well with tandoori rotis (coming soon) or tawa parathas (click here)
Note:
The cooking of the curds and cream has to be done on low heat only.
You can use canned tomato puree also.