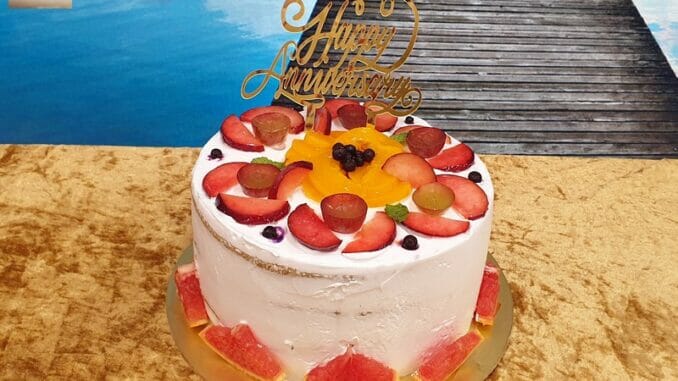 We've completed four years of this blog and crossed 600 recipes in this term. We are Educationists in true lives and foodies at heart. And we wish everyone to benefit from the effort we put into this blog in our spare time. This Cream and Fruit Cake was posted as our 4th Anniversary Cake.
Yield : 4 Flat Cakes
Prep. Time: 30 Mins.
Baking Time: 20 to 25 Mins / 2 cakes
For the Cakes (4 Flat Nos):
[ Standard Measure : 1 cup = 250 ml ]
Maida [APF] – 360 gms
Castor Sugar – 200 gms
Milk – 1 cup
White Vinegar – 4 + 2 tsp.
Oil (neutral taste/odour) – 1 ½ cup
Soda-bi-carb – 1 tsp.
Vanilla Essence – 2 tsp.
Salt – ½
For the Filling and Frosting:
Whipping Cream (non-dairy) – 2 cups
Fresh or Canned Fruits (chopped/sliced) – as needed.
Orange Juice – as needed
Step 1: Grease and coat four 8 inch diameter flat baking trays with some oil and maida as shown in the picture (check notes).
Step 2: Sift the maida, SBC and salt in a bowl. Add the castor sugar to this and give a mix. Keep aside.
Step 3: Add the 4 tsp. vinegar to the milk and stir. Leave aside for 5 to 10 minutes to curdle.
Step 4: When ready, set your oven to pre-heat at 180°C for 15 minutes.
Step 5: Add the oil, vanilla essence and the remaining vinegar to the curdled milk. Whisk with an electric blender for a minute till well blended.
Step 6: Add the wet ingredients to the dry ingredients and fold in till a smooth batter is formed (Do it lightly and don't over mix). Add some milk and fold in if you feel the batter is dry.
Step 7: Divide the batter into four portions and pour into your prepared trays. Flatten with a spatula.
Step 8: Bake in the pre-heated oven at 180° C for 20 to 25 minutes or until a toothpick inserted into the cake comes clean. Then remove from the oven and cool completely before frosting.
Step 9: Whip the cream for the frosting till light and fluffy using a stand mixer or a hand beater.
Step 10: Once the cakes have cooled you can assemble them. Take a 10 inch cake board and add a tbsp. of whipped cream on its center. Place a cake on it. Sprinkle some orange juice to moisten the cake. Then spoon some whipped cream onto it and spread. Place some chopped fruits onto it and place another flat cake onto it. Press lightly. Repeat for all the cakes.
Step 11: When you place the final layer of cake, frost the sides and the top of it and decorate with fruit as you please. Keep in the refrigerator and serve chilled.
Notes:
The recipe is for 4 flat cakes. You need to ½ or quarter the ingredients to bake each cake depending on your oven size. Do not prepare all the batter in advance if you have a small oven.
For Steps 2 to 5, refer here.