On an occasion when I had other things to tend to at home and didn't want to stand around for a lot of time in the kitchen, I made this short-cut preparation of boneless pork. I made it with commonly used spices and kept it to slow cook which allowed me to attend to other chores and hence I've named this dish a Slow Cooked Pork Curry. (you could also try Hubby's Pork Curry – which is quite similar to this – click here)
Serves: 8 to 10 Persons
Prep. Time: 20 Mins. + Marination
Cooking Time: 70 Mins.
Ingredients:
Pork (boneless, cubed) – 1 ½ Kg.
Onion (chopped) – 4 medium
Green Chillies (slit) – 3 to 4
Cloves – 8 to 9
Cinnamon – 1 ½ inch
Cumin Seeds – 1 tsp.
Black Pepper Corns – ½ tsp.
Kashmiri Red Chilli Powder – 4 tsp.
Turmeric Powder – ¼ tsp.
Ginger – 1 ½ inch
Garlic – 18 medium cloves
Palm Vinegar – 4 tbsp.
Tamarind (soaked in 2 cups hot water) – 1 big lime sized
Oil – 2 tbsp.
Salt – 1 tbsp.
Step 1: Take the cloves, cinnamon, cumin, pepper corns along with the turmeric and chilli powder and dry grind to a fine powder. Keep aside and in the same jar grind the ginger and garlic to a fine paste.
Step 2:     Wash and drain the pork cubes and then add the salt, ginger-garlic paste, the powdered spices and the vinegar and mix well. Add the chopped onion and 2 tbsp. oil and mix again. Leave aside for at least an hour.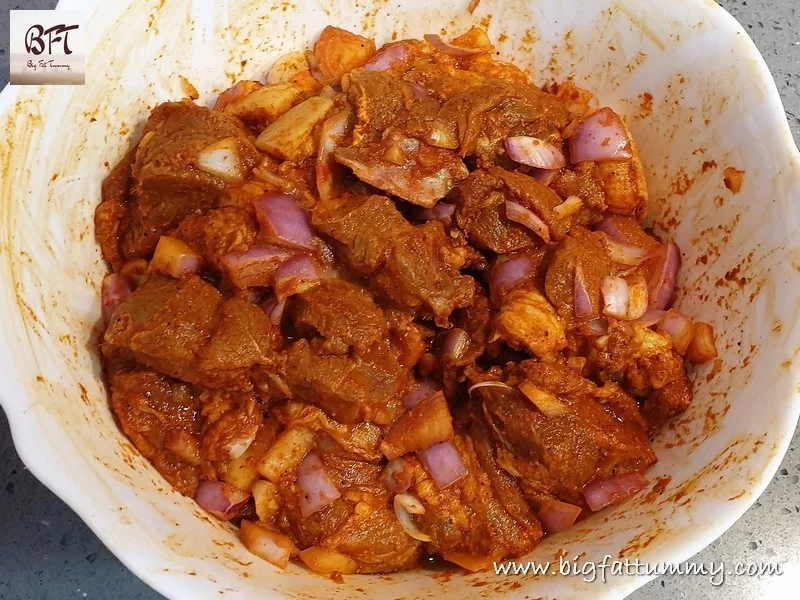 Step 3: Later, transfer to a heavy bottomed vessel and place on medium-high heat. Sauté till the meat releases its juices, changes colour and a nice aroma arises (about 10 minutes).
Step 4: Next strain and add the tamarind pulp. Cover and cook on low heat for 30 minutes.
Step 5: After 30 minutes, add the green chillies and cook covered for a further 25 to 30 minutes till the pork is cooked to your liking. Serve hot with hot rice or polles (click here) / sannas (click here)