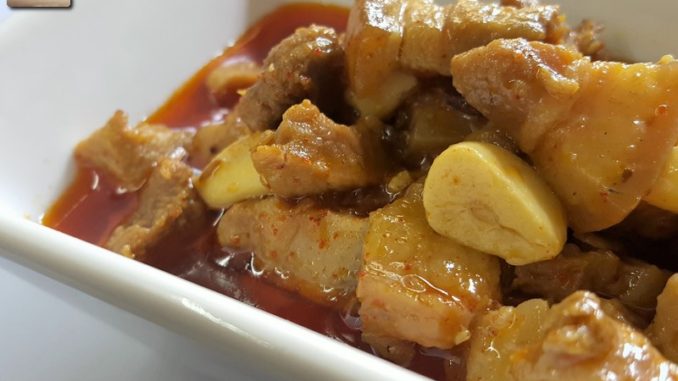 Hubby dear also indulges in cooking sometimes. He being the only child helped his mother in the kitchen sometimes. Drawing inspiration from his mother's cooking he created the slow cooked pork curry. Don't be discouraged by his generous use of spices, cause at the end, the pork curry turns out fairly mild in taste. It has just the right amount of pungency and sourness. The health benefits of garlic and the spices used are also well known. Certified that you will like this preparation as it has passed the litmus test. Certified by our toddlers!
Serves: 4 to 6 Persons
Prep. Time: 20 Mins. + 30 Mins. (marination)
Cooking Time: 20 Mins. (active) + 60 Mins. (passive)
Ingredients:
Pork (boneless) – 1 Kg.
Garlic – 60 Cloves
Ginger – 1 ½ inch
Cumin Seeds – 1 tsp.
Cinnamon – 2 inch
Cloves – 10 to 12
Black Pepper Corns – 35 to 40
Kashmiri Red Chilly Powder – 4 tsp.
Turmeric Powder – ½ tsp.
Tamarind – 2 small marble sized balls.
Coconut (Palm Toddy) Vinegar – 3 tbsp.
Sea Salt – 3 tsp.
Step 1: Wash, drain and cut the pork into small pieces as shown in the picture. Marinate the pork with the salt, turmeric and vinegar in the vessel that you want to prepare it and keep aside for at least 30 minutes. Chop the garlic cloves into halves.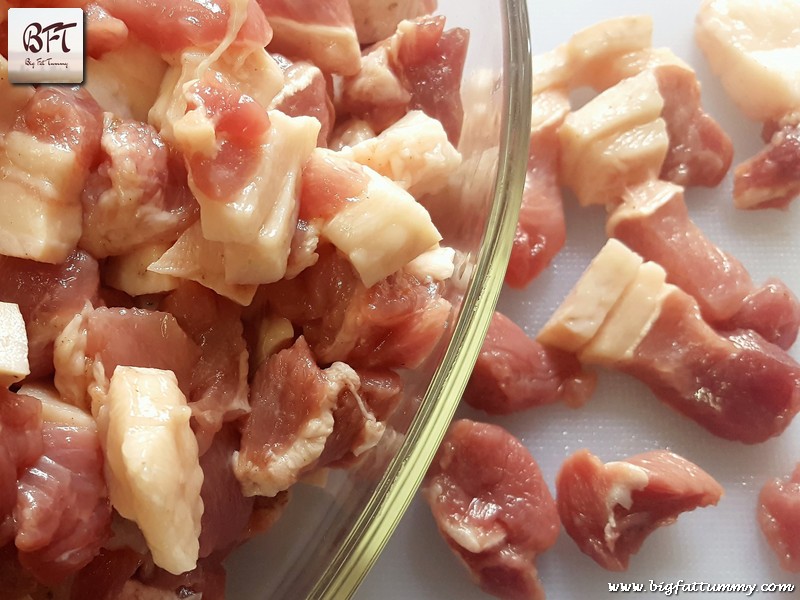 Step 2: Use a mortar and pestle and pound the cumin seeds coarsely till you can smell its aroma. Remove from the mortar and keep aside. Do the same for the cinnamon, cloves, black peppercorns one at a time. Next pound the ginger to a paste. Keep each spice/herb aside separately.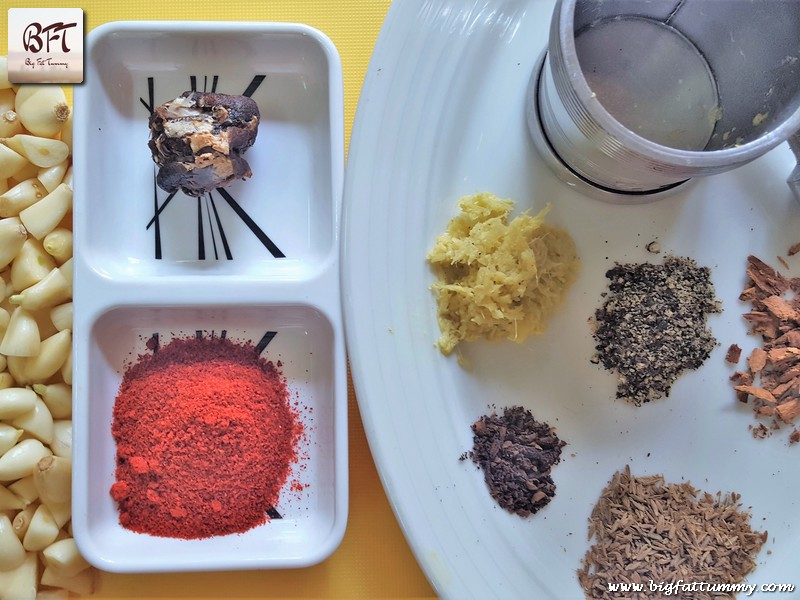 Step 3: Keep the marinated meat vessel on low heat and cook covered for 5 minutes (from here on until the dish is ready cook only on low heat). Stir once in between. After 5 minutes the pork will have released its juices. Add the ginger and garlic, mix well and cook covered for 10 minutes. Stir once in between.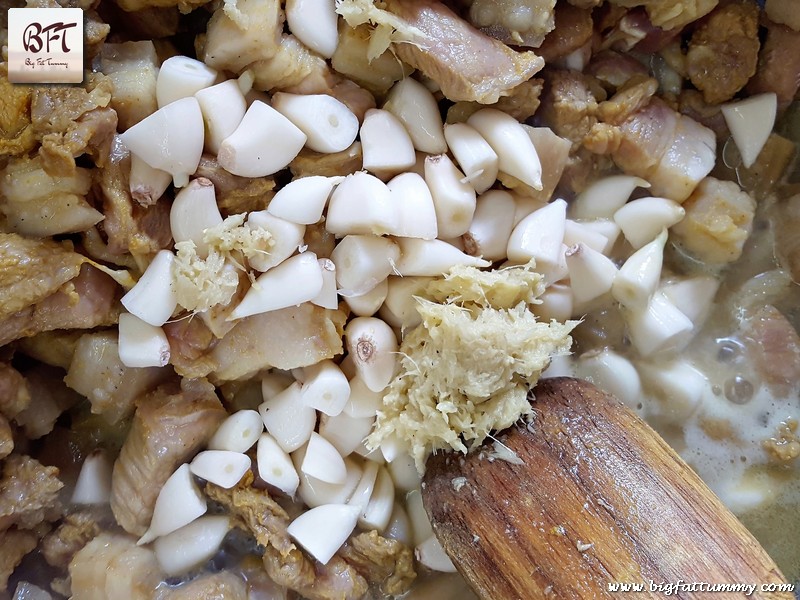 Step 4: Meanwhile soak the tamarind balls in two separate bowls with 300 ml. of hot water each.
Step 5: Add the jeera to the meat, mix and cook covered for 5 minutes. Next add the pepper, mix and cook covered for a further 5 minutes.
Step 6: Now add the cinnamon and cloves, mix and cook covered for 15 minutes. After 15 minutes, mash and strain one bowl of tamarind pulp into the vessel. Add another 300 ml. hot water to the tamarind residue, mash and strain a second time into the vessel. Continue cooking covered for another 20 minutes.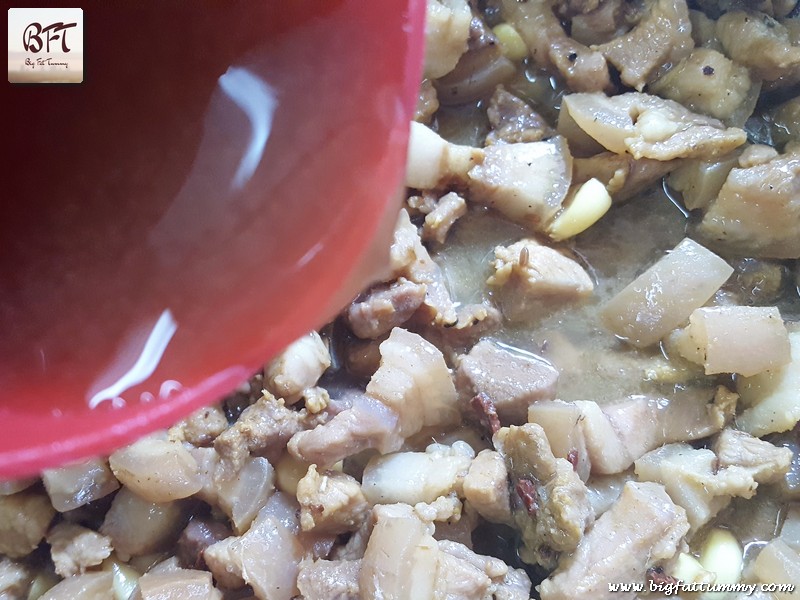 Step 7: Take the second bowl of tamarind, mash and strain it to the meat in the vessel. Add the chilly powder, mix and continue cooking covered for another 10 to 20 minutes. At the end check if the meat is cooked to your liking (cooking time depends on the cut of meat).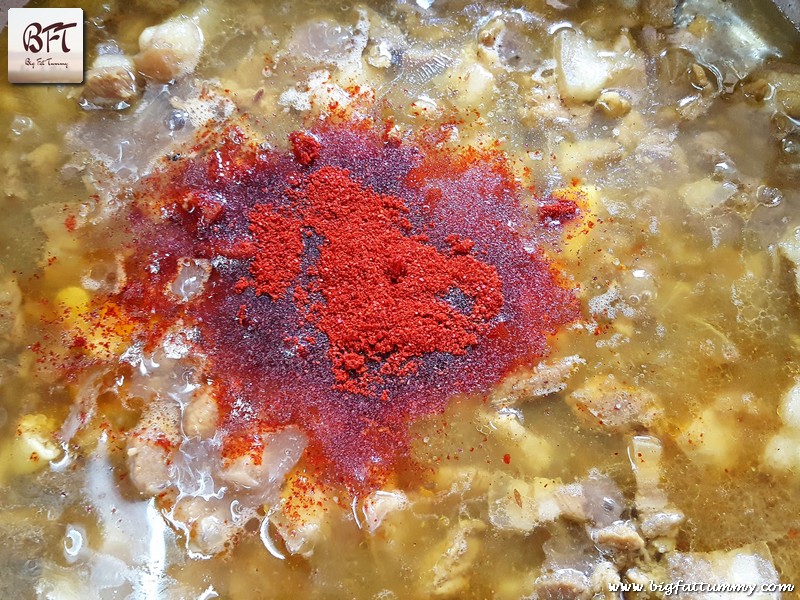 Serve hot with hot steamed rice.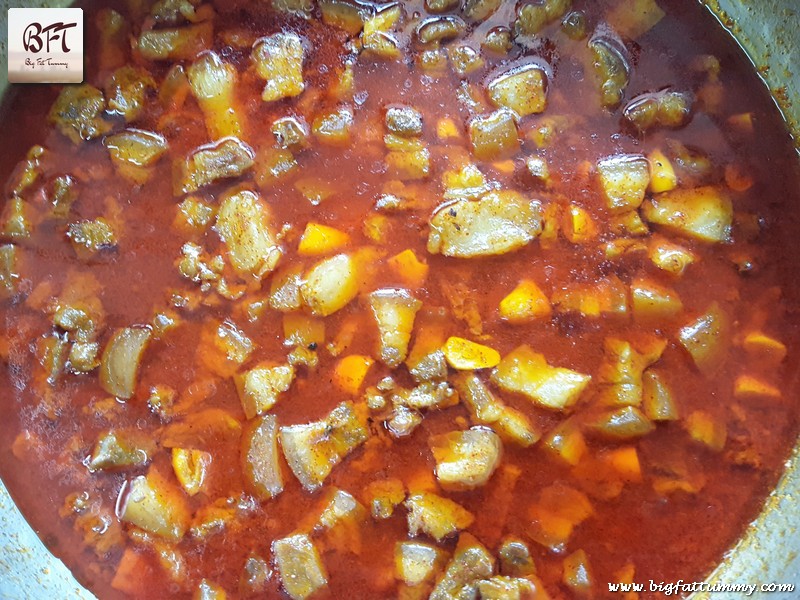 Watch the Video