Dry Green Peas or Hara / Hirva Vatana as commonly referred to India are a legume loaded with important vitamins and minerals and also fiber. This Goan preparation of the Dry Green Pea Masala is mildly spiced as compared to the traditional Goan Chana Masala and goes well with chapatis or rice.
Serves: 4 to 6 Persons
Prep. Time: 40 Mins. + soaking
Cooking Time: 35 Mins.
Ingredients:
[ Standard Measure: 1 cup = 250 ml ]
Dry Green Peas [Legume] – 1 cup
Potato (peeled & cubed) – 1 big (optional)
Onion (finely chopped) – 1 medium
Curry Leaves – 12 to 15
Green Corriander Leaves (chopped) – 2 tbsp.
Mustard Seeds – 1 tsp.
Garam Masala Powder – 1 tsp.
Tamarind – 1 small marble sized ball
For the Masala Paste (to be roasted):

Coconut (grated) – 1 cup
Onion (sliced) – 1 medium
Ginger – ½ inch
Garlic – 5 to 6 cloves
Corriander Seeds – 1 ½ tbsp.
Cumin Seeds – ½ tsp.
Fennel Seeds – ½ tsp.
Green Chillies (broken into two) – 2
Dry Red Chillies [Bedgi] – 2 to 3

Turmeric Powder – ½ tsp.
Stock Cube (veg) – 1
Oil – 2 tbsp.
Salt – 2 or to taste
Step 1: Wash and soak the peas overnight. Use sufficient water.
Step 2: The next day take a pressure cooker / pan and add 2 cups water. Let the water come to a boil and then add the peas, potato cubes and 1 tsp. salt. Put on the lid of the cooker. Pressure cook on HIGH heat for 2 to 3 whistles. Switch off the heat. Let the pressure release naturally and then check if the peas are done.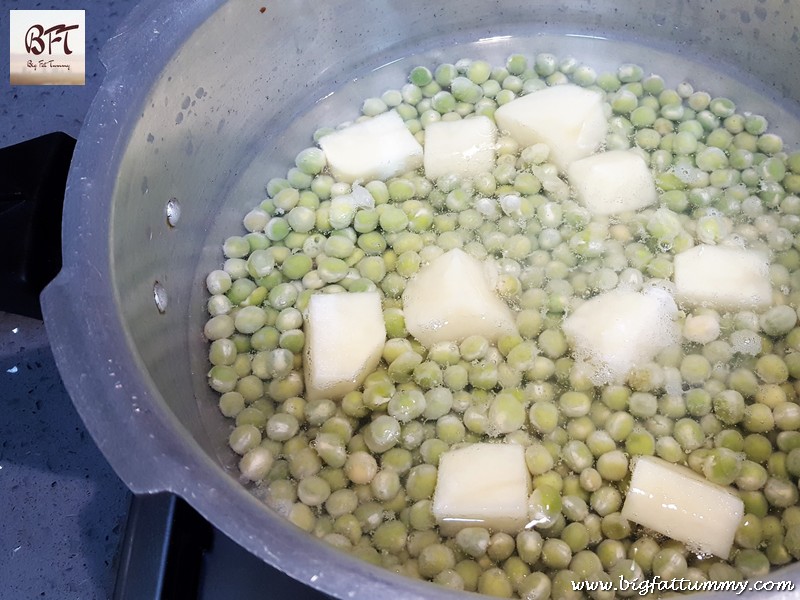 Step 3: Heat a pan and dry roast the coconut till light brown on low heat. Add ½ tsp. turmeric powder and roast for another minute. Transfer to a plate / bowl. Heat 1 tbsp. oil in the same pan and roast the onion, garlic and ginger till the onions are light brown. Transfer to the bowl containing the roasted coconut.
Step 4: Add another ½ tsp. oil to the same pan and roast the red chillies and the green chillies and transfer to the bowl. Now roast the corriander, cumin and fennel seeds till fragrant. Transfer to the bowl.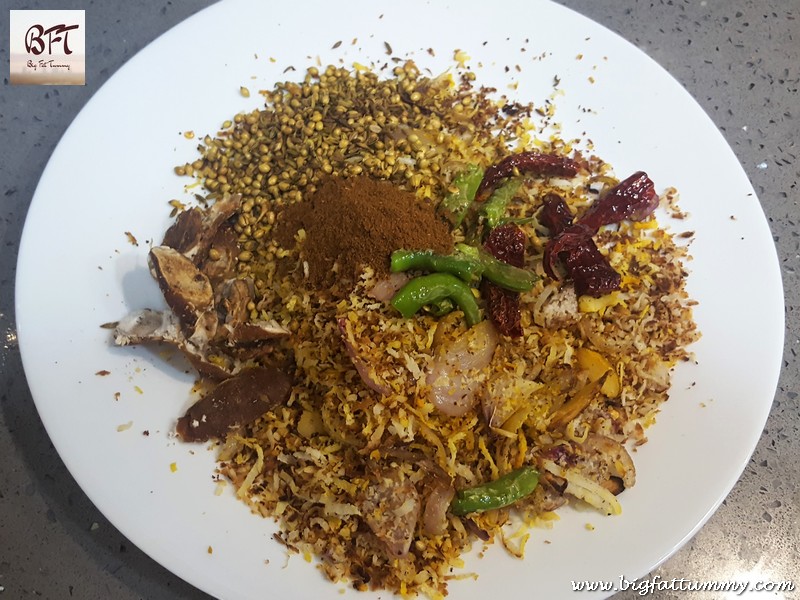 Step 5: When all the roasted ingredients have cooled completely, grind them along with the tamarind and garam masala powder to a fine paste using 1 cup water.
Step 6: Heat the remaining oil in a vessel suitable to make the curry. Splutter the mustard seeds and immediately add the curry leaves. Add the onion and sauté till they turn translucent.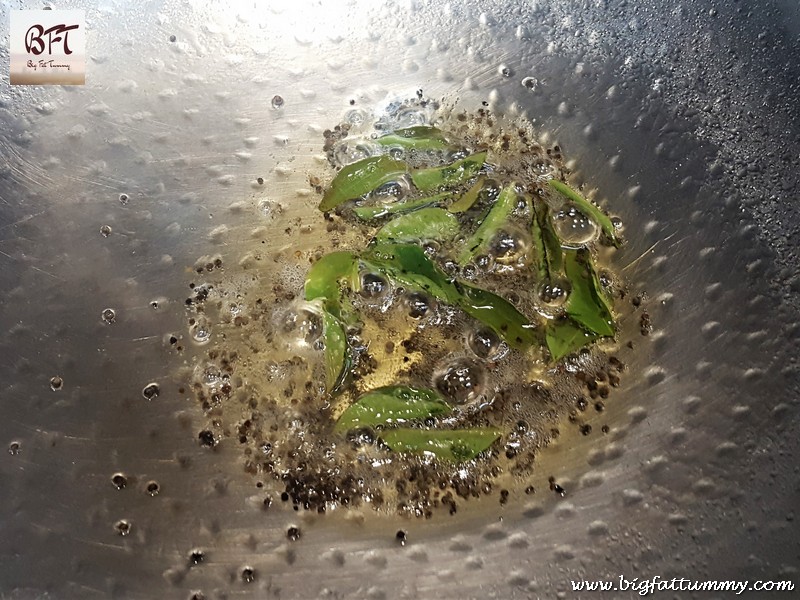 Step 7: Add the ground masala paste and sauté for 5 minutes on low heat.
Step 9: Finally add the boiled peas along with its broth, sugar and the crumbled stock cube. Add 1 cup water (or more), 1 tbsp. green corriander and 1 tsp. salt. Cover and cook on low heat for 12 to 15 minutes. Garnish with the remaining corriander.