The Parsi style pomfret vindaloo is a milder version of the Goan vindaloo. The dish seems to be influenced by Goans as in the olden days, many a Parsi household had Goan cooks. Pomfret goes well with this gravy.
Serves: A Family of Four
Prep. Time: 15 Mins.
Cooking Time: 30 to 35 Mins.
Ingredients:
Silver Pomfret – 1 (350 gms.)
Tomatoes (pureed) – 2
Green Chillies (slit) – 2 (optional)
Green Corriander (finely chopped) – 1 tbsp.
For the Masala:

Kashmiri Red Chillies – 6 (deseeded) + 2
Garlic – 6 small cloves
Cumin – 1 ½ tsp.
Onion – 1 small
Vinegar – 2 tbsp.

Sugar – 1 tsp.
Oil – 2 tbsp.
Salt – 1 ½ tsp. or to taste
Step 1: Clean and cut the pomfret as shown in the picture. Wash and drain well. Apply 1 tsp, salt and leave aside.
Step 2: Grind the ingredients listed under masala to a fine paste using a little water.
Step 3: Heat oil in a heavy bottomed or non-stick wide pan. Add the ground masala and sauté on low heat for 8 to 10 minutes till the oil separates.
Step 4: Add the tomato puree and cook covered on low heat for another 10 minutes. Stir in between.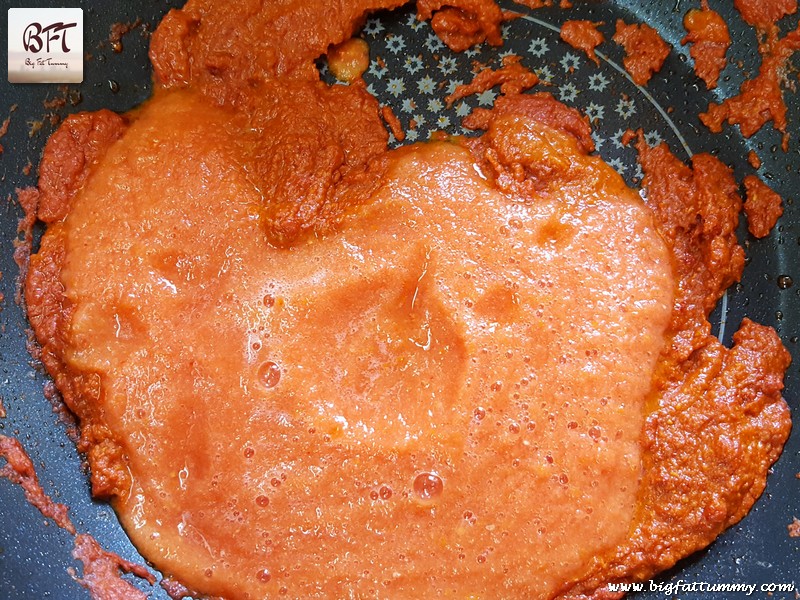 Step 5: Add 1 ½ cup to 2 cups warm water depending on the consistency of the gravy desired. Season with sugar and salt and let the gravy come to a boil. Once it starts boiling add the fish and cook covered on low heat for 6 to 8 minutes. Take off the heat, garnish with corriander and keep covered for another 5 minutes.
Serve with white rice.