The Fried Mutton Chops are a perfect starter. They are mildly spiced and taste good hot or cold. You can serve these as a side dish, accompanied with a pulao.
Serves: 4 Persons
Prep. Time: 15 Mins. + 1 to 2 Hrs. (marination)
Cooking Time: 25 to 30 Mins.
Ingredients:
Mutton Chops – 500 gms.
Lime – 1 big
Eggs – 2
For the Marinade:

Ginger – 1 inch
Garlic – 12 to 15 small
Green Chillies – 2 to 3
Cumin Seeds – ½ tsp.
Black Pepper Corns – 1 tsp.
Turmeric – ½ tsp.
Garam Masala / Meat Masala Powder – ½ tsp.

Oil – 2 tbsp.
Salt – 1 tsp.
Step 1: Wash the chops and drain well. Apply salt and lime juice and leave aside for 10 minutes.
Step 2: Grind all the ingredients for the marinade to a fine paste using 2 tbsp. water.
Step 3: Apply the paste to the chops and leave to marinate for 1 to 2 hours in the refrigerator.
Step 4: After the chops have marinated, pressure cook them with 3 tbsp. water on high heat till the 1st whistle. Then lower the heat and cook for 10 to 12 minutes. Switch off the heat and let the pressure reduce naturally (the chops should be cooked tender but not falling off the bone).
Step 5: Open the lid of the pressure cooker and place on heat. Cook uncovered on medium heat to dry out any liquids. The thick masala should coat the chops well. Switch off the heat.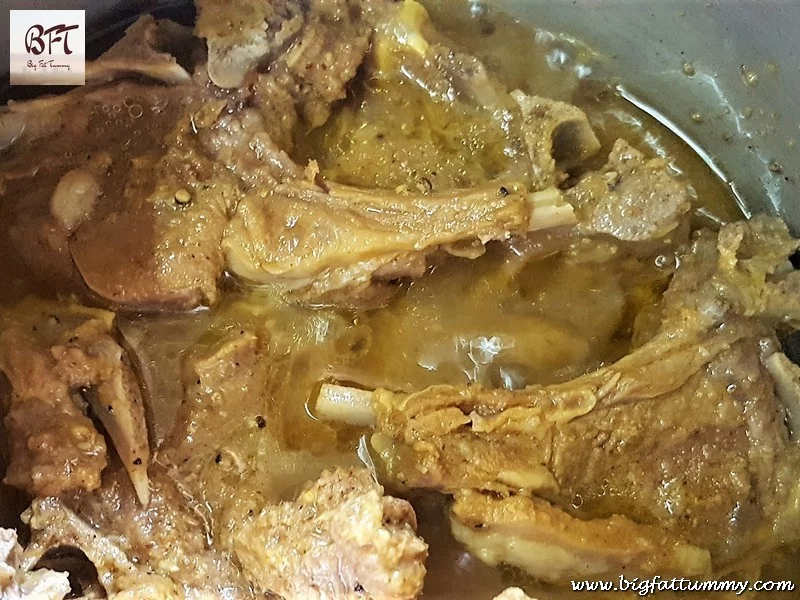 Step 6: Beat the eggs with a pinch of salt.
Step 7: Heat 2 tbsp. oil in a non-stick pan. Dip the chops in the beaten eggs to coat a chop well and shallow fry each coated chop on medium heat for 2 minutes on each side till golden brown.