Fish mayonnaise salad is a common dish at all party occasions in Goa. People use all types of fish to prepare it. However, my daddy used kingfish. I use the same as the taste of the fish is not too overpowering, but at the same time is meaty. I have also combined it with my own homemade mayonnaise which is prepared with fresh ground mustard. This adds a subtle flavor to my Goan kingfish mayonnaise salad.
Serves: 10 to 12 persons
Prep. Time: 50 Mins. + 15 Mins. (marination) + 1 hour (refrigeration)
Cooking Time: 30 Mins. (passive)
Ingredients:
Kingfish Slices – 600 gms.
Onion – 1 sliced
Lime Juice – 3 tbsp.
Pepper Corns – 1 tsp.
Black Pepper Powder – 1 tsp.
Hard boiled Eggs (finely chopped) – 4
Carrot (chopped fine) – 1 medium
Potatoes (chopped fine) – 2 small
Spring Onion (chopped fine) – ½ cup
Celery (chopped) – 2 stalks
Capsicum – 1 fine slice (for decoration)
Mayonnaise (click here) – 1 cup
Cheese Cubes (grated) – 2
Cheeselings – few (for decoration)
Olive – ½ for decoration
Powdered Sugar – ½ tsp.
Salt – 3 tsp.
Step 1: Apply 1 ½ salt and lime juice to the fish and keep aside for 15 minutes.
Step 2:     Add the fish and 1 cup water to a pan. Add the pepper corns, sliced onions and celery and poach the fish for 15 to 20 minutes on medium heat till the water dries up. Cool the fish, remove all bones and flake the fish. Grind the flaked fish coarsely and keep aside.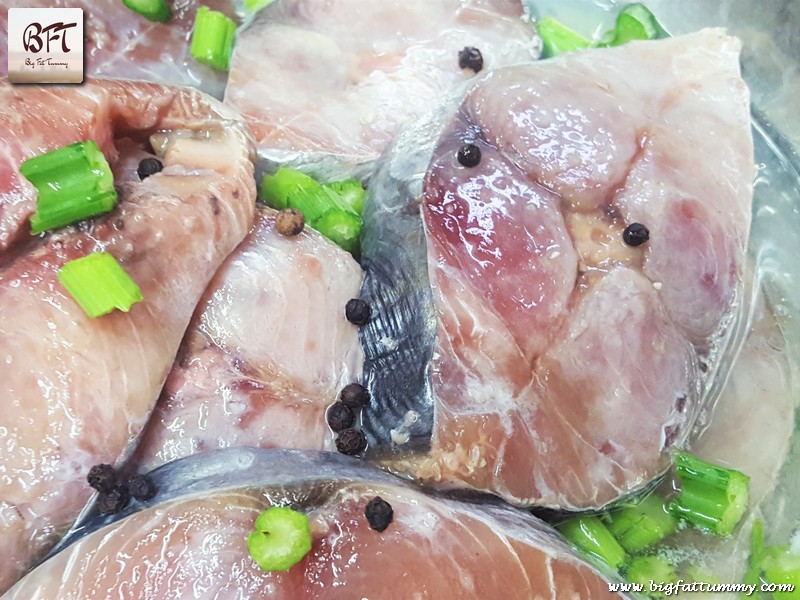 Step 3: In another pan, add 2 cups water and bring to a boil. Add ½ tsp. salt and the potatoes and boil till the potatoes are cooked. Drain and keep aside. Repeat the same for the carrots with 1 cup water but no salt. Drain and keep aside to cool.
Step 4: Add the potatoes, carrot, eggs, grated cheese and mayonnaise to the ground fish and mix well. Season with pepper powder, salt, sugar and lime juice. Add the chopped spring onion and mix all the ingredients well. Taste and decide if any additional seasoning is required. Add if required.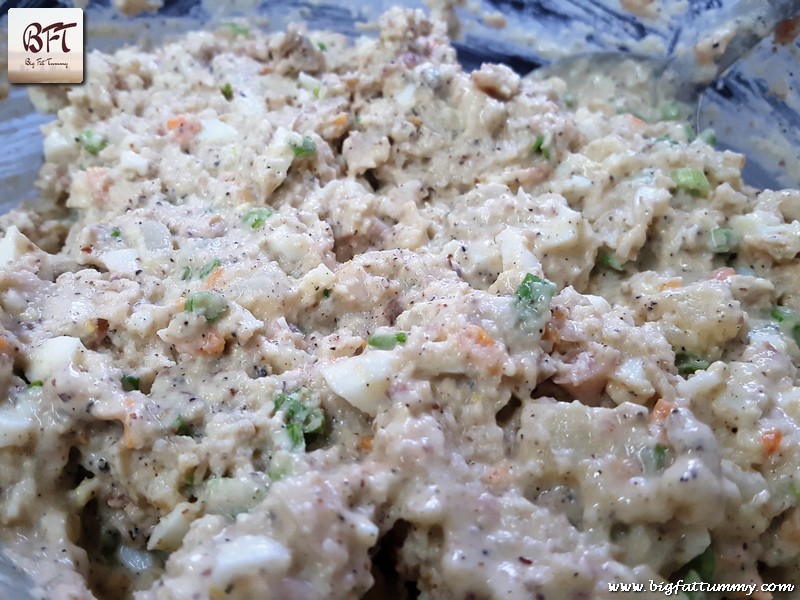 Step 5: Put the entire mixture in a fish-shaped mould and refrigerate for an hour. If you don't have a mould, take the mixture on a plate and shape it like a fish.
Step 6: De-mould the mixture on a suitable plate. Apply mayonnaise lightly all over it. Mark out the portion for the head and tail. Use pieces of capsicum on the marks and place cheeselings all over the body of the fish to give it an appearance of scales. Use ½ of an olive for the eye.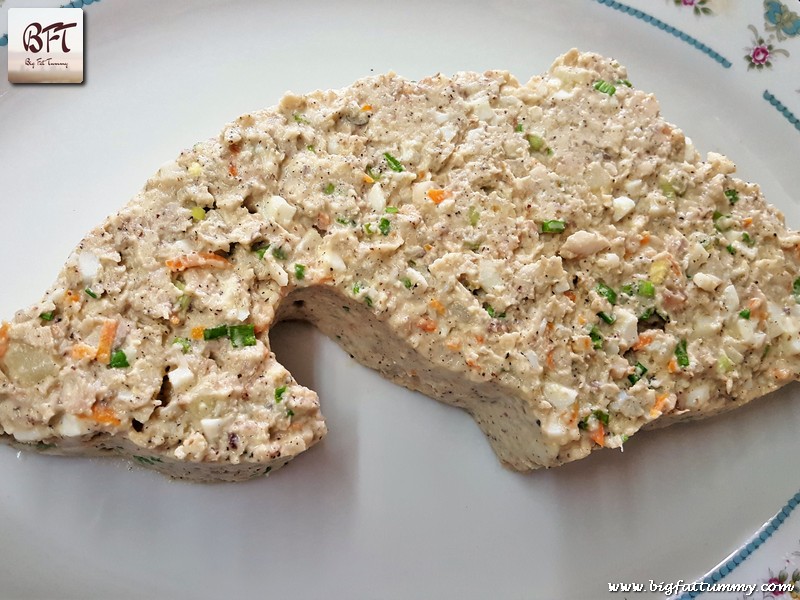 You salad is ready to serve.