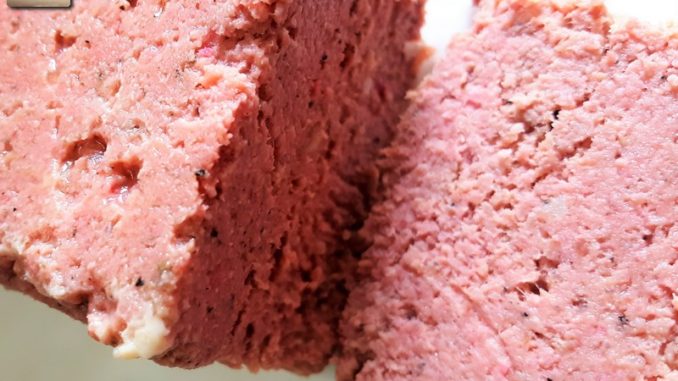 Prep. Time: 10 Mins. (active) + 30 Mins. (passive)
Cooking Time: 10 Mins. (active) + 60 Mins. (passive)
This is a very easy to prepare goan pork-beef meat loaf which tastes very much like 'Luncheon Meat'. I have been making this for years. The recipe was shared to me by my school mate, Ms. Avril Barretto, Velsao, Goa, during our college days. She is still in touch as a fellow balcaokan of Madhouse Balcao (see About Me) and we also meet sometimes.
You can prepare this meat loaf and keep in the refrigerator for various uses. You could cut small pieces, dip them in egg and fry them lightly and serve as a starter. Or you could make small square toasties of bread slices and top them with mashed meat loaf mixed with onion. You can also make single or multi-layered sandwiches with one layer of the meat loaf and serve as snacks or fill them in your child's tiffin. Or you can just eat it plain. Any which way, you will surely enjoy the yummy meat loaf.
Beef Mince – 500 gms.
Pork Bacon Mince – 250 gms.
Pao or Bread (soak in water and squeeze dry) – 1 pao or 2 slices
Eggs – 2
Limes – 1 big
Black Pepper Powder – 1 tsp.
Rose Pink Food Colour – ½ tsp. or less
Butter – 1 tbsp.
Salt – 1 tsp.
Step 1: Cook the beef mince with ½ tsp. salt and ½ cup water for 25 to 30 minutes. Cook till dry and allow to cool.
Step 2: Take the boiled mince, bacon mince, pao (soaked in water & squeezed) and eggs in a mixer-grinder jar and grind it for 3 minutes to a smooth paste. Transfer the paste into a bowl and add lime juice, ½ tsp. salt, pepper powder and the food colour and mix well.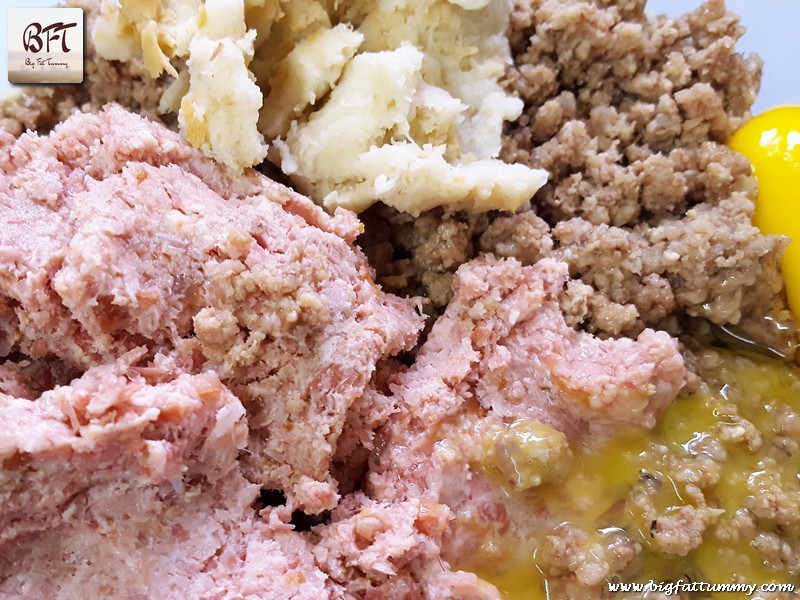 Step 3: Grease a rectangular baking tray or loaf tin (8 x 3 inch) with butter. Transfer the mixture into the buttered dish and press from top to bring it close together. Cover with aluminium foil.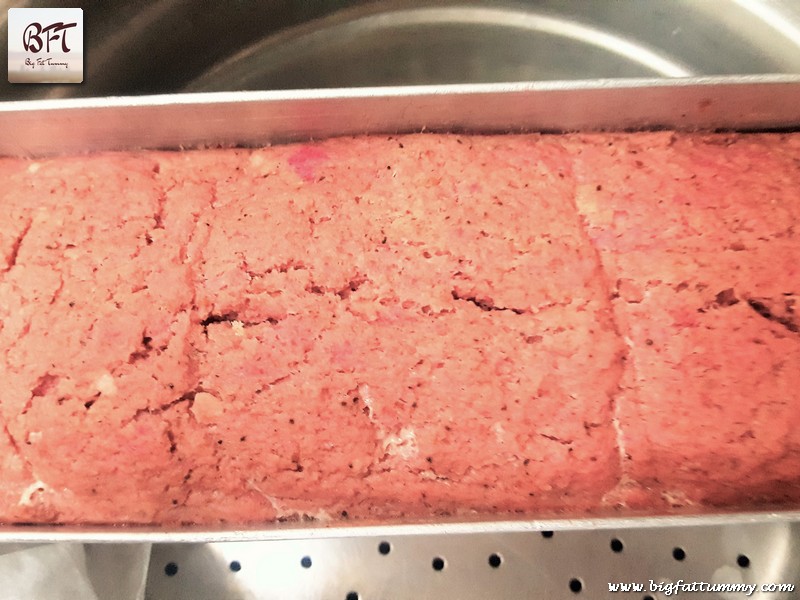 Step 4: Heat some water in a steamer. When hot, place the tray in it and steam on a low flame for 60 minutes. After 1 hour, open the foil a bit and insert a thin knife into the center of the loaf to check if it is done. If the knife comes clean, switch off the heat, remove the tray and keep to cool. Else cook for another 10 minutes.