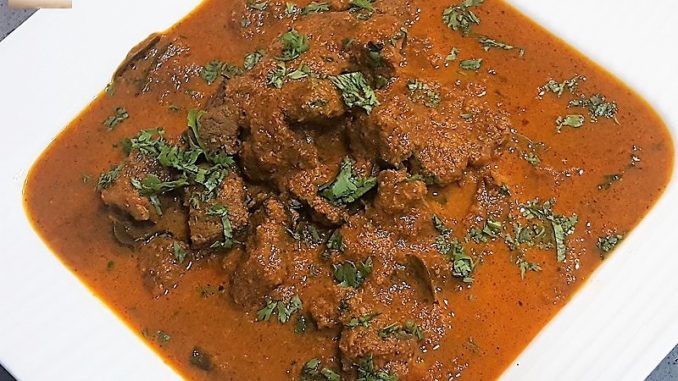 The Goan Xacuti is mostly prepared with mutton or chicken but making it with beef is also an option. The preparation of the beef xacuti requires numerous spices and is a bit of a tedious process but the end result is that you have a lip smacking curry. Serve it with hold rice and an onion-tomato-chilly-lemon salad on the side. For a milder tasting Coconut Beef Curry, click here.
Serves: 8 Persons
Prep. Time: 20 Mins. + Marination
Cooking Time: 55 to 60 Mins.
Ingredients:
[Standard Measure – 1 cup = 250 ml ]
Beef (boneless-cubed) – 1 kg.
Masala Paste 1:

Dry Red Chillies [Bedgi] (deseeded) – 12
Corriander Seeds – 1 tbsp.
Black Pepper Corns – 30
Cloves – 10 to 12
Cinnamon – 2 inch
Green Cardamom – 02
Poppy Seeds – 1 tsp.
Cumin Seeds – ¼ tsp.
Aniseed – ½ tsp.
Mace – ½ floret
Star Anise (remove the seeds) – ½ flower
Nutmeg – less than ¼ piece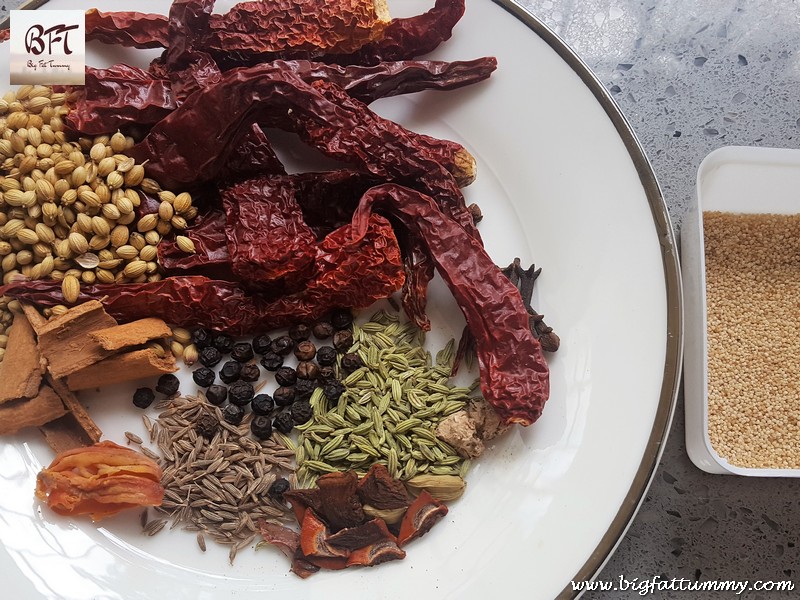 Masala Paste 2:

Fresh Coconut (grated) – 1 cup tightly packed
Onion (sliced) – 1 medium
Garlic – 4 to 6 cloves

Ginger-Garlic Paste – 1 tbsp.
Onion (chopped) – 1 medium
Tomato (chopped) – 1 medium
Green Corriander Leaves (finely chopped) – ¼ cup
Curry Leaves – 2 sprigs
Lime – 1 big or more
Turmeric Powder – ½ tsp.
Stock Cube (veg) – 2 small
Oil – 4 tbsp.
Salt – 1 tsp. or to taste
Step 1: Wash the beef pieces and drain well. Apply salt, ginger-garlic paste and the juice of the lime and leave aside to marinate for at least an hour. (if you intend to marinate longer, place it in the refrigerator)
Step 2: While the meat is marinating, take a heavy bottomed pan / iron pan (kadai) and roast the dried red chillies on low heat till they are crisp. Keep turning them around so that they do not burn. Set aside in a plate.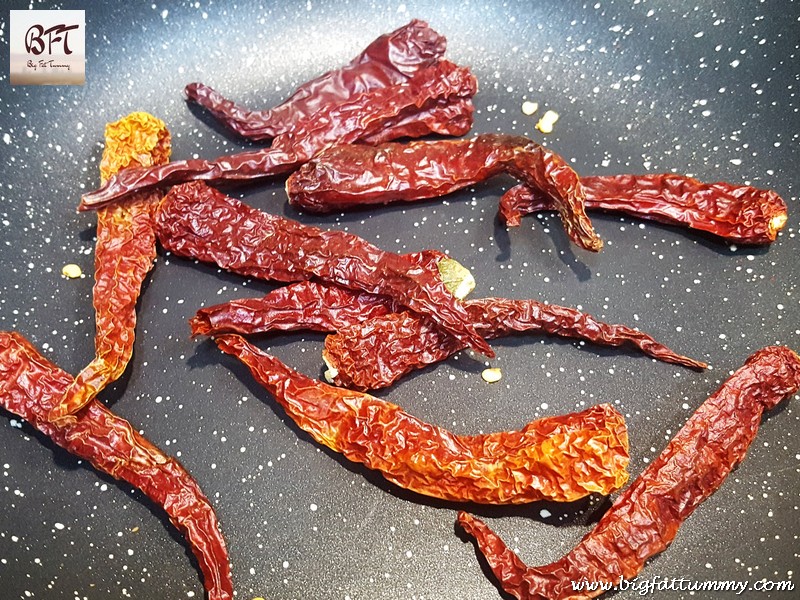 Step 3: Next dry roast the corriander seeds till fragrant and till it changes colour. Transfer to the plate.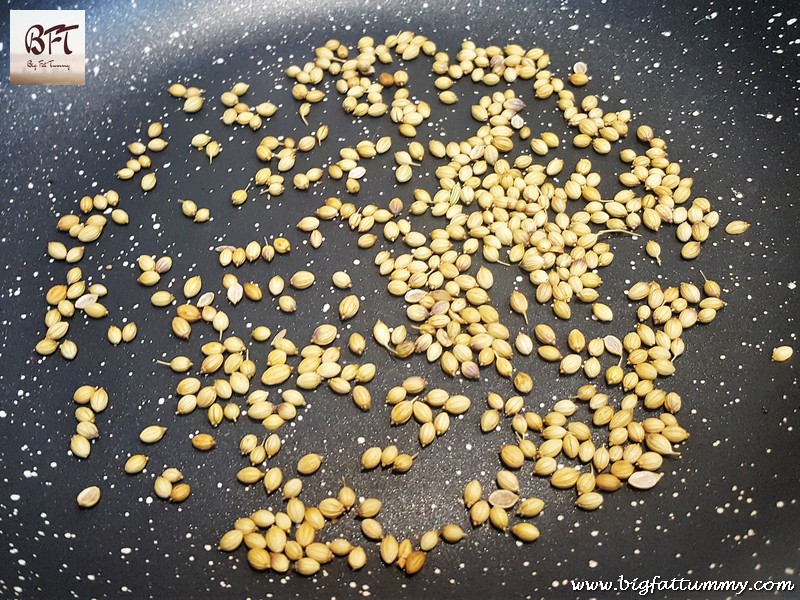 Step 4: Put all the remaining spices in the pan except the poppy seeds and dry roast them till fragrant and transfer.
Step 5: Finally roast the poppy seeds for a minute or two. Transfer to the plate and let all the spices cool down completely.
Step 6: Grind all the roasted ingredients with ½ tsp. turmeric and ¼ cup water to a fine paste and keep aside.
Step 7: In the same pan, heat 1 tbsp. oil and roast the coconut on medium heat till light brown. Transfer to a plate.
Step 8: Add another tbsp. of oil and roast the sliced onion and garlic till light brown. The add the roasted coconut and mix well. Switch off the heat and allow the mixture to cool. When completely cooled, grind this mixture to a paste with ½ cup water.
Step 9: Heat 2 tbsp. oil in a pressure cooker. Add the chopped onion and sauté on medium heat till soft. Then add the marinated meat with all of the liquids and sauté on high heat till the meat changes colour.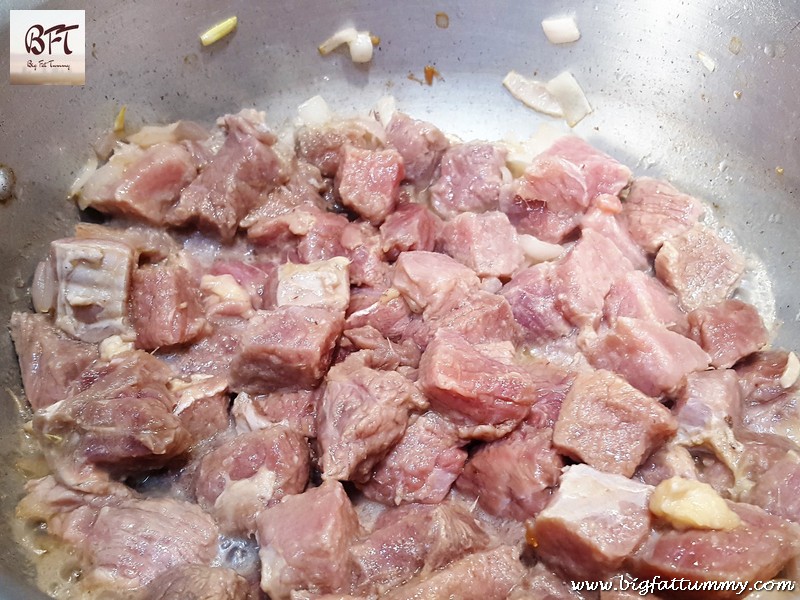 Step 10: Add the tomatoes and the 1 crushed stock cube and mix well. Add 1 cup hot water and put on the lid of the pressure cooker and continue cooking on high heat till the 1st whistle. Then turn the heat to low and cook further for 30 minutes. Later switch off the heat and allow the cooker to stand so as to allow the pressure to release naturally without opening the lid.
Step 11: Open the lid of the pressure cooker and continue cooking in it or transfer to another vessel. Switch on the heat and add the Masala Paste 1 and the curry leaves and cook covered with a flat lid on medium heat for 10 minutes.
Step 12: Next add the Masala Paste 2, 1 crushed stock cube and ½ cup hot water. Mix well and check for salt. Add if required. Continue to cook covered on medium heat for another 8 to 10 minutes. Switch off the heat. Add some lime juice to taste and garnish with the chopped corriander. Cover and allow to stand for at least 5 minutes before serving.
Note:
If you prefer your curry to be milder you can add a cup of thick coconut milk (see here) to tame it down.