The cottage pie was considered an old English humble meal. It was a no crust pie baked with leftover meat lined with potato mash and a potato mash crust. There are many variations of the dish and almost everyone who makes it will have one's own variation. My recipe makes use of freshly minced beef. And my boys enjoy it and find it yummy and if they do, I can surely say that it turns out quite good. (For other pie recipes, click here)
Serves: 6 Persons
Prep. Time: 20 Mins.
Cooking Time: 55 to 60 Mins.
Baking Time: 30 Mins.
Ingredients:
For the Mince Layer

Beef Mince (ground coarse) – 500 gms
Onions (finely chopped) – 2 medium
Garlic (minced) – 8 cloves
Carrot (peeled & chopped) – 1 large
Tomatoes – 2 large (pureed)
Tomato Ketchup – 2 tbsp. or more
Worcestershire Sauce – 1 tbsp. or more
Beef / Chicken Stock – 100 ml
Oregano – ½ tsp. or to taste
Black Pepper (freshly ground) – 1 tbsp.
Maida – 1 tbsp.
Butter – 1 to 2 tbsp.
Oil – 2 tbsp.
Salt – 1 tsp. or to taste

For the Potato Layer

Potatoes – 800 gms
Egg Yolk – 1
Black Pepper Powder – ¼ tsp.
Milk (hot) – 50 ml
Butter – 2 tbsp.
Salt – ½ tsp. or to taste
Preparation of the Mince:
Step 1: Wash the mince and drain well.
Step 2: Heat the oil in a pan. Add the mince and season with salt and pepper. Sauté the mince and break any lumps that form with the back of the ladle. The mince will start releasing its juices. Continue to sauté on medium heat for 15 to 18 minutes till the mince has browned well. Take the mince out of the pan and keep aside.
Step 3: In the same pan, add 1 to 2 tbsp. butter and throw in the garlic, onion and carrots and sauté on medium heat till the onions are soft and translucent.
Step 4: Add the browned mince, tomato puree and the flour on top of it. Mix it all for 2 to 3 minutes. Add the Worchester sauce and saute for another 5 minutes on low heat. Next add the stock, tomato ketchup and simmer for 20 to 25 minutes. Stir frequently in between. Once the liquids have dried up and the mince is cooked, switch off the heat and season with oregano. Check for salt and allow to cool.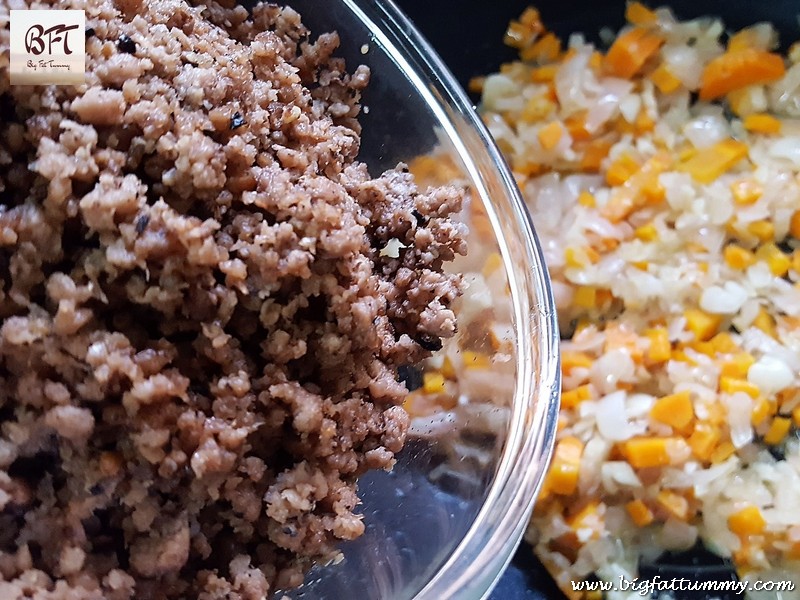 Preparing the Potatoes:
Step 5: Pressure cook the potatoes till done. Peel them when still hot and discard the skin. Mash the potatoes till smooth.
Step 6: Add the hot milk and butter and mix well. Next add the egg yolk, pepper powder and salt and mix again. Mix till all the ingredients are well blended.
Assembling the Pie & Baking:
Step 7: Take a baking dish (preferably a glass 8 x 8 inch one) and spoon in the mince. Level out the mince in the baking dish with the back of the spoon.
Step 8: Spread the creamy potato mixture on top of the mince. Use a fork and rough up the surface so that peaks are formed (see pic).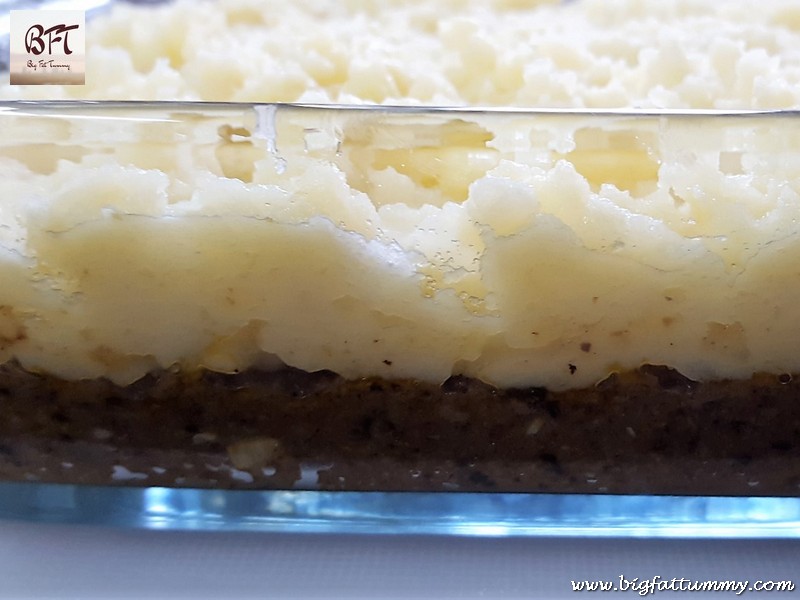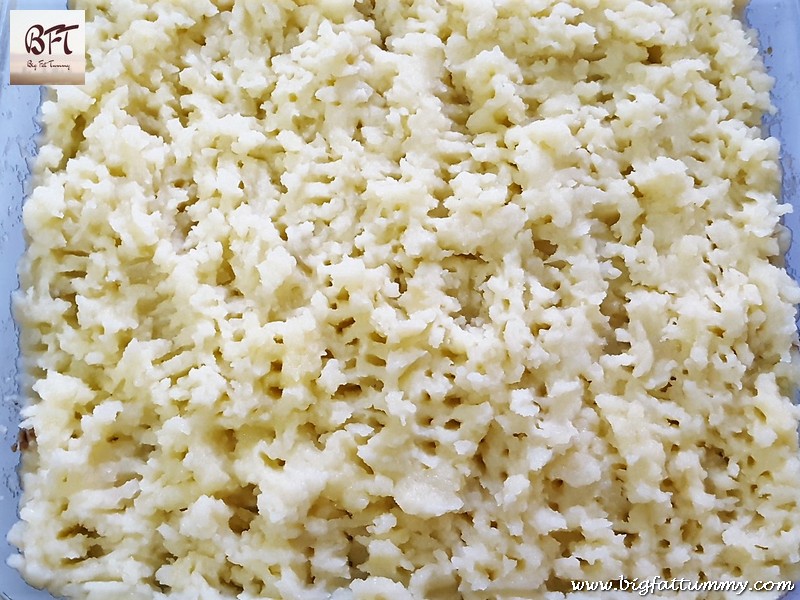 Step 9: Preheat the oven to 180°c for 15 minutes. Thereafter bake the pie for 30 minutes till the crust has browned lightly. Enjoy your pie. 🙂