I just cannot resist using raw mangoes in summer. I use raw mangoes in a variety of recipes. The trick however, is to adjust the masalas and amount of raw mangoes based on what it is being paired with. In this recipe of the Raw Mango Pomfret Curry I've used coconut milk right out of a can and a few spices to make it a quick to make curry (you can also use reconstituted coconut milk powder). Try this recipe and enjoy your summer! (For more recipes using Mango, click here)
Serves: 4 to 6 Persons
Prep. Time: 20 Mins
Cooking Time: 25 to 40 Mins
Ingredients:
[ Standard Measure : 1 cup = 250 ml ]
Pomfrets [silver/white] (cleaned & cut) – 2 medium
Sour Raw Mangoes (peeled, cubed) – 1 big
Onion (sliced) – 1 medium
Garlic (crushed) – 4 cloves
Green Chillies (broken) – 2
For the Masala Paste:

Onion (chopped) – 1 small
Tomato (chopped) – 1 medium
Kashmiri Red Chilly Powder – 1 tbsp.
Cumin Seeds – 1 tsp.
Corriander Powder – 1 tbsp.
Turmeric Powder – 1 tsp.

Thick Coconut Milk – 1 cup
Coconut Oil – 2 tbsp.
Sea Salt – 2 tsp. or to taste
Step 1:     Apply 1 tsp. salt to the cleaned and washed pomfret pieces and leave aside for 30 mins. Also apply ½ tsp. salt to the raw mango cubes and leave that aside too for the same duration.
Step 2:     Grind the ingredients for the Masala Paste to a smooth paste using 1/3 cup of water and then transfer to a bowl. Rinse the grinder jar with ½ cup water and keep that too in another bowl.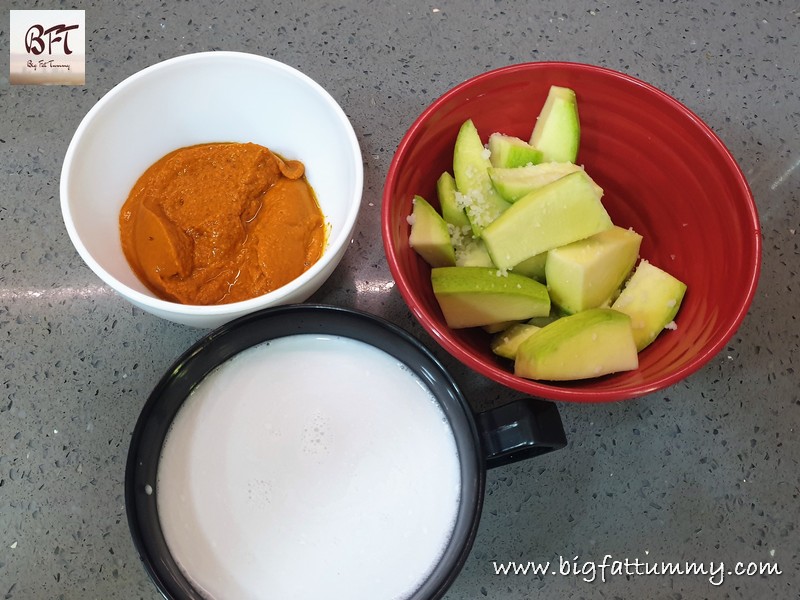 Step 3:     Heat 2 tbsp. coconut oil and saute the garlic and onion till translucent. Then add the broken chillies and saute till the onion and garlic is light golden.
Step 4:     Next add the ground paste and saute on low heat till the raw smell disappears (about 5 minutes on medium heat). Then add the masala rinse water.
Step 5:     Add another 1 cup of hot water and the coconut milk and let the curry come to a boil on medium heat. Then add the raw mangoes and continue cooking till almost done.
Step 6:     Drain the pomfret pieces of any liquids and add to the curry and continue cooking without stirring for 4 to 5 minutes. (Check for salt and add if required. Swirl the vessel to mix in the salt. Do not stir) Serve hot with rice.