The Non-alcoholic Plum Cake is that dark coloured fruit cake that you may have often bought from your bakers. It is a cake loaded with fruits (mostly black raisins) and has a sweet and slightly bitter after taste.The secret ingredient in this cake is not Pure Rum but Rum Essence :).
Yield: 750 gms
Prep. Time: 20 Mins
Baking Time: 40 Mins @ 180° C
Ingredients:
[Standard Measure : 1 cup = 250 ml]
Maida[APF] – 1 cup + 2 tbsp.
Black Raisins – ½ cup
Cherries – ¼ cup
Cashew Nuts– ¼ cup
Caramel (see here)– 1 portion
Eggs – 2
Salted Butter – 110 gms
Powdered Sugar – ¾ cup
Rum Essence – 1 tsp.
Soda-bi-carb – ¼ tsp.
Baking Powder – ½ tsp.
Salt – 1 pinch
Step 1: Prepare the caramel and allow to cool.
Step 2: Take the dry fruit and cut into pieces and then coat them with the 2 tbsp. of flour and leave aside.
Step 3: Line a baking tin (7 inch diameter) with parchment paper and keep ready. Set your oven to pre-heat at 200°C.
Step 4: Melt the butter on low heat and transfer to a bowl. After the melted butter has cooled, add the powdered sugar to it and whisk till properly mixed. Then add the eggs one at a time and whisk till it all turns creamy and fluffy.
Step 5: Next add the maida, salt, baking powder and soda-bi-carb and mix till the batter is smooth. Then add the cooled caramel and rum essence and mix lightly.
Step 6: Finally add the flour coated fruits and fold in lightly using a rubber/silicon spatula.
Step 7: Transfer the batter to the baking tin. Tap the tin lightly to release any trapped air and place the cake in the oven. Reduce the temperature to 180° C and bake for 40 minutes. Take a thin knife and pierce into the cake to check if it's cooked (The knife should come out clean. Baking temperature and time are indicative and depend on the type of oven you are using).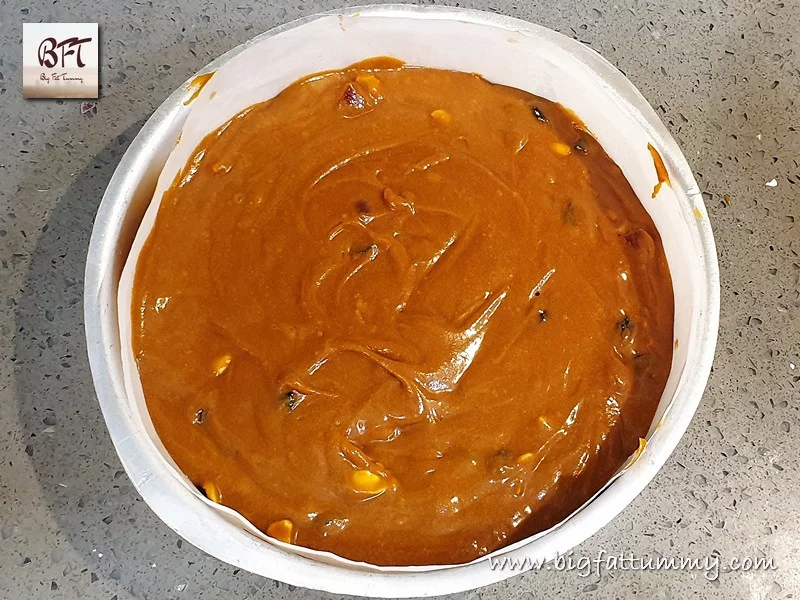 Notes:
All ingredients should be at room temperature.