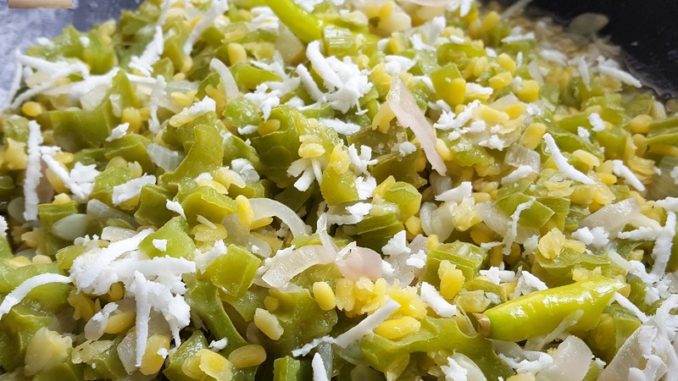 Gosali/turai (ridgegourd) cooked with split green gram (moong) is a simple preparation which contains high fiber and very low calories. The coconut oil in this recipe enhances the flavor and the grated coconut the texture. The ridge gourd moong preparation can be served as a side or can be eaten with chapatis.
Serves: A Family of Four
Prep. Time: 15 Mins. + 20 Mins. (soaking)
Cooking Time: 15 to 18 Mins.
Ingredients:
Ridge Gourd – 3 (600 to 700 gms)
Onion (finely chopped) – 1 large
Green Chillies (slit) – 2
Polished Moong Dal – 3 tbsp.
Coconut (grated) – 3 tbsp.
Sugar – ½ tsp. or to taste
Coconut Oil – 2 tbsp.
Salt – ½ tsp. or to taste
Step 1: Wash the dal and soak in a little water for 20 to 30 minutes.
Step 2: Wash, peel and chop the ridge gourd into small pieces. Place the pieces in a vessel in which you want to cook it and add the chopped onion, green chilly, sugar, salt and the drained moong dal. Add 2 tbsp. water and cook covered on low heat for 12 to 15 minutes till the veggies and the dal is done.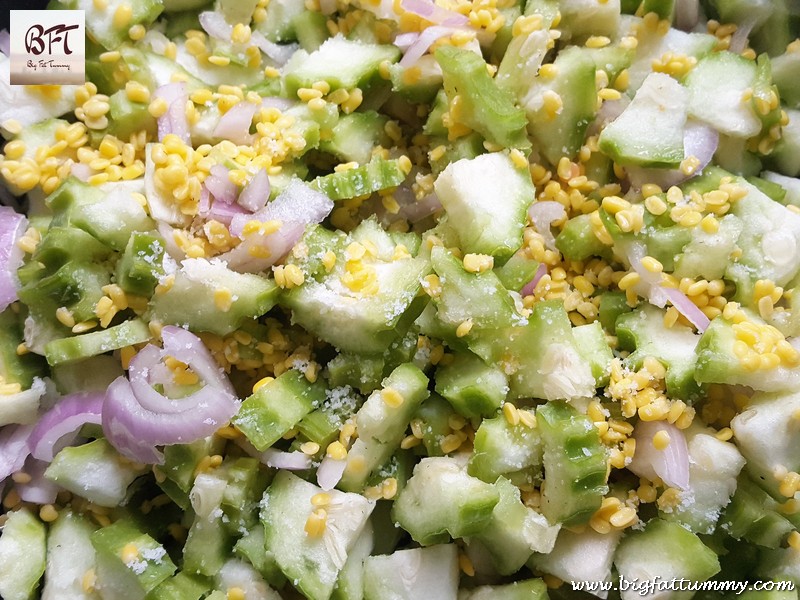 Step 3: Uncover and drizzle the coconut oil and sprinkle the grated coconut over the vegetable. Cover the vessel and switch off the heat. Allow to stand for 5 minutes before serving.