When I'm short on time or don't have any fresh produce, but still want to eat our rice and curry, I look to my stash of Goan Chorizo. I make a quick Goan Chorizo Masala Curry which the boys gulp down without any fuss. It's very easy to make and yum.
Serves: 4 to 6 Persons
Prep. Time: 15 Mins.
Cooking Time: 40 to 45 Mins.
Ingredients:
Goan Sausages – 12 big sized
Onions (cubed + sliced) – 2 + 1 large
Tomatoes (sliced) – 2 medium.
Ginger – 1 inch
Garlic – 10 to 12 cloves
Potatoes (peeled & cubed) – 3 medium
Capsicum (sliced) – 2 medium
Red Chilly Powder (Kashmiri) – 1 ½ to 2 tsp.
Toddy Vinegar – 2 tsp. or as needed (optional)
Salt – as needed
Step 1: Grind the 2 chopped onions, ginger and garlic to a paste.
Step 2: Remove the strings off the Goan sausages and chop them into individual pieces. Place them in a pan with 50 ml water and cook on medium heat till the water has evaporated and the oil has oozed out.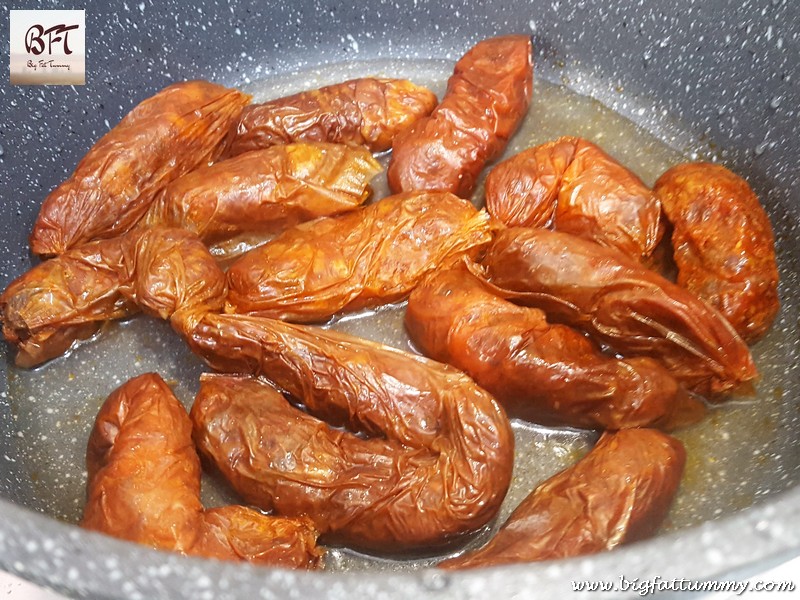 Step 3: Shift the sausages to one side of the pan and add the sliced onion. Sauté for 2 minutes and shift to one side. Add the paste that we had ground earlier to the fat in the pan and sauté till the raw smell disappears. Now bring the sautéed onions and the sausages in, mix and sauté for a minute.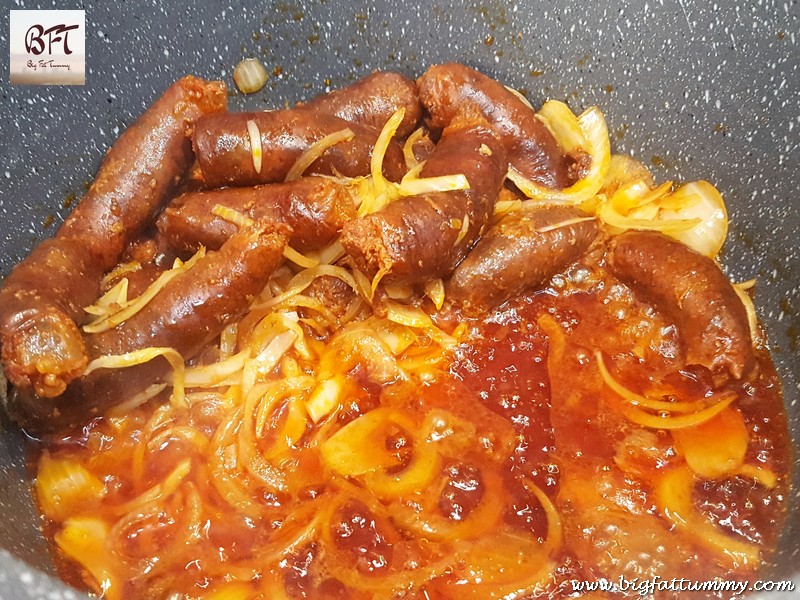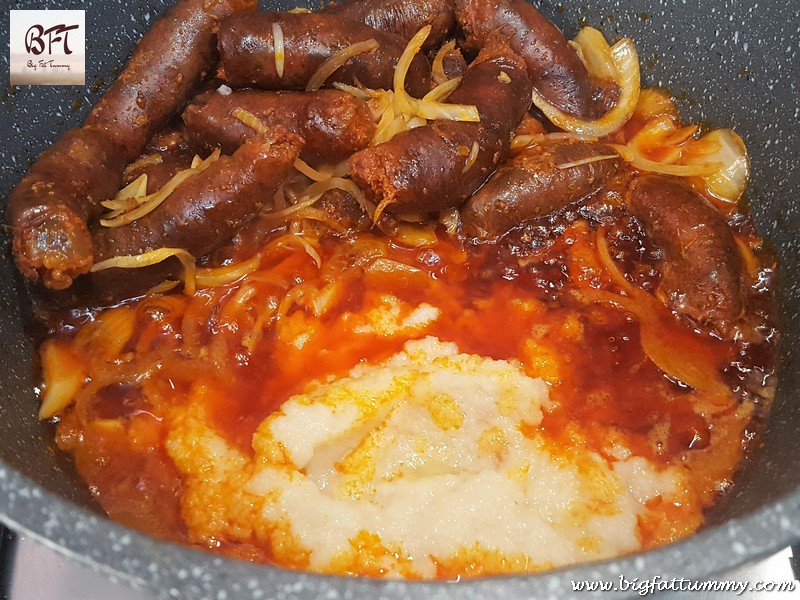 Step 4: Add the potatoes and sauté for another minute. Next add the red chilly powder and mix. Then add the sliced tomatoes and mix for a minute. Finally add 300 to 350 ml hot water and cook covered till the potatoes and sausages are well cooked.
Step 5: Taste the gravy and add a little toddy vinegar and salt if needed. Add the capsicum and cook covered for a minute and switch off the heat. Wait for 5 minutes and drain the excess oil floating on the gravy with clean absorbent paper kitchen towels. Serve with hot rice.