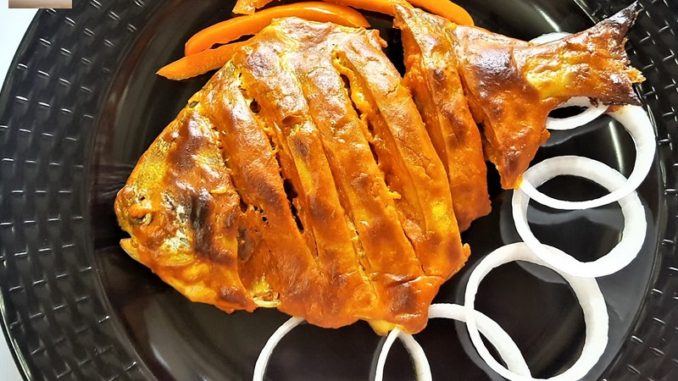 Grilling gives fish a different texture and flavour. The fish is juicy in the inside while crisp on the outside. Less oil is also used and so it is a healthier option. You need to use your OTG to make the grilled pomfret.
Serves: 2 to 4 Persons
Prep. Time: 10 Mins. + 45 Mins. (marination)
Grilling Time: 18 to 20 Mins.
Ingredients:
Pomfrets – 2 medium (500 gms.)
First Marinade:

Lime – 1 big
Ginger-Garlic Paste – 2 tsp.
Turmeric Powder – ½ tsp.
Red Chilly Powder – ½ tsp.
Salt – 1 tsp.

Second Marinade:

Hung Curds – ¼ cup (50 ml.)
Ginger-Garlic Paste – 1 tsp.
Besan [Gram Flour] (roasted) – 1 tbsp.
Ajwain [Carom Seeds] (crushed) – ½ tsp.
Black Salt – ½ tsp.
Red Chilli Powder – 1 tsp.
Egg – 1
Orange Food Colour – a few drops (optional)

Butter – 4 tsp.
Mustard Oil – 1 ½ tbsp.
Oil – 2 tsp.
Chaat Masala – 1 tsp. or to taste
Step 1: Keep the pomfret whole but cut off the fins and tail and clean all the innards. Wash and drain the pomfrets. Make a few deep incisions on both sides of the fish.
Step 2: Juice the lime and mix it will all the other ingredients listed under 1st marinade. Rub this marinade onto the fish and leave aside for 15 minutes.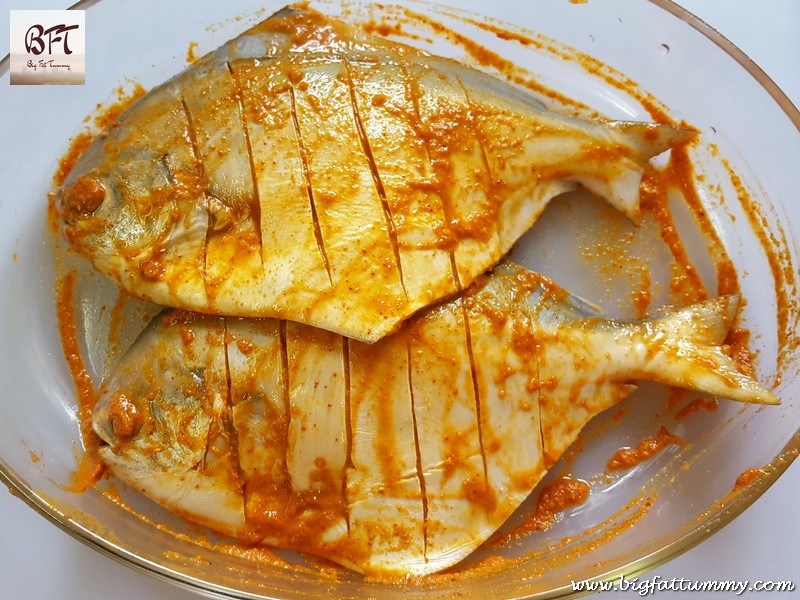 Step 3: Meanwhile, prepare the 2nd Marinade in a large bowl as follows. Beat the egg lightly and add the curds to it. Beat lightly for a few seconds and add all the other ingredients listed under 2nd marinade. Also add a few drops of orange food colour (optional). Mix all the ingredients well and keep aside.

Step 4: Take the fish marinated with the 1st marinade and discard the liquids if any. Now rub the 2nd marinade to it. Try and fill the slits also with the marinade. Cover with a lid and keep in the refrigerator for 30 minutes.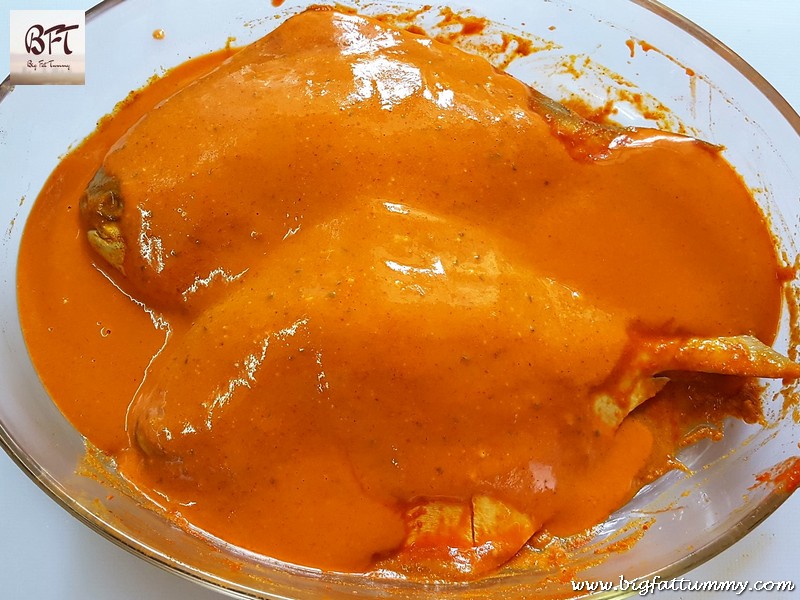 Step 5: Start the oven to pre-heat it at 180°c. While the oven is heating take a baking tray and grease it with 2 tsp. oil. Place the fish on it and apply a generous amount of marinade on the top side.
Step 6: Change the mode of the oven to Grill Mode. Place the tray into the oven on the top slot, close to the grill and grill for 8 minutes.
Step 7: At the end of 8 minutes, remove the tray, baste each fish with butter and turn it over. Continue to grill the other side for another 8 minutes.
Step 8: When the second side has grilled for 8 minutes, take it out and baste with the remaining butter. Grill for another 2 minutes till golden and cooked.
Sprinkle chaat masala on the fish and serve hot.