Polle / Rice Pancakes are also known as neer dosa down south. They are prepared in Goa as an evening snack or at dinner time. You can eat them with your favourite meat or vegetable preparation at dinner. You can also stuff them with chunn (sweet coconut filling) to make Allebelles. These are a good gluten free and eggless option. Also, please read the notes below so that you get perfect polles.
Yield: 20 Polles
Prep. Time: 15 Mins. + 30 Mins. (standing) + 6 to 8 Hours (soaking)
Cooking Time: 2 to 3 minutes for each
Ingredients for the Plain Pancake:
[ Standard Measure – 1 cup = 250 ml ]
Raw Rice [Aged Masuri] – 1 ½ cup
Cooked Rice – 3 tbsp.
Coconut – ¼ cup
Onion (halved) – ½
Oil – as needed
Salt – 1 tsp. or to taste
Water – 900 ml to 1000 ml
Step 1: Wash and soak the raw rice for 6 to 8 hours.
Step 2: Later, grind the raw rice with the cooked rice and grated coconut to a smooth fine batter using 250 ml water. Then add salt and add the remaining 650 to 750 ml water (depending on how thick or thin you want the pancake) and mix well to get a watery batter. Let it stand for 30 to 60 minutes.
Step 3: Place a non-stick pan on medium-high heat. Once the pan is hot, take the halved onion, dip the plain surface in oil and remove. Shake off excess oil and use the plain side to grease the pan.
Step 4: Now lift the pan off the heat. Mix the batter and pour a ladleful or more (enough to coat the whole bottom of the pan) onto the pan. Swirl the pan to spread the batter thinly. Place it back on heat and wait for 30 seconds till you see holes being formed. Then switch the heat to low and cover the pan with a lid and cook for another minute. Remove the lid and cook for another 30 seconds.
Step 5: Gently lift the cooked pancake off the pan using your fingers and place on a plate lined with butter paper. Then place the pan back on medium heat for the next pancake. Follow Step 4 for your next pancake and then Step 5 till you are done with the number of pancakes you want. Also do let the pancake cool before folding it.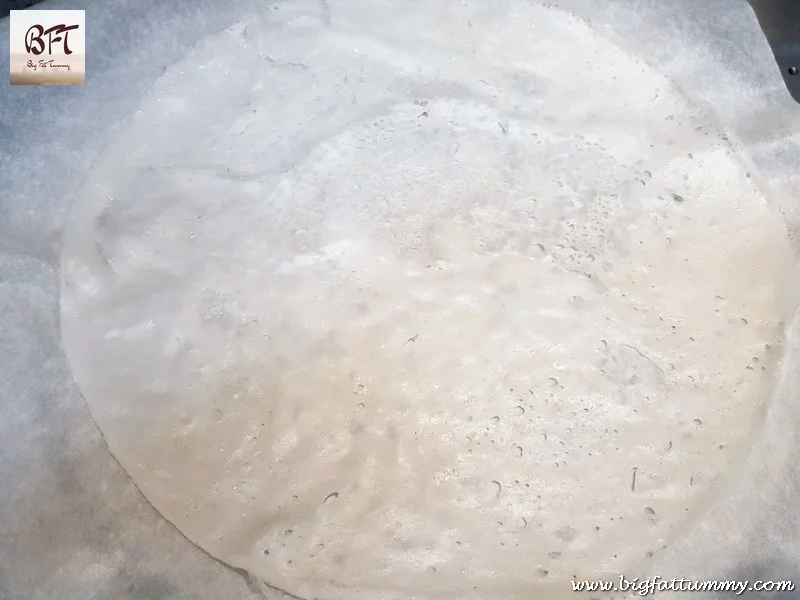 Note:
Remember to heat on medium heat and only pour in the batter onto the pan when it is quite hot so that you get the lacy effect. And then remember to lower the heat once you cover the pan.
Wipe the lid that you cover the pan with to remove the water that has condensed.
You don't have to flip the pancake over. Cook only on one side.
The batter should be very smooth. You should not feel any grainy texture.
Remember to mix the batter each time you take a lot for frying.
For the Filling / Stuffing – 'Optional ' (Use any one or more of these):
Coconut Palm Jaggery Filling (click here)
Coconut Sugarcane Jaggery Filling (click here)
Coconut Cashewnut Filling (click here)