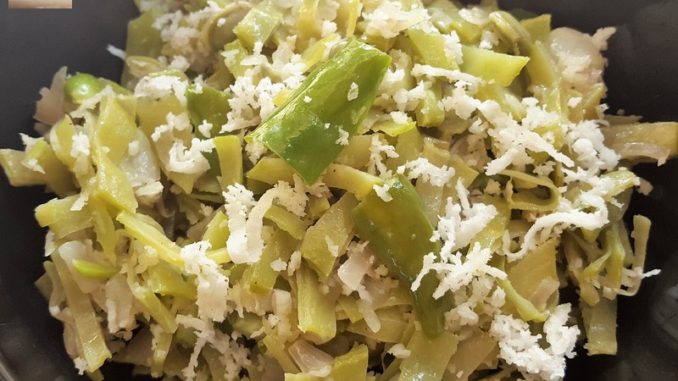 The Flat Bean Foogath like all Goan 'Foogaths' is plain and simple. Most vegetable preparations in Goa are fairly simple, probably to serve as a side with the spicy curries and rice. You can use all varieties of flat beans for this preparation provided you get the beans fresh and tender. The Flat Bean Foogath can also be served at dinner with chapatis.
Serves: 2 to 4 Persons
Prep. Time: 15 Mins.
Cooking Time: 5 to 6 Mins.
Ingredients:
Papdi [ Flat Beans] – 300 gms
Onions (finely chopped) – 2 medium
Light Green Chillies (halved lengthwise) – 3
Coconut (grated) – 2 to 3 tbsp.
Sugar – ½ tsp. or to taste
Oil – 2 tbsp. or less
Salt – ½ tsp. or to taste
Step 1: Wash the papdi and drain. String the beans and cut them into thin slices (see pic).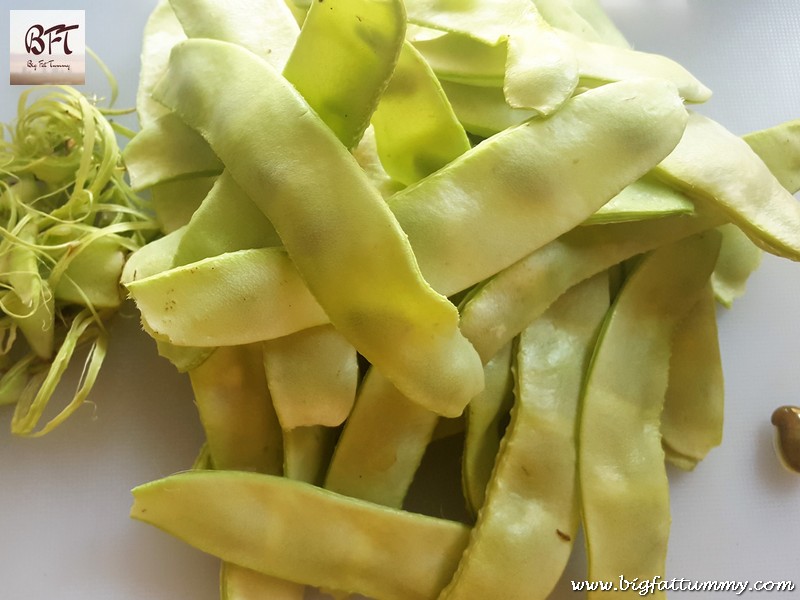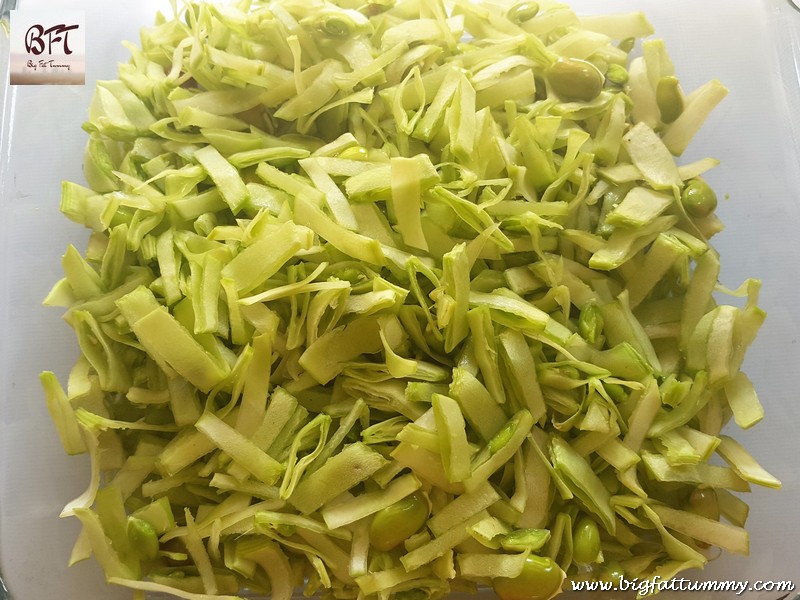 Step 2: Heat the oil in a pan and sauté the onions and green chillies on medium heat till the onions turn soft and translucent.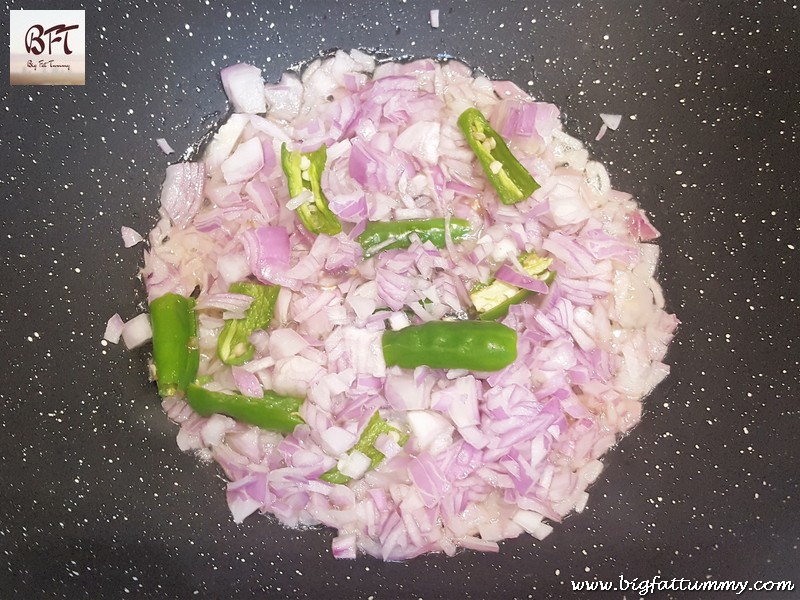 Step 3: Add the chopped beans and sauté for a minute. Reduce the heat to low. Sprinkle 1 tbsp. of water on the vegetable and cover the pan with a deep lid (one that will hold water on the top). Pour a little water on the lid (to prevent the steam from inside the pan escaping). Cook for 3 minutes.
Step 4: Open the lid and season with the salt and sugar. Give a quick mix and cook uncovered for another 2 minutes. Check for doneness. The vegetable will have lost its colour, but it should retain its shape and not be mushy. Don't overcook. (add a little hot water from the lid if needed and cook further if not cooked).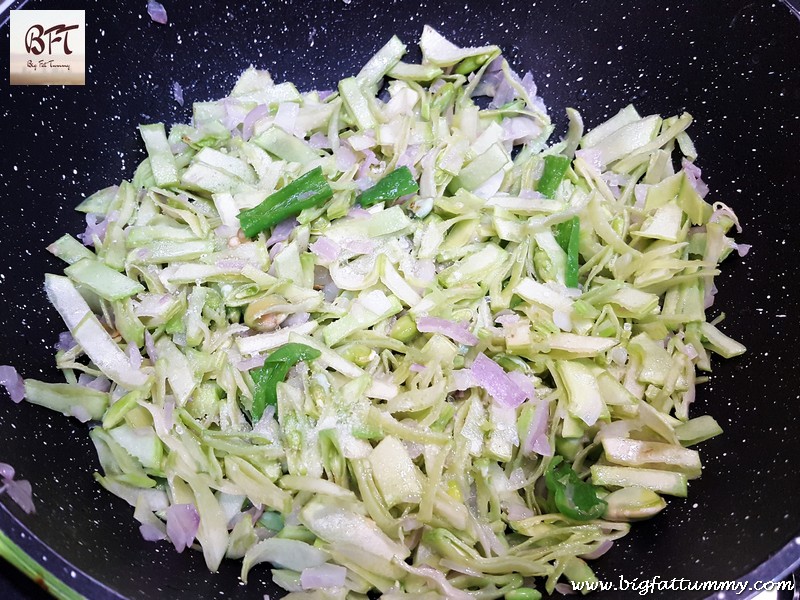 Step 5: Switch off the heat and sprinkle the coconut over the vegetable and mix.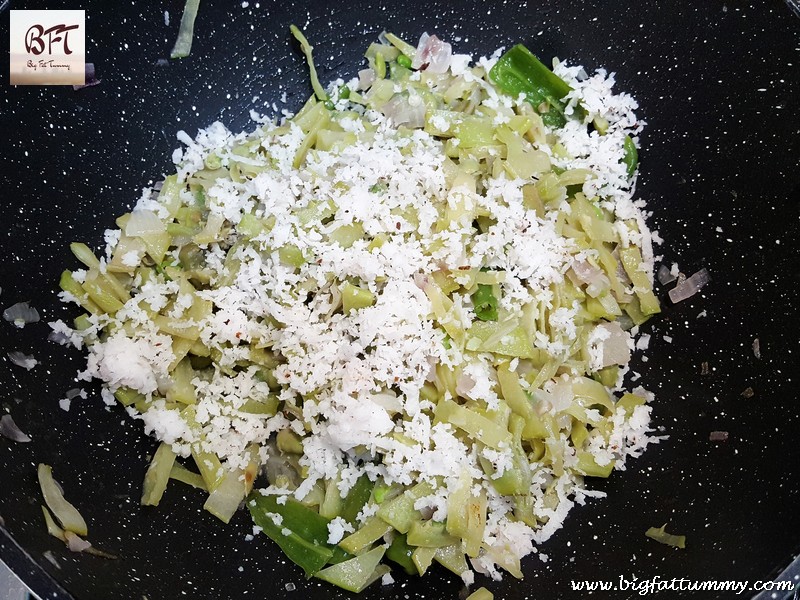 Note:
The vegetable if tender, will be cooked in 5 minutes. Be careful not to overcook.