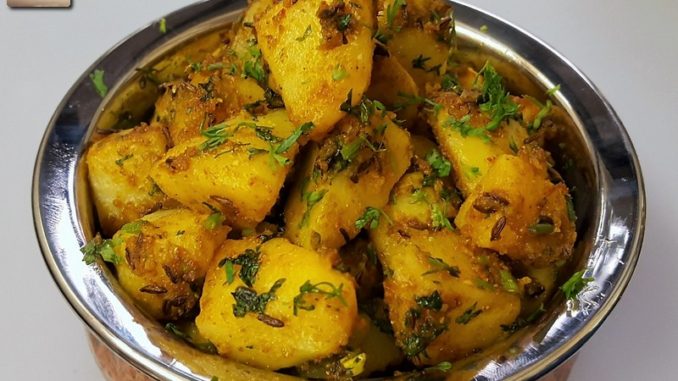 Perhaps the simplest of Indian vegetable dishes and also the easiest to cook, the aloo jeera is economic, nutrition packed and easy to digest. Even children, who are otherwise fussy about vegetables, somehow like and eat potatoes. Aloo jeera can be served with any type of Indian bread.
Serves: 6 Persons
Prep. Time: 15 Mins.
Cooking Time: 8 to 10 Mins.
Ingredients:
Potatoes (boiled and peeled) – 500 gms.
Green Chillies (slit) – 3 to 4
Corriander Leaves (finely chopped) – 3 tbsp.
Cumin Seeds – ½ tbsp.
Roasted Cumin Powder – 1 tsp.
Corriander Powder – 1 tsp.
Red Chilli Powder – 1 tsp.
Turmeric Powder – ¼ tsp.
Oil – 2 tbsp.
Salt – ½ tsp. or to taste
Step 1:     Cut the potatoes into 3 cm. cubes.
Step 2:     Heat the oil in a pan on low heat and add the cumin seeds. Once they splutter add the green chillies and give a quick stir. Add the powdered masalas and sauté for a few seconds.
Step 3:     Throw in the cubed potatoes, salt and toss well for 3 to 4 minutes till all the pieces are coated well with the spices. Add the chopped corriander leaves and toss again. That's it! The aloo jeera is ready to be served.