The vegetable pulao is considered as an alternative to serving plain rice at most parties, be it a kitty party or a wedding. It goes well with any other dish, be it a modest dal, a rich Indian gravy or even dry sides. It tastes just as good by itself. For a One Pot Vegetable Pulao click here.
Serves : A Family of Four
Prep. Time : 30 Mins…
Cooking Time : 35 Mins… (active)
Ingredients:
Cooked Basmati Rice (click here)- 1 Portion
Cloves – 6
Cinnamon – 2 inch stick
Green Cardamon – 3
Bay Leaves – 2
Blanched Vegetables (click here):

Carrot (cut into thin long strips) – 1
Green Peas – ¼ cup
Sweet Corn Kernels – 2 tbsp.

Capsicum (cubed) – 1
Onions (sliced) – 2
Green Chillies (cut length wise) – 4
Ginger-Garlic Paste – 2 tsp.
Cashewnuts (broken into halves) – 6
Pure Ghee – 2 tbsp.
Oil – 1 tbsp.
Cottage Cheese – [Paneer] (cubed) – 100 gms… [Optional]
Salt – 1 tsp. or to taste
Step 1:     Heat a pan on low heat. Add the ghee and oil. Add the cloves, cinnamon, green cardamom, bay leaves and the cashew nuts and sauteé for 2 minutes.
Step 2:     Add the onions and fry till a light golden brown.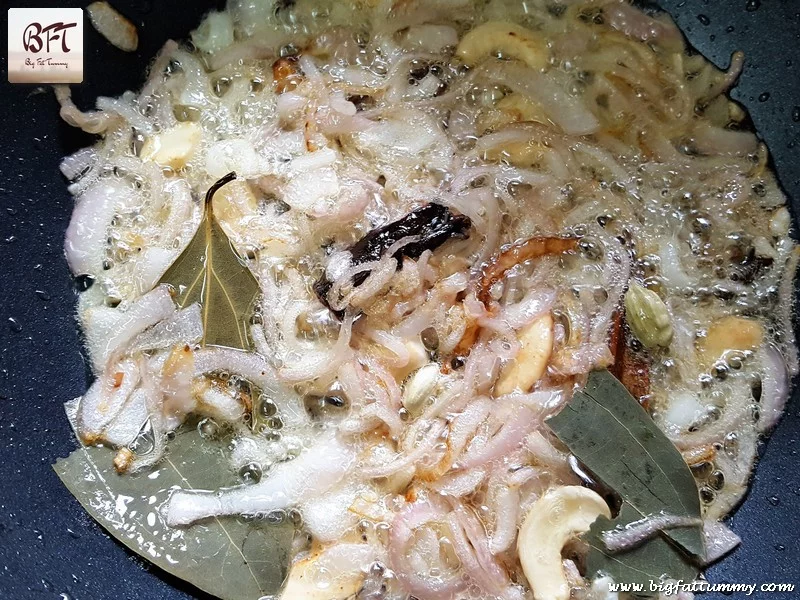 Step 3:     Add the green chillies. Sauté for 10 seconds. Then add the ginger-garlic paste and sauteé till the raw smell disappears.
Step 4:     Add the blanched vegetables, the capsicum. Season with salt. Stir-fry for 4 minutes.
Step 5:     (Optional) Add the paneer and stir for a minute.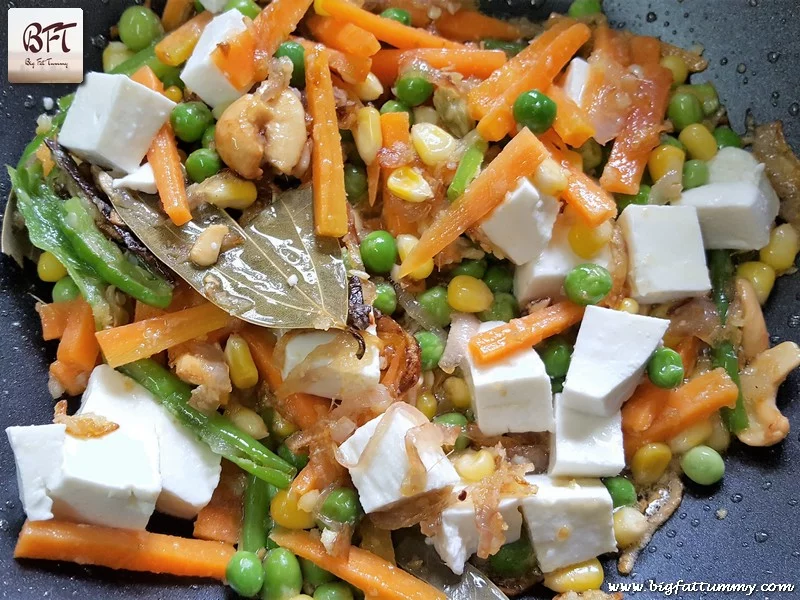 Step 6:     Next add the rice and mix well on high heat. Lower the heat and cook covered for 5 minutes.
Serve with a Cucumber Carrot Raita (click here) or a Boondi Raita (click here) or a gravy of your choice. Tastes yummy all by itself too.