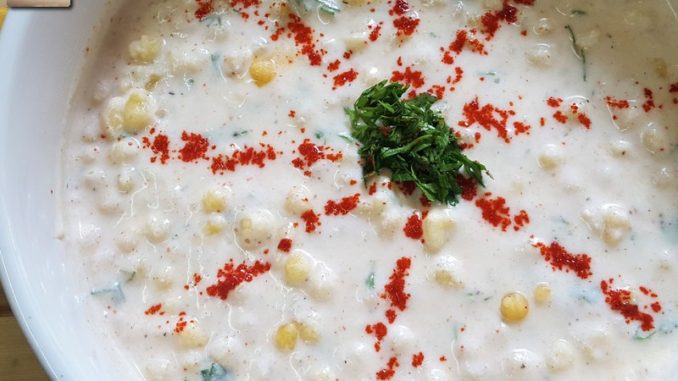 The Boondi Raita is a good accompaniment with all types of food. Always prepare it fresh so that the crunch of the boondi compliments the texture of the dish. You can serve it chilled or at room temperature.
Serves: A Family of Four
Prep.Time: 15 Mins.
Ingredients:
[Standard Measure – 1 cup = 200 ml.]
Curds – 1 ½ cup
Salted Boondi – ½ cup
Kashmiri Red Chilli Powder – ½ tsp. + 1 tsp.
Black Pepper Powder – ¼ tsp.
Bhuna Jeera [Roasted Cumin] Powder – ½ tsp.
Chaat Masala – ¼ tsp.
Green Corriander (finely chopped) – 2 tbsp.
Sugar – 1 tsp.
Salt – ½ tsp. or to taste
Step 1: Take the curds and ½ cup water in a bowl and beat with a wire whisk till smooth. Add ½ tsp chilli powder, the rest of the powdered masalas, salt and sugar and mix well. Add the chopped corriander leaves and leave in the refrigerator to chill for at least an hour.
Step 2: Just before serving, take 1 cup warm water and soak the boondi in it for 3 to 4 minutes. After 4 minutes, strain the boondi and squeeze out excess water and add to the spiced yogurt. Mix and use the 1 tsp. of red chilli powder to garnish / decorate.