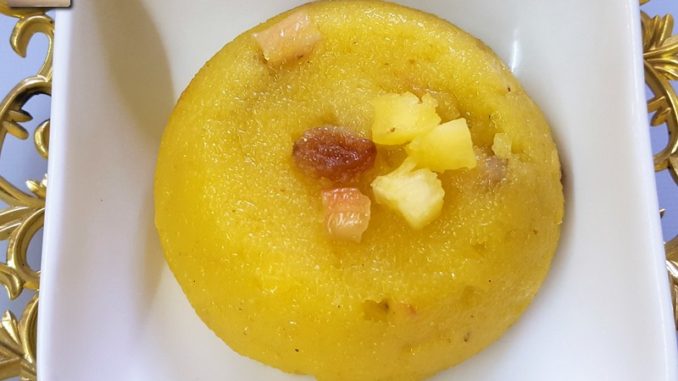 The 'Bunt' community from Karnataka have their presence in most cities of India as restaurateurs. The pineapple sheera, a sweet dish made with semolina, will always be found on the menu of Udipi (Karnataka) cuisine restaurants. However the dish is not specific to Karnataka Cuisine and is cooked and served in many parts of India. The sheera which is usually served at breakfast can also be eaten as a tea time snack. (for the savory version called Upma / Upit click here). You could also try the Tea Time Sheera (click here) or the Dry Fruit Sheera (click here)
Serves: A Family of Four
Prep. Time: 15 Mins.
Cooking Time: 15 to 20 Mins.
Ingredients:
[Standard Measure – 1 cup = 200 ml.]
Rawa [Semolina] – ½ cup
Pineapple (cut into tiny pieces) – ½ cup
Cashew Nuts (chopped/broken) – 10
Raisins – 12 to 15
Yellow Food Colour – 2 to 3 drops
Pineapple Essence – 1 drop
Cardamom Powder – a pinch (optional)
Sugar – ¾ cup
Ghee – 4 to 5 tbsp.
Step 1: Heat 2 cups of water in a small vessel. When the water comes to a boil, add the pineapple bits and cook for 2 to 3 minutes.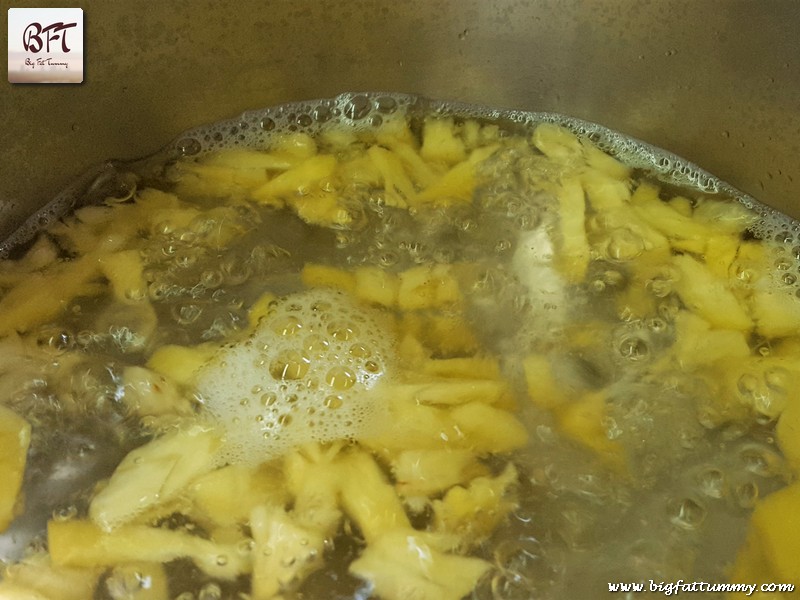 Step 2: Heat 1 tbsp. ghee in a non-stick pan. Fry the cashew nuts till golden, drain, remove and place on a plate. Throw the raisin into the pan and fry till they become plump. Drain and keep with the fried cashew nuts.
Step 3: Next heat another 2 to 3 tbsp. of ghee in the same pan and roast the rawa on low heat till lightly roasted and fragrant. Don't over roast till brown. Now pour the hot water with the pineapple pieces into the pan with roasted rawa slowly whilst stirring continuously so that no lumps are formed. Also add the food colour and essence and give it a stir.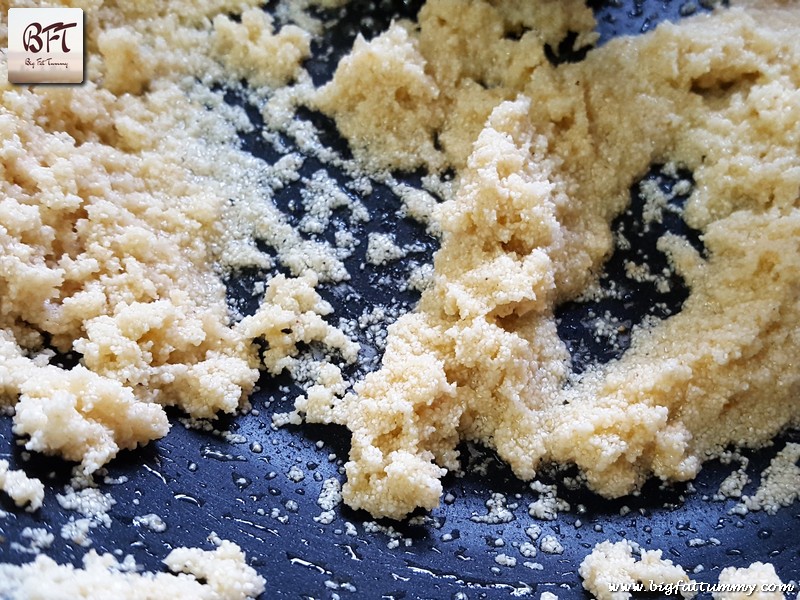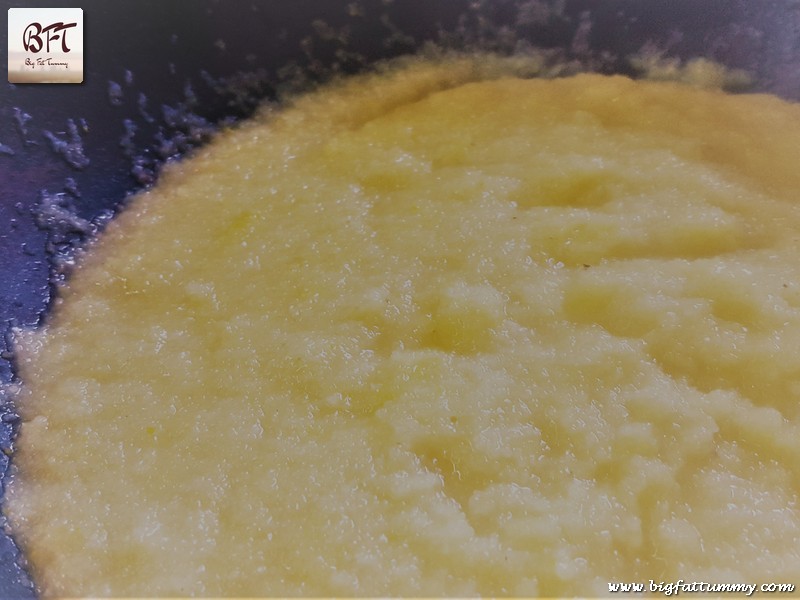 Step 4: Cover the pan and let it simmer on low heat for 3 to 4 minutes. Check if the semolina is cooked and then add the sugar and stir continuously till the sugar dissolves. Sprinkle the cardamom powder, the nuts and raisins and add a tbsp. of ghee. Stir, take off the heat, cover and keep aside.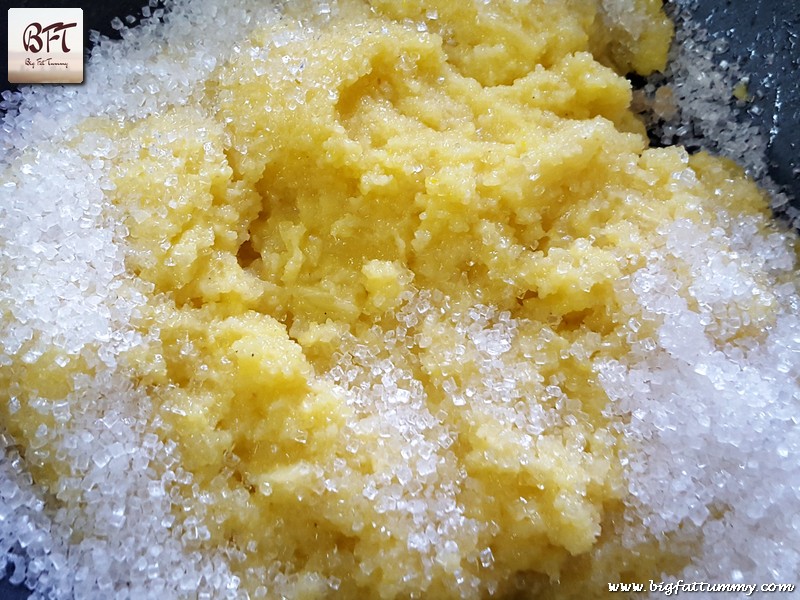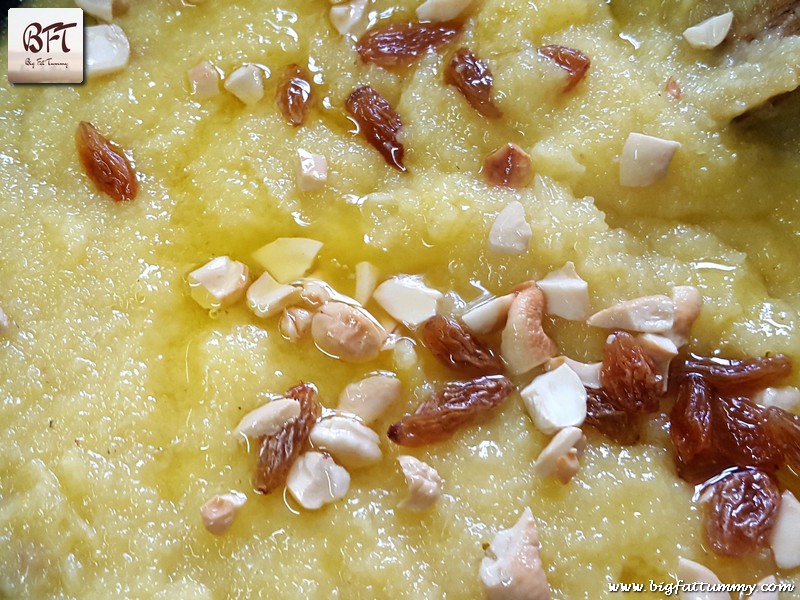 Note:
To check if the rawa is cooked, wet your fingers and touch the rawa. If it does not stick to your fingers, it has cooked completely.
The sheera can be stored in the refrigerator for 3 to 4 days and reheated either on a double boiler or microwave before consumption.
I feel the sheera tastes better the next day as the pineapple flavour is heightened.
I have used ½ cup sugar. You can use more if you prefer your sheera to be sweet.