Bende Sungta Kodi or Goan Prawn Okra Curry is a classical preparation made in almost all Goan homes. Coconuts, prawns and bende being local produce, bountifully available. It pairs well with the local Goan red rice. Rava fried prawns serve as a perfect accompaniment to this Xitt Kodi combination. Traditionally, the spices are ground with a small amount of coconut. This entire spice mix is added to the curry and later topped with coconut milk.
But since the coarse coconut fibre in the curry irritated my m-i-l's throat [and I want to be in her good books], I modified the the Prawn Ladyfinger Curry to suit her palate. And since – we also prefer it this way.
Serves: 5 to 6 Persons
Prep. Time: 25 Mins.
Cooking Time: 5 Mins. (active) + 15 Mins. (passive)
Ingredients:
Prawns (small to medium – cleaned, deveined and seasoned with ½ tsp. salt) – ½ cup
Lady Fingers (chopped into 2 inch pieces) – 8 to 10 (medium)
Tomato – ½ (finely chopped) + ½ (sliced)
Green Chillies (slit) – 2
Onion (finely chopped) – 1
Oil – 1 tbsp.
Salt – ½ tsp. or to taste
For the Masala (spice paste):
Coconut (grated) 1 ½ cup
Kashmiri Red Chillies – 6
Peppercorns – 6
Garlic – 6 cloves
Fenugreek Seeds – a pinch
Corriander Seeds – 1 tsp.
Cumin Seeds – ¼ tsp.
Turmeric Powder – ½ tsp.
Tamarind – 1 small marble sized ball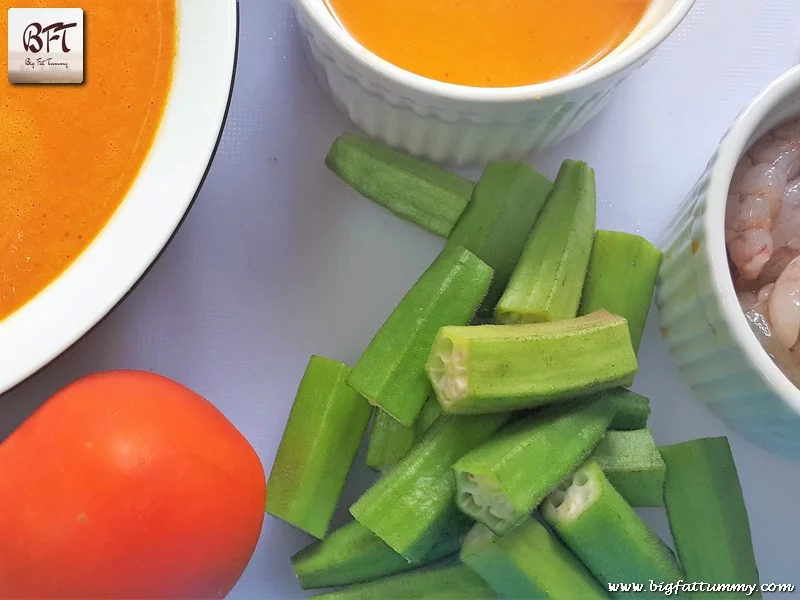 Step 1: Grind all the spices with the coconut using 1 ½ cup hot water and extract the thick spiced coconut milk. Then add ½ cup water to the residue, grind again and extract the thin spiced coconut milk (see method)
Step 2: Heat oil in a pan and add the onion. Sauté for 2 minutes on medium heat. Add the chopped tomato and the slit green chillies. Sauté for another 2 minutes.
Step 3: Add the prawns and mix for a minute. Add the thin spiced coconut milk and let it come to a boil. Add the okra, season with salt and cook covered on low heat for 5 minutes till the okra is half done.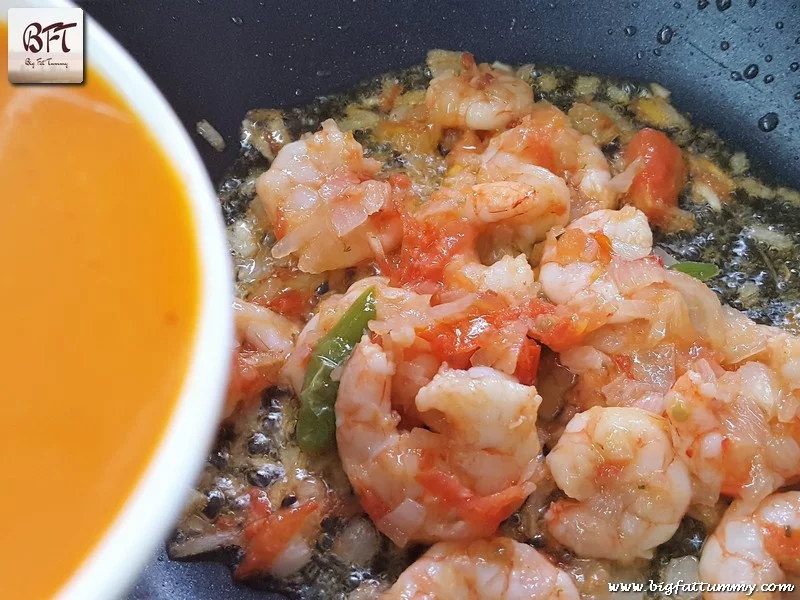 Step 4: Add the thick spiced coconut milk and the sliced tomato and cook half covered on low heat for another 10 to 12 minutes till the lady fingers are cooked.