The Goan Beef Mince Cutlets can be served as starters. You can also stuff them in a pao and make a gaoti burger. My children love to eat these any way it is served to them. They taste good cold too, so you can use them as tiffin fillers. ( For a recipe of Raw Beef Mince Cutlets, click here )
Serves: 6 to 8 Persons
Prep. Time: 30 Mins. + 30 Mins. (marination)
Cooking Time: 40 to 45 Mins.
Ingredients – 1st Part:
Beef Mince (fine ground) – 500 gms.
Onions (finely chopped) – 2 medium
Marinade:
Oil – 1 tbsp.
Step 1: Wash the mince and drain well. Apply all the ingredients for the marinade and keep aside for 20 to 30 minutes.
Step 2: Place a pressure pan on heat and add the oil and the onions. Fry the onions till soft. Add the marinated mince and mix well so that there are no lumps. Cover with a flat lid and cook on low heat for 8 to 10 minutes till the mince releases its juices.
Step 3: Now cover the pressure cooker with its lid and cook on high heat till one whistle. Then switch to low heat and cook for 15 minutes. Switch off the heat and allow the pressure to release naturally.
Step 4: When the pressure has released completely, open the pan and cook further on medium heat till all the liquid evaporates and the mince has dried out.
Ingredients – 2nd Part:
Onions (finely chopped) – 2 medium
Potatoes (boiled & mashed) – 2 medium
Green Chillies (finely chopped) – 2 (optional)
Corriander Leaves (finely chopped) – a fistful
Egg – 1
Rawa [Semolina] (coarse or fine) – as needed
Oil – for deep or shallow frying
Step 5: Once the mince has cooled, add the mashed potatoes, chillies, corriander, onions and egg and mix well. Divide the mixture in 16 to 18 balls. Shape each ball into a cutlet of desired shape and roll in the semolina to coat each entirely. Place in a plate, cover with cling film and keep in the refrigerator for at least 30 minutes.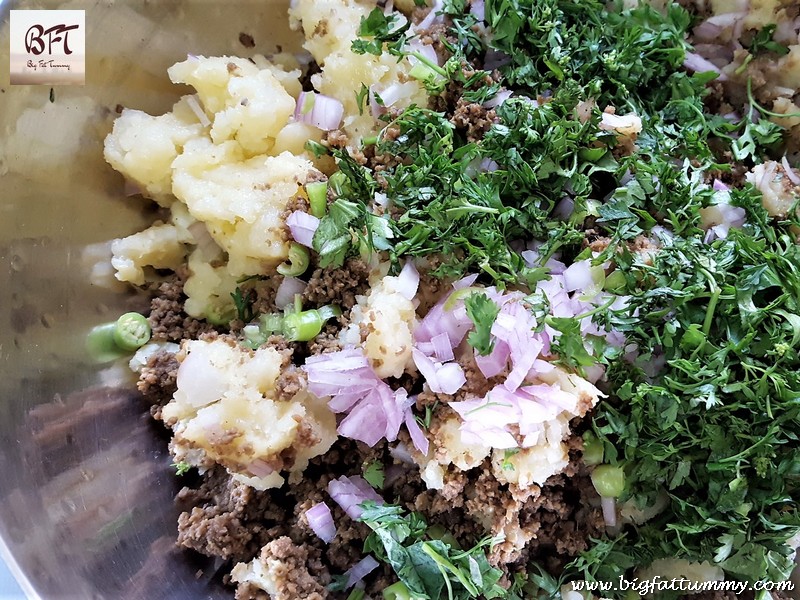 Step 6: Heat a liberal quantity of oil in a pan and shallow fry two to three cutlets at a time till golden & crisp on the outside. Remove and place on a plate lined with paper towels to drain excess oil.