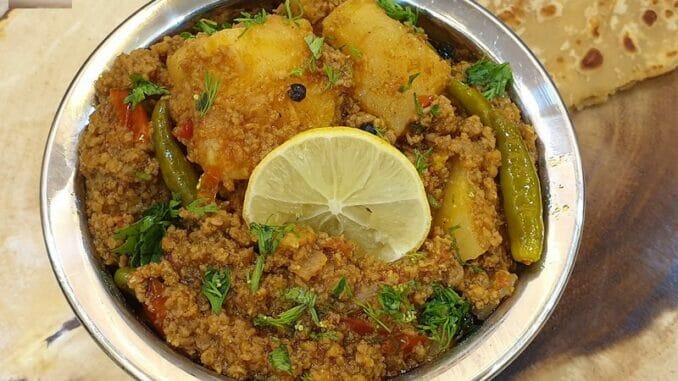 Delve into this Mughlai style Bhuna Beef Kheema with some chapatis (click here) or paratha (click here). You will love the aroma and the lightly spiced kheema (The green chillies only add flavour and don't make the dish spicy at all). If you're palate still feels it's hot you can always pair it with a Raita (click here) or just serve it with some plain curd.
Serves: A Family of Four
Prep. Time: 15 Mins
Cooking Time: 35 to 40 Mins
Ingredients:
[ Standard Measure: 1 cup = 250 ml ]
Beef Mince – 500 gms
Potatoes (peeled, cubed) – 1 big
Onions (sliced) – 2 to 3 medium
Tomatoes (sliced) – 2 medium
Cloves – 4
Cinnamon – 1 inch
Green Cardamom – 2
Black Cardamom – 1 (optional)
Black Pepper Corns – ½ tsp.
Red Chilly Powder – 1 ½ tsp.
Corriander Powder – 1 tsp.
Cumin Powder – ½ tsp.
Garam Masala Powder – 1 tsp.
Turmeric Powder – ¼ tsp.
Ginger-Garlic Paste (fresh) – 1 tbsp.
Green Chillies (slit) – 5 to 6
Lime – 1
Curds – ½ cup
Oil – 100 ml
Salt – 1 ½ tsp.
Step 1: Gather the dry masala powders and ½ tsp. garam masala powder and the salt in a small bowl and keep ready.
Step 2: Heat the oil in a pressure cooker and add the whole spices. Sauté for a minute on medium heat. Then add the sliced onions and sauté till light golden.
Step 3: Add the ginger-garlic paste and sauté for a minute. Then add the mince and cook on medium high heat till the mince changes colour and its juices release. Continue cooking whilst stirring continuously till all the juices dry up.
Step 4: Now add the powdered masalas that you have collected in the bowl and continue to cook the mince whilst stirring for 5 minutes.
Step 5: Add the tomatoes and cook till they turn soft.
Step 6: Next add the potato cubes and saute for a minute. Add the curds and cook whilst stirring for 5 minutes.
Step 7: Add ½ cup hot water and put on the lid of the pressure cooker. Cook on high heat for 1 whistle and then switch off the heat.
Step 8: Open the lid of the pressure cooker and add the juice of the lime, the green chillies and the remaining garam masala powder and cook for 5 minutes. Finally garnish with green corriander and serve.