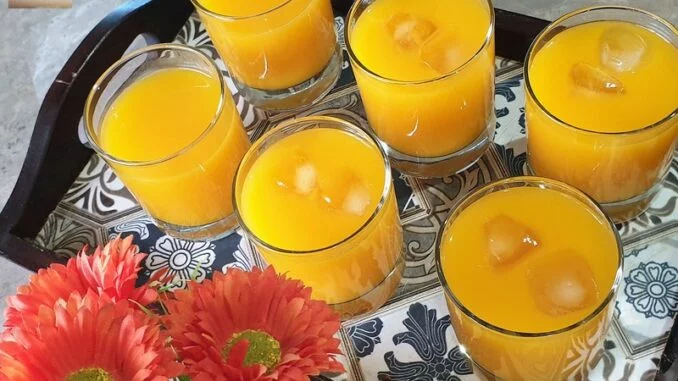 The reason why Frooti is still a huge success in India is definitely because of its taste. Many of us will remember liking it as children and now our children love it too. So why not make something Jus like Frooti. Fix up this mango drink while mangoes are still in season! (You can adjust the consistency of the drink by adding more or less water. Likewise with the sugar)
For more recipes using Mango, click here
Yield: About 2 Litres
Prep. Time: 30 Mins
Cooking Time: 35 to 40 Mins
Ingredients:
[ Standard Measure : 1 cup = 250 ml ]
Ripe Mangoes [Badami] – 2 big
Raw Mango [Totapuri] – ½ big (1 slice)
Sugar – ¾ cup
Step 1: Peel and cube the ripe and raw mangoes.
Step 2: Take a pan and add 1 litre water and the ripe and raw mango pieces to it. Cook half covered on medium heat for 35 minutes till the mangoes are cooked. Then allow to cool completely.
Step 3: Take the sugar and 2 cups water in another pan and place on heat. Stir till the sugar dissolves and then switch off the heat and allow to cool completely (this step is only to melt the sugar).
Step 4: Puree the cooked mango pieces with all its liquids. Then sieve the puree into another clean bowl / vessel. Now strain in the cooled sugar syrup into it. Mix well. Keep the drink in the refrigerator. Serve chilled with ice cubes.