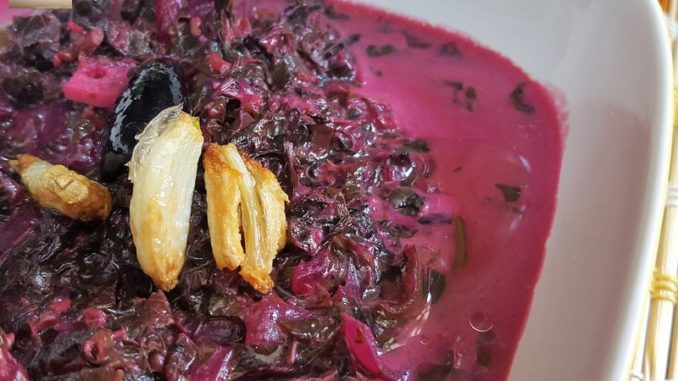 Leafy vegetables are mostly cooked dry or as a semi gravy. I decided to make Red Amaranth with coconut milk and I've named the creation Tamdi Patol Bhaji. It is very simple to make and is non-spicy. I would consider it as a alternative to dal and without having to make vegetable as a side. Just the Tamdi Patol Bhaji and hot rice will suffice. Maybe some fried fish or pickle on the side?
Serves: 4 to 6 Persons
Prep. Time: 15 Mins.
Cooking Time: 25 Mins.
Ingredients:
Tamdi Bhaji [Red Amaranth] – 2 medium bunches.
Thick Coconut Milk (see here) – 250 ml
Onion (finely chopped) – 1 medium
Garlic (finely chopped) – 2
Garlic (crushed) – 4 to 6 (for tempering)
Green Chillies (slit) – 3 to 4
Kokum (soaked in 60 ml warm water) – 6 to 8 petals
Cumin Seeds – ½ tsp.
Hing – a pinch
Sugar – a pinch
Oil – 2 tbsp.
Salt – 1 tsp. or to taste
Step 1: Cut off the stems of the amaranth and wash the leaves thoroughly. Drain and chop fine.
Step 2: Heat 1 tbsp. of oil in a pan and add the cumin seeds and sauté for a few seconds on medium heat. The add the chopped garlic and hing and sauté for another few seconds. Add the onion and sauté till soft.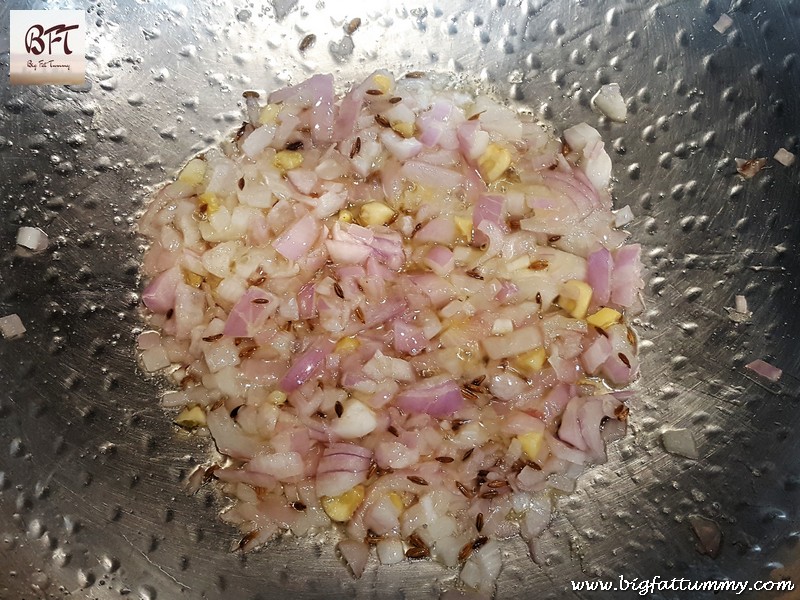 Step 3: Add the slit green chillies and sauté for a minute. Then add the chopped leaves and sauté for 5 minutes. Add 2 tbsp. water, ½ tsp. salt and switch the heat to low. Cover and cook for 5 minutes. Stir in between.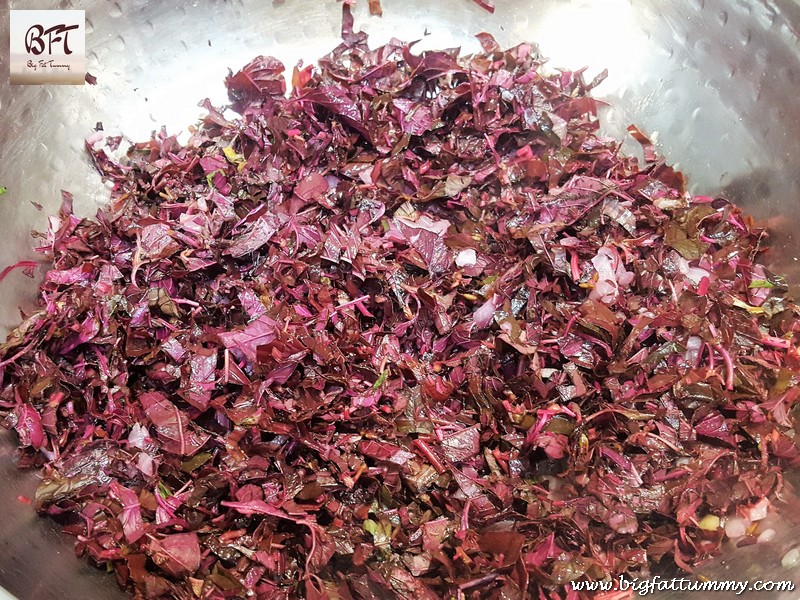 Step 4: The vegetable will be almost cooked. Add the kokum petals with the water and ½ tsp. salt and cook covered for another 5 minutes or till the vegetable is fully cooked.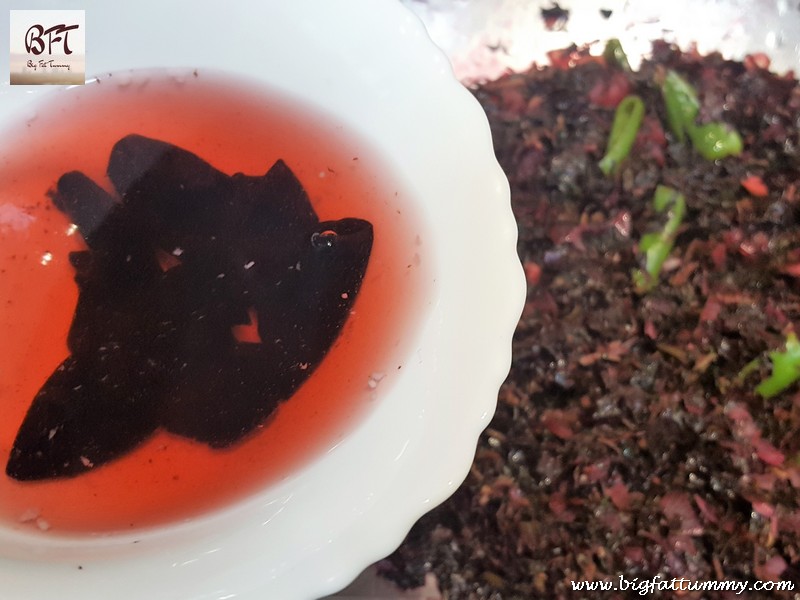 Step 5: Finally add the sugar and coconut milk and cook uncovered for another 2 to 3 minutes. Switch off the heat.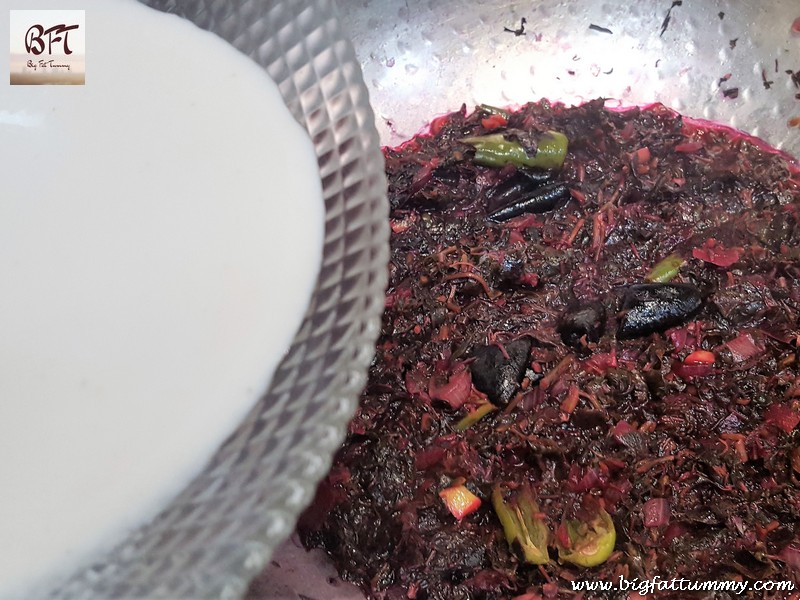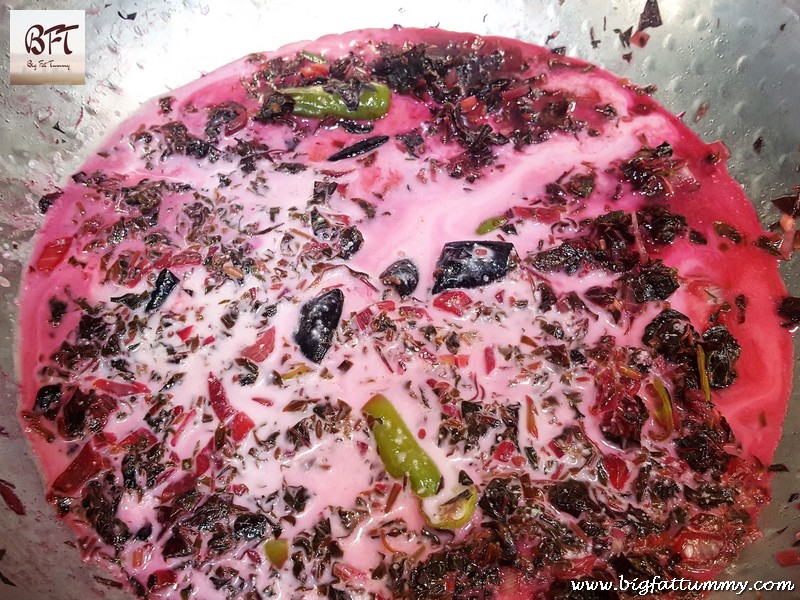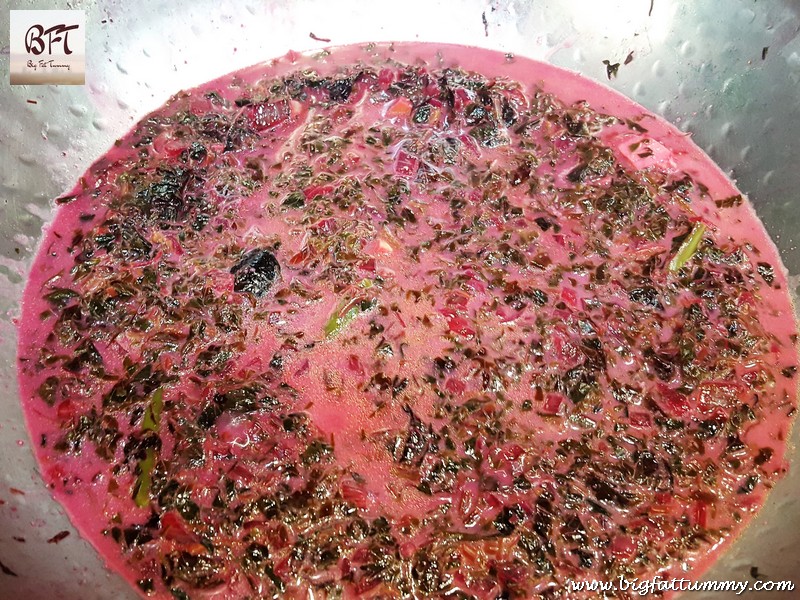 Step 6: Heat 1 tbsp. oil in a tempering spoon / pan and when the oil is hot, put in crushed garlic. Take off the heat in a few seconds before it burns out and add to the cooked vegetable. Cover with a lid and allow to rest for at least 5 minutes before serving.