This recipe was passed on to my mother by her m-i-l, my grand mom. She had had a paralytic attack and yet she was very active. My mother remembers how she was very specific in the steps involved in making this dish. She had the use of one hand and we remember how she still could manage to demonstrate the making of the pomfret in a creamy coconut sauce. The pomfrets have to be cut in a specific manner, the addition of the ingredients has to be timed perfectly and most importantly all the prepped ingredients have to be available at hand to add at the proper time. In order to get the proper consistency one cannot stop in between. The resultant preparation is finger-licking delicious and goes well with steamed rice (For a similar recipe with eggs, click here)
Serves: 4 to 6 Persons
Prep. Time: 25 to 30 Mins. + 40 Mins. (marination)
Cooking Time: 25 Mins.
Ingredients:
White Pomfrets – 500 gms. (3 medium)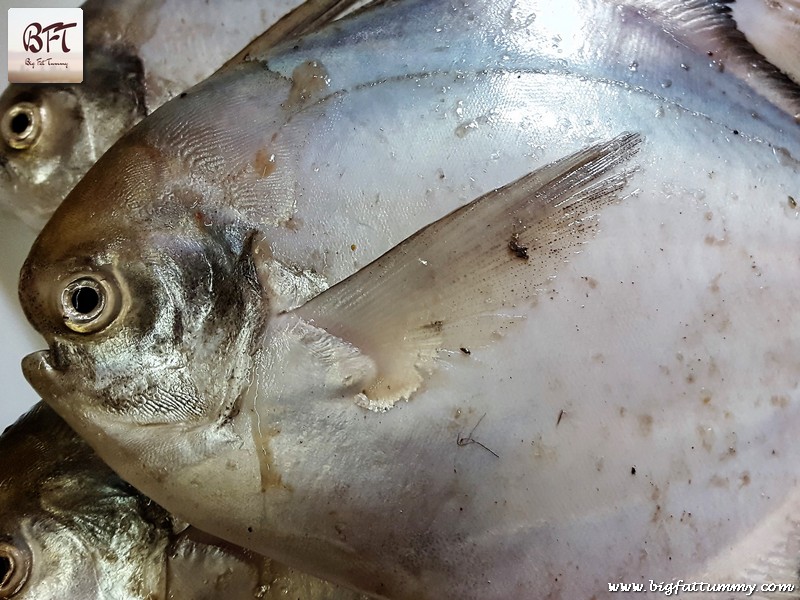 Spiced Coconut Milk

Coconut (grated) – 1 big
Corriander Seeds – 1 tsp.
Cumin Seeds – ¼ tsp.
Turmeric Powder – ½ tsp.

Onion (finely chopped) – 1 medium
Tomato (peel the skin and chop fine) – 1 medium
Light Green Chillies (cut into rounds) – 6 to 8
Corriander Leaves (finely chopped) – 2 tbsp.
Ginger (finely chopped) – 1 ½ inch
Garlic (finely chopped) – 14 to 16 cloves
Vinegar – 3 to 4 tsp.
Egg (whisked) – 1
Sugar – ½ tsp.
Salt – 2 tsp. or to taste
Oil – 1 ½ tbsp.
Step 1: Grind the ingredients for the spiced coconut milk using 1 ½ cup warm water to a fine paste. Sieve using a fine mesh strainer to get the 1st extract (thick milk) and leave aside. Grind the coconut residue with 1 ½ cup warm water and extract the thin coconut milk (click here for reference).
Step 2: Clean and cut the pomfrets into pieces, specifically as show in the picture. Apply 1 ½ tsp. salt to the fish in a plate and leave aside for 30 to 40 minutes. (before adding the fish to the dish, in the steps to follow, insert something under the plate to slant it slightly so that the liquids come to one side of the plate and discard the liquids)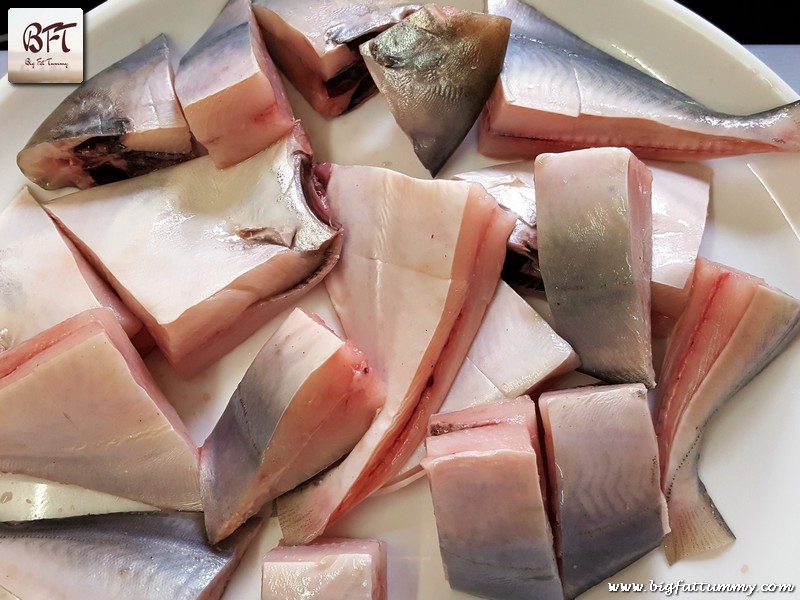 Step 3: Whisk the egg and use only half of the whisked egg. Beat the half whisked egg with 3 to 4 tsp. of palm vinegar and sugar till the sugar dissolves. The resultant mixture should appear homogeneous and watery.
Step 4: Heat the oil in a pan and fry the onions on medium heat till soft. Add the chopped garlic and ginger. Cover and cook on low heat for 2 minutes. Add the chopped tomato and ¼ of the chopped green chillies and cook covered on low heat for a further 2 minutes.
Step 5: Put off the heat and leave covered for 5 minutes. We do not want to brown the tomato but we will cook the tomato in the trapped heat till it is soft and cooked.
Step 6: Re-strain the thin coconut milk and add to the pan with ½ tsp. salt and bring to a boil on medium heat. Next add the fish. Hold the sides of the pan and swirl the pan to coat the fish and distribute it evenly in the pan. Do not use a spoon. Cover and cook on low heat for 4 minutes.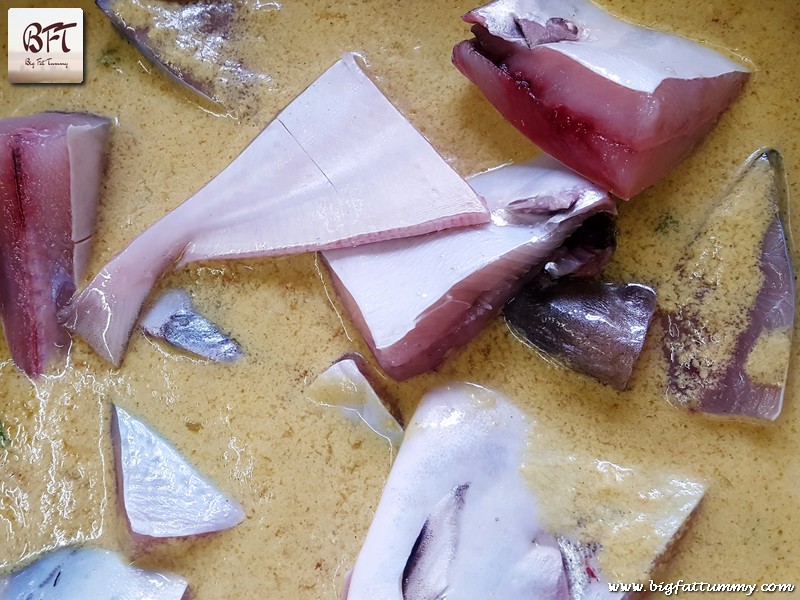 Step 7: Re-strain and add the thick coconut milk and the remaining green chillies into the pan. Cook uncovered on low heat for 2 minutes. Add the egg-sugar-vinegar mixture to the pan and swirl the pan holding its sides. Cook further for 1 ½ minutes. Add the corriander, cover the pan and switch off the heat.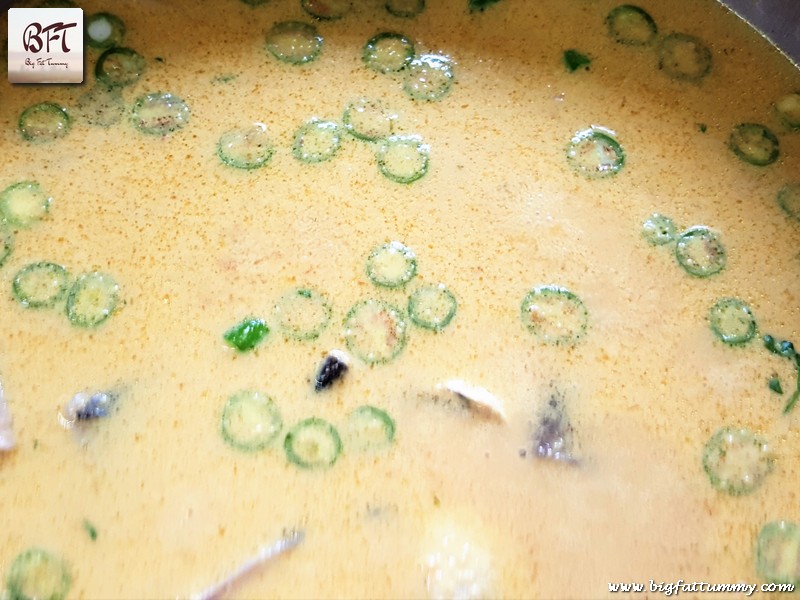 Serve hot with hot steamed rice.
Watch the Video