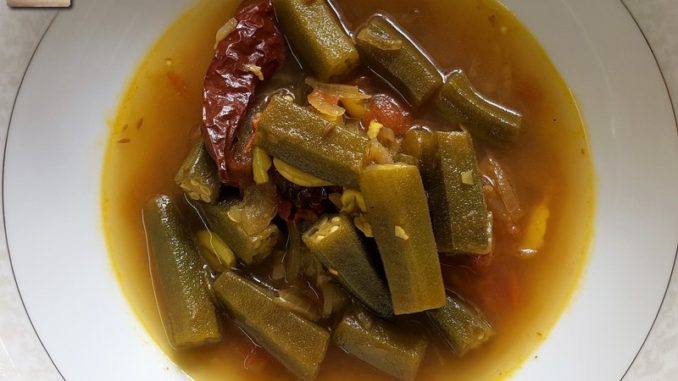 A tangy, watery curry with basic ingredients, this bhende amsol will have you licking your fingers after the meal. This recipe is courtesy my friend and fellow balcaokar, Abhilasha Pereira from Margao, Goa.
Serves: 2 to 3 persons
Prep. Time: 15 to 20 Mins.
Cooking Time: 20 Mins.
Ingredients:
[Standard Measure – 1 cup = 200 ml.]
Fresh & Tender Okra (small) – 18 to 20 pieces
Onion (sliced) – 2 medium
Tomato (cubed) – 1 large
Garlic – 8 cloves
Tamarind (soaked in 2 cups hot water for 10 mins.) – 1 lime sized ball
Dry Red Chillies (broken) – 4
Cumin Seeds – a big fat pinch
Turmeric Powder – ½ tsp.
Oil – 1 tbsp.
Sugar – ½ tsp.
Salt – 1 ½ tsp.
Step 1: Wash the lady fingers and pat them dry. You need to dry them completely or they will turn slimy on cooking. Remove the stem and tail and cut into two pieces. (I've used the small variety and so I have cut each into 2 inch pieces) Apply 1 tsp. salt and keep aside.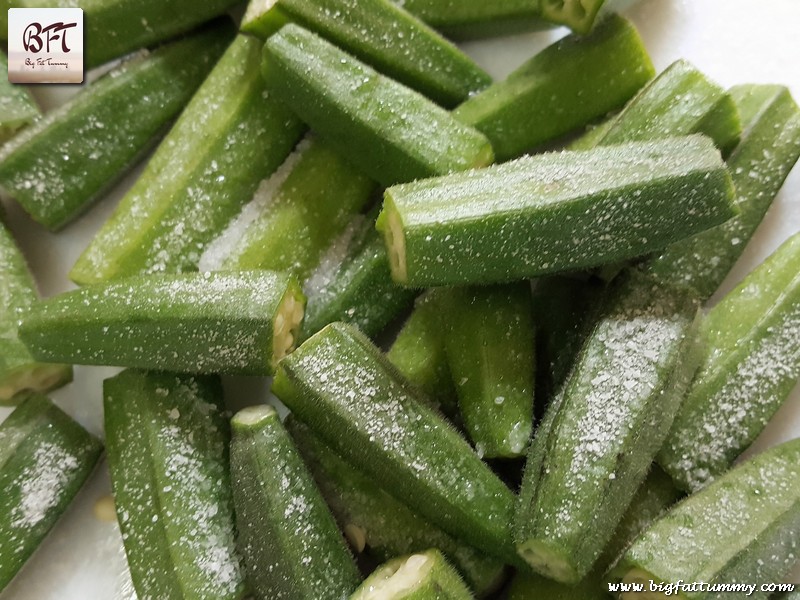 Step 2: Crush the cumin seeds with a mortar and pestle till you can smell the aroma and keep aside. Next pound the garlic coarsely. Put the crushed garlic, the cumin, sliced onion and cubed tomatoes in a vessel and drizzle the oil on it.
Step 3: Place the vessel on low heat and sauté for 2 to 3 minutes. Add the chopped okra and continue to sauté for another 2 minutes.
Step 4: Pulp and strain the tamarind juice into the vessel. Add the dried chillies, turmeric, ½ tsp. salt and sugar. Continue cooking on low heat for 8 to 10 minutes. Check when done, the lady fingers should not be overcooked but must have a slight crunch.