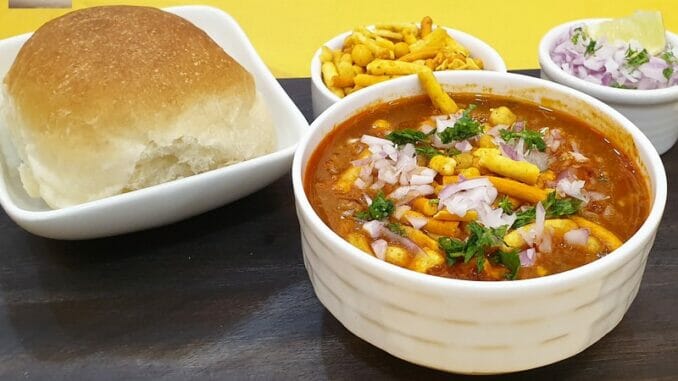 Misal is a spicy broth made with different types of lentils or sprouted lentils. It is a popular dish in Western India. It is served topped with chopped onion and farsan (an Indian snack) and with a wedge of lime and pao on the side (click here). Some also top it with finely chopped tomato in addition to the above or even with curds.
In this recipe, I have used dry white peas which is a popular choice for making the Misal. The Misal is a dish which can be eaten at any time of the day.  We ourselves, including our little ones, enjoy the Misal at any time of the day. We have eaten the Misal as breakfast, lunch and dinner on different occasions and enjoyed it every bit till wiped clean 🙂
Serves: 6 Persons
Prep. Time: 20 Mins.
Cooking Time: 35 Mins.
Ingredients:
[ Standard Measure : 1 cup = 250 ml ]
Dry White Peas – 1 cup
Onion (chopped fine) – 1 medium
Garlic (chopped) – 12 cloves
Lime – 1
Turmeric Powder – ¼ tsp.
For the Masala Paste:

Kashmiri Red Chilly Powder – 3 to 4 tbsp.
Cumin Powder – 1 tsp.
Garam Masala Powder – 1 tsp.
Black Pepper Powder – 1 tsp.
Goda Masala – 1 tbsp. (see notes)
Dessicated Coconut – 4 tbsp.

To Serve (as needed):

Farsan
Onion (finely chopped)
Lime (cut into wedges)
Green Corriander (finely chopped)

Oil – 4 to 5 tbsp.
Salt – 2 tsp. or to taste
Step 1:     Soak the peas for 8 hours or overnight.
Step 2:     Later, drain and add to a pressure cooker. Add 1 tsp. salt, turmeric powder and 1 ¾ cups of water. Put on the lid and pressure cook on high heat for 4 whistles. Then switch off the heat and let the pressure drop naturally (the peas should be cooked and firm, not mushy)
Step 3:     Meanwhile, mix the masala powders and soak in 1 cup of water and make a paste. Leave aside for at least 30 minutes.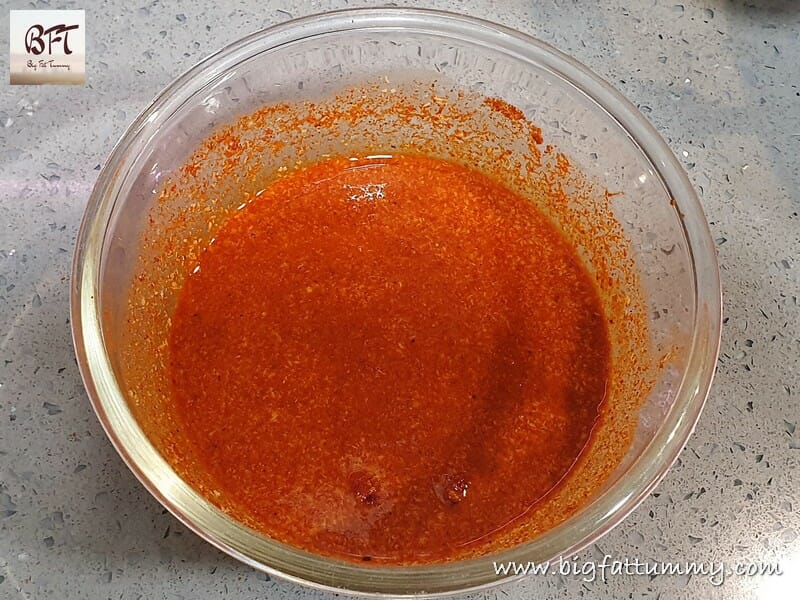 Step 4:     To prepare the misal, heat 4 to 5 tbsp. of oil in a large vessel. Add the garlic and sauté for 30 seconds. Then add the onion and sauté till translucent.
Step 5:     Add the misal masala paste and saute for 2 minutes on low heat (add a tbsp. of water if the masala sticks to the vessel).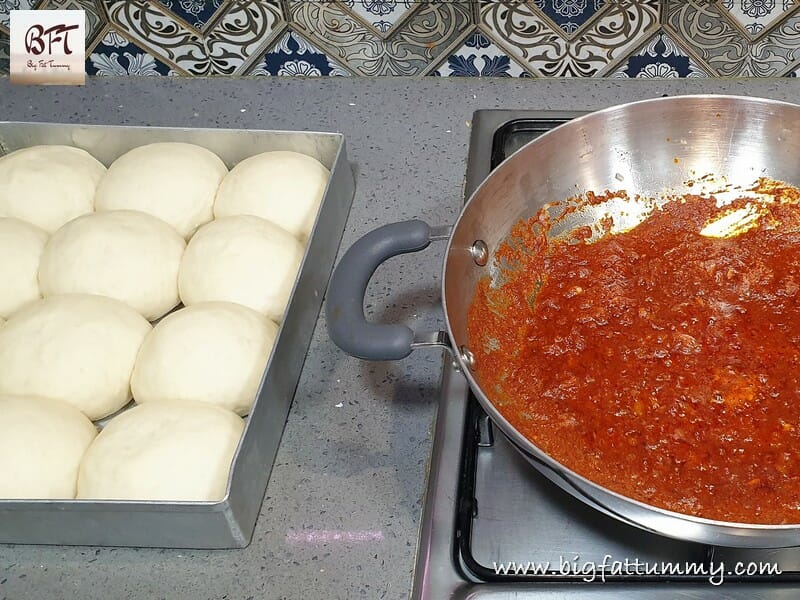 Step 6:     Next add the boiled peas and give a mix. Also add 1 tsp. salt and 3 cups (or more) of hot water to thin out the gravy to a consistency of your liking (the gravy should be watery as the farsan will dry it out). Bring to a boil on high heat. Add the juice of 1 lime and check for salt. Add if needed, mix and let the misal simmer till an oil layer forms on the top (about 15 minutes). Switch off the heat.
Step 7:     To serve, strain some of the peas and add to a bowl. Then add the watery gravy. Top with farsan and then with the onion and some chopped corriander. Serve with a wedge of lime and pao (for pao recipe, click here).
Note:
If you do not have Goda Masala you can replace it with Sunday Masala or Pav Bhaji Masala.