Shakshuka is a popular dish in the Middle East. It is basically poached eggs on a bed of vegetables. (There are other variations of the dish too) The ample use of tomatoes gives it its tanginess and the onions give it its sweetness. My recipe uses a few spice powders which are commonly found in Indian kitchens.
Serves: A Family of Four
Prep. Time: 10 Mins.
Cooking Time: 30 Mins
Ingredients:
Eggs – 8
Tomatoes (chopped fine) – 8 small
Onions (chopped fine) – 3 medium
Capsicum (chopped fine) – 1 large
Green Chillies (chopped fine) – 4
Ginger-Garlic Paste (coarsely chopped) – 1 tbsp.
Green Corriander (finely chopped) – 2 tbsp.
Red Chilly Powder – 2 tsp.
Cumin Powder – 1 tsp.
Corriander Powder – 2 tsp.
Black Pepper Powder (coarse) – ½ + ½ tsp.
Sugar – 1 tsp.
Oil – 4 tbsp.
Salt – 1 tsp. or to taste
Step 1:     Heat the oil in a shallow pan and add the ginger-garlic and sauté it for 30 seconds on low heat.
Step 2:     Then add the onions and sauté till translucent on medium heat.
Step 3:     Now add the capsicum and green chillies and saute for a minute. Then add the tomatoes and saute on high heat for 5 minutes.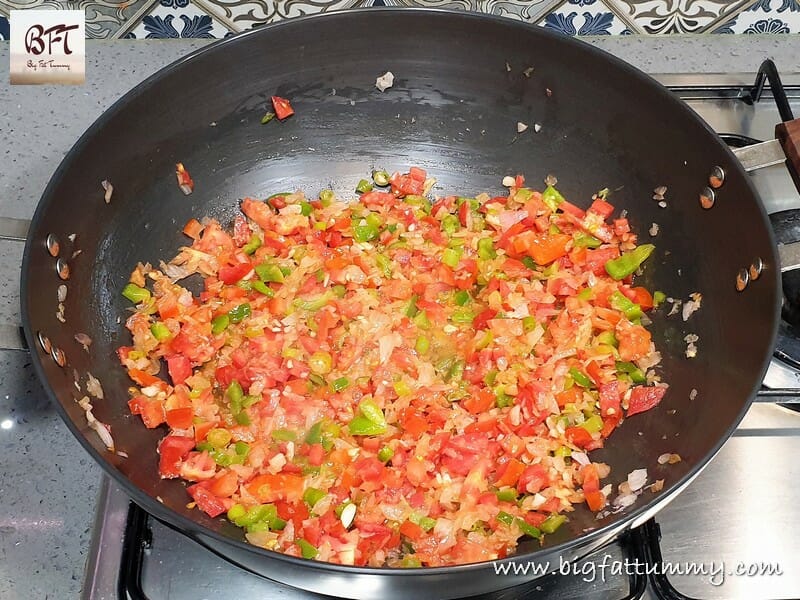 Step 4:     Add the spice powders except the pepper powder and the sugar and salt. Mix and cook covered on low heat for 10 minutes. Now add the sugar and ½ tsp. pepper powder and cook covered for another 2 minutes.
Step 5:     Make small hollows (eight) in the tomato-onion-capsicum bed, break open the eggs and place gently in the hollows. Sprinkle salt and ½ tsp. pepper powder and cook covered for 8 to 10 minutes. Garnish with green coriander and serve hot.