Dry Mackerel Para is a pickle made using sun-dried mackerels. Goans make this pickle and store it for the rainy season as fish is not easily available in those months.
Prep. Time: 30 Mins. + 3 weeks (pickling)
Ingredients:
Dried Mackerels (small) – 12
Ginger (julienned) – 1 inch
Garlic (cut into 2 lengthwise) – 10 cloves
For the Masala:

Bedgi (medium spicy) Red Chillies – 24
Cinnamon – 2 inch piece
Cloves – 20
Black Pepper Corns – 60
Garlic (unpeeled) – 20 cloves
Ginger – 2 inch piece

Palm Vinegar – 500 ml
Step 1: Clean the mackerels (chops off the heads and fins).
Step 2: Take 100 ml vinegar in a glass bowl or a ceramic dish and wash the fish in the vinegar to remove any sand or soil.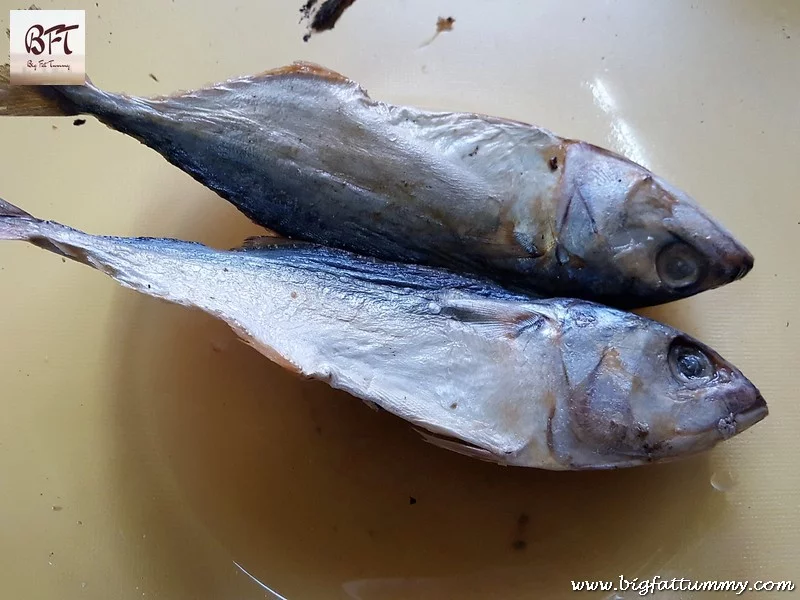 Step 3: Place the cleaned fish in a clean and sterile glass jar big enough to fit all the mackerels. Place the chopped ginger and garlic in between the fish.
Step 4: Dry grind the red chillies, cloves, cinnamon and pepper coarsely. Now add the ginger, garlic and grind further using the vinegar. The spice paste should be slightly coarse and not a fine paste.
Step 5: Add the remaining vinegar to the spice paste and mix. Pour the masala slurry into the glass jar over the fish till all the fish are completely immersed in it. Use more vinegar if you fall short.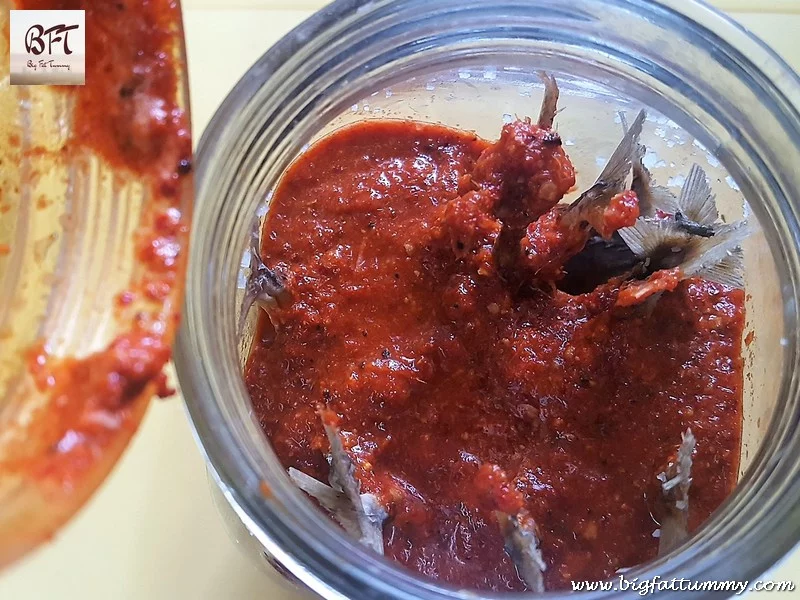 Step 6: Cover the jar and leave overnight. Add more vinegar the next day to compensate any loss. The mackerels must remain complete immersed in the masala-vinegar slurry for at least 3 weeks.
How to Serve:
Heat a little oil in a pan. Fry the pickled mackerel on each side for 2 minutes each and serve at the side.