The ever popular one pot meal, Biryani, when made with eggs is just as delicious. Eggs are the cheapest source of protein and this biryani is a good way to get your kids eat eggs.
Serves: 4 to 6 Persons
Prep. Time: 20 Mins.
Cooking Time: 35 to 40 Mins.
Ingredients:
Cooked Basmati Rice (click here)
Hard Boiled Eggs – 6
Onions (sliced) – 2 large
Tomatoes (finely chopped) – 2 small
Kashmiri Red Chilly Powder – ½ tsp.
Turmeric Powder – ½ tsp.
Garam Masala Powder – 1 tsp.
Curds (whisked) – 4 tbsp.
Lime – 1
Birista (click here) – 2 large onions
Kesar [Saffron] – 2 pinches (soaked in ¼ cup warm milk)
Cashew Nuts (fried till light brown in a little oil) – for garnish
Green Corriander Leaves (chopped) – for garnish
Veg Stock Cube – 1 small (dissolved in ½ cup warm water)
Oil – 2 tbsp.
Ghee – 2 tbsp.
Salt – 1.5 tsp or to taste
For the Masala:
Green Corriander (with the stalk) – 1 cup
Mint Leaves – ½ cup
Green Chillies – 2 to 3
Ginger – 1 inch
Garlic – 10 cloves
Cashew Nuts – 5
Step 1:     Grind the ingredients listed under masala, using a little water, to a fine paste.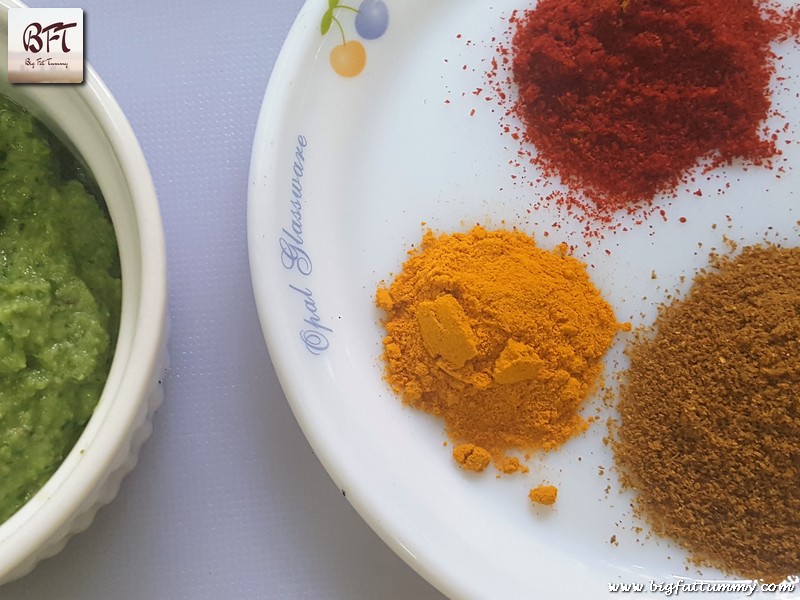 Step 2:     Heat 2 tbsp. oil in a frying pan. Add the sliced onions and fry till golden brown on medium heat. Next, add the masala paste and sauté for 2 to 3 minutes. Add the chilly powder, turmeric powder and garam masala powder and mix. Add the tomatoes,1 tsp salt and sauté for 5 to 7 minutes on low heat.
Step 3:     Next add the whisked yoghurt and sauté for 2 minutes. Add ½ cup stock and cover and cook on low heat for 5 minutes. Add the lime juice and mix. Check for seasoning and add if required.
Step 4:     Transfer the gravy into a suitable flat vessel. Arrange the boiled eggs on the gravy. Next, spread the rice evenly. Dot with the saffron milk and ghee. Sprinkle some corriander leaves, birista and 3 tbsp. hot water. Seal with aluminium foil and place a lid on top.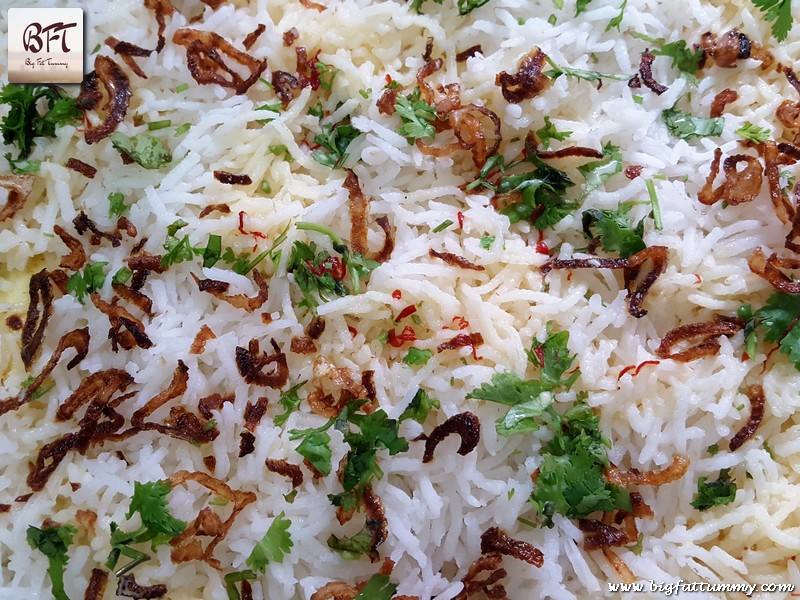 Step 5:     Heat a flat thick griddle pan. Place the vessel with the assembled biryani on the griddle and cook for 10 to 15 minutes on low heat.
Serve garnished with birista, corriander and cashew nuts.