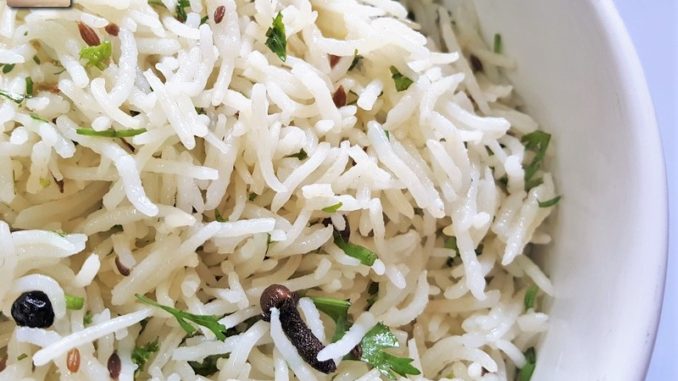 Jeera Rice goes well with all vegetarian Indian Punjabi gravies. I have added corriander which makes it more aromatic and tasty and therefore can also be eaten by itself. You can also pair it with non-vegetarian gravies. It is basically an alternative to eating plain rice and the jeera in the rice helps the gastric system.
Serves: A Family of Four
Prep. Time: 10 Mins. + 20 Mins (soaking)
Cooking Time: 15 to 18 Mins.
Ingredients:
[Standard Measure – 1 cup = 200 ml.]
Basmati Rice – 1 ½ cup
Corriander Leaves (chopped finely) – ½ cup (optional)
Cumin Seeds – 1 ½ tsp.
Cinnamon – 2 x 1 inches
Green Cardamom – 1
Cloves – 6
Black Pepper Corns – 10
Bay Leaf – 1
Lime Juice – 2 tsp.
Ghee – 3 tbsp.
Salt – 1 ½ tsp.
Step 1: Wash and soak the rice for 20 minutes.
Step 2: Heat 3 ½ cups water in a vessel. Simultaneously, in another non-stick or heavy bottom vessel, heat the ghee and add the cumin seeds. Once fragrant, add cinnamon, cardamom, bay leaf, cloves, peppercorns and sauté for a few seconds. Drain the rice and add to the vessel. Mix the rice gently till it is coated and the grains turn transparent.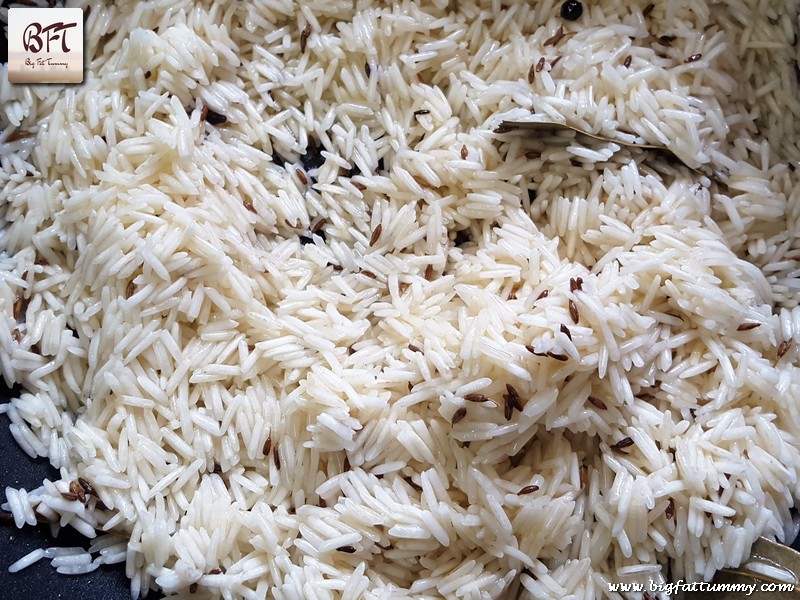 Step 3: Add the hot water you have heated in the other vessel with the lime juice and salt to the rice. Mix and cook uncovered on low heat for 3 minutes. Cover and cook further for 10 to 12 minutes till the water is absorbed. Switch off the heat and keep covered for 15 minutes.
Step 4: After 15 minutes, fluff the rice with a fork and add the corriander leaves and mix.