This Goan Squid Chilly Fry preparation is like the one that chef's prepare in many Goan Restaurants.
When I had just started my blog in September 2016, I had posted the recipe of a Goan Prawn Chilly Fry (see here) and as I always do, I also posted the pictures on my Facebook page. Little did I know that I would be trolled by a chef, Mr. N. He was adamant and insisted that this was not an authentic Goan Prawn Chilly Fry and that the Goan version was red in colour because it uses the recheado masala. He also called upon other Goan chefs to denounce my dish. I tried in vain to explain that this was how it was prepared in most Goan households and that there were various ways in which it could be prepared.
Well, my Madhouse Balcao Girls came to the rescue and also when none of the 'famous' chefs that Mr. N called upon, commented; Mr. N deleted all comments and that was the end of the story. I still feel though, that he follows my page.
Today as I recall the story, I present to you, the restaurant quality Goan Squid Chilly Fry. Enjoy it, it's quick and easy to make and healthier as we use the choicest produce and don't make use of food colours or other such things at home. ( For a recipe for Squid Chilly Fry without Recheado Masala, click here )
Serves: A Family of Four
Prep. Time: 15 Mins.
Cooking Time: 10 Mins.
Ingredients:
Squids – 10 to 12 medium sized
Onions (sliced) – 2 medium
Capsicum (sliced) – 1 large
Tomato (deseeded & sliced) – 1 large
Green Chillies – 2 (slit)
Turmeric Powder – ¼ tsp.
Garlic (finely chopped) – 12 big
Ginger (finely chopped) – 1 inch
Red Chilli Powder – 1 tsp.
Corriander Powder – ½ tsp.
Cumin Powder – ½ tsp.
Recheado Masala (with a twist) – 2 tbsp.
Tomato Ketchup – 2 tbsp.
Oil – 2 to 3 tbsp.
Salt – 1 tsp. or to taste
Step 1: Clean the squids and wash the cavities well. Drain and slice in ½ inch broad rings. Apply ¼ tsp. turmeric and 2 tbsp. recheado masala and leave aside for 15 to 20 minutes.
Step 2: Meanwhile heat oil in a pan and add the finely chopped ginger and garlic and sauté for a few seconds on medium heat till it is fragrant. Add the sliced onions and sauté for a minute. Throw in the masala powders, lower the heat and sauté for a few seconds.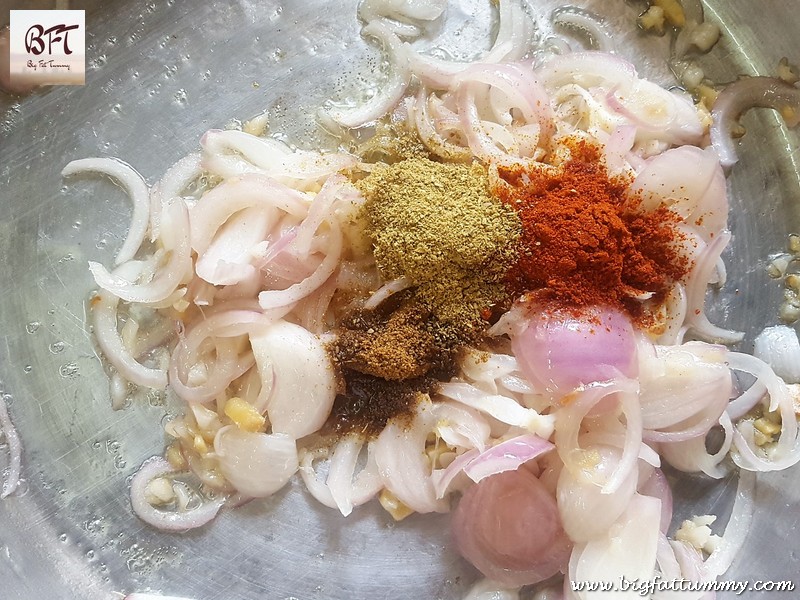 Step 3: Add the sliced tomatoes and give a quick stir before adding the marinated squids and salt. Sauté for 2 minutes and then add the capsicum and continue sauteing till water is released by the squids. Add 2 to 3 tbsp. hot water and cook covered on low heat for 3 to 4 minutes or till the squids are done (the way you like them).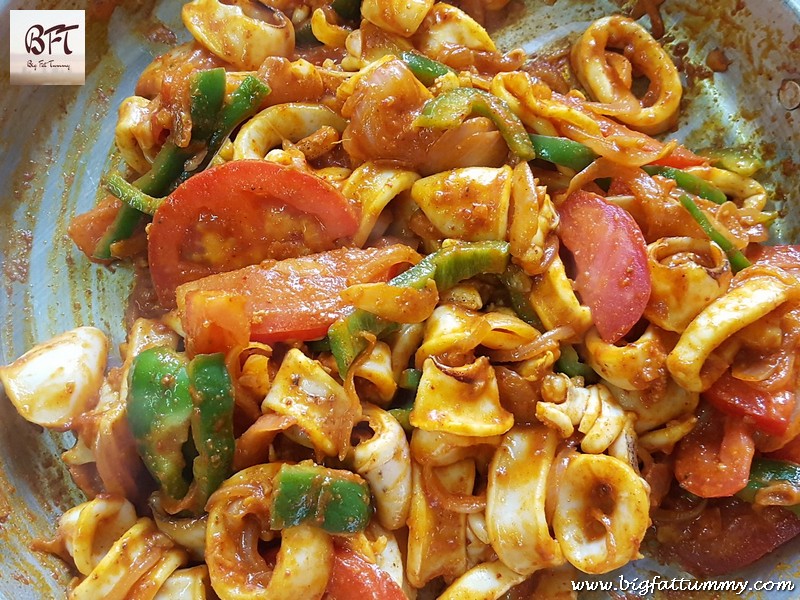 Step 4: Open the lid, add the ketchup, green chillies and mix and cook covered for another minute.
Serve hot as a starter or accompaniment.