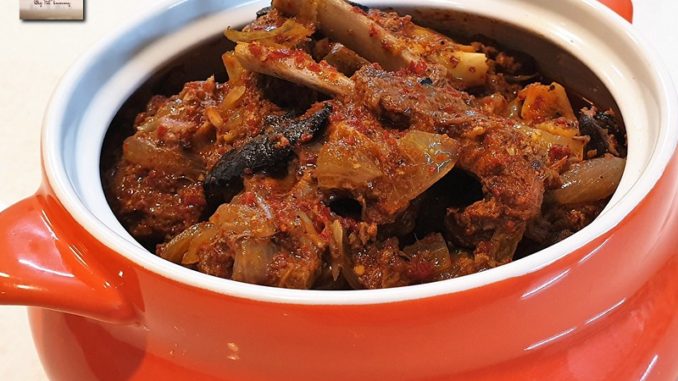 Pork Aad Maas is a Goan preparation of pork that is on the bone. The Pork Aad Maas is slow cooked and the resultant broth is sweet, tangy and mildly spiced. You can serve the broth with rice or enjoy it with pao.
Serves: 8 Persons
Prep. Time: 20 Mins + Marination
Cooking Time: 1 ¼ Hour
Ingredients:
Pork (on the bone) – 1 kg
Onion (peeled & cubed) – 2 medium
For the Masala:

Bedgi Red Chillies (deseeded) – 7 to 8
Kashmiri Red Chillies (deseeded) – 7 to 8
Black Pepper Corns – 12
Cloves – 7 to 8
Cinnamon – 1 inch
Cumin Seeds – ½ tsp.
Turmeric Powder – ½ tsp.
Ginger – ½ inch
Garlic – 8 cloves (medium sized)
Toddy Vinegar – 100 ml

Kokum [Garcinia Indica] – 3 to 4 petals (optional)
Tamarind (soaked in 250 ml hot water) – 1 small marble sized ball
Salt – 1 tbsp. or to taste
Step 1: Wash the bone-meat and drain well. Apply the salt and leave aside for ½ an hour.
Step 2: Grind the ingredients for the masala without the vinegar to a coarse powder. Then add the vinegar and a little water. Grind further but keep the masala paste coarse (you can grind fine if you like too).
Step 3: Marinate the meat with the ground masala paste and leave aside for an hour or overnight.
Step 4: Later, transfer the meat to a pan. Place the cubed onion over the meat. Pulp and strain the tamarind water into the pan.
Step 5: Place the pan on low heat and cook covered for 15 minutes. Then add 250 ml hot water.
Step 6: Add the kokam (see note) and continue cooking on low heat for another hour or till the meat is tender. Check for salt and sourness and adjust, just before you are done.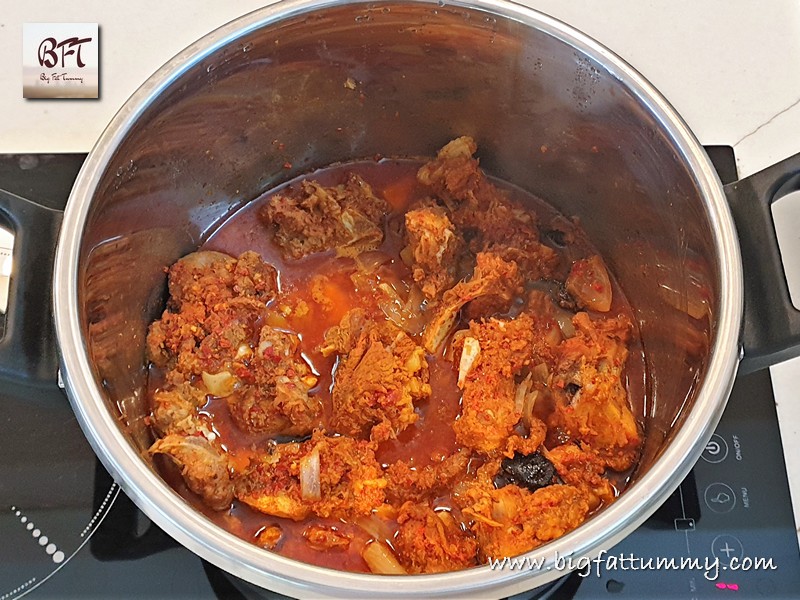 Notes:
You can pressure cook the bone-meat too. Pressure cook on high heat till the 1st whistle and then for 30 to 35 minutes on low heat.
If you like less tangy skip the kokam.
You could reduce the chillies to 6 each if you prefer milder.
This recipe was cooked and clicked at 'Lianne's Apartment', Betalbatim, Goa. Thank you Lianne Dias Valadares for the use of your kitchen.