Follow easy steps and make this yummy chicken meatball biryani. Although the recipe looks quite lengthy it is quite easy to make and worth the effort. The biryani is a complete meal and you can serve it with a vegetable raita on the side.
Serves: 6 Persons
Prep. Time: 30 Mins. + Marination
Cooking Time: 70 to 75 Mins.
1st Part – Making the Koftas / Meatballs:
Ingredients:
[Standard Measure – 1 cup = 200 ml]
Chicken Kheema [Mince] – 500 gms
Onion (finely chopped) – 2 small
Green Chillies (finely chopped) – 2
Corriander Leaves (finely chopped) – ½ cup
Ginger-Garlic Paste – 2 tsp.
Red Chilly Powder – 1 tsp.
Garam Masala Powder – ½ tsp.
Lime Juice – 1 tbsp.
Besan [Chick Pea Flour] – 2 tbsp.
Oil – 2 tbsp.
Salt – 1 tsp.
Step 1: Wash the kheema and drain well (this step is optional). Mix all the above ingredients except the oil with the kheema and keep to marinate in the refrigerator for 45 to 60 minutes.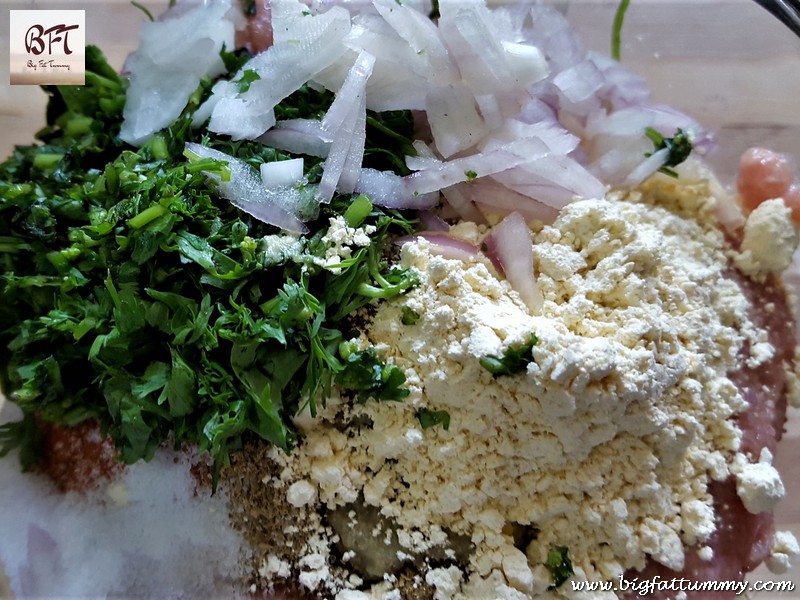 Step 2: Later make lime sized balls of the marinated kheema and sear the balls till they get a nice golden coating. Transfer to a plate and keep aside.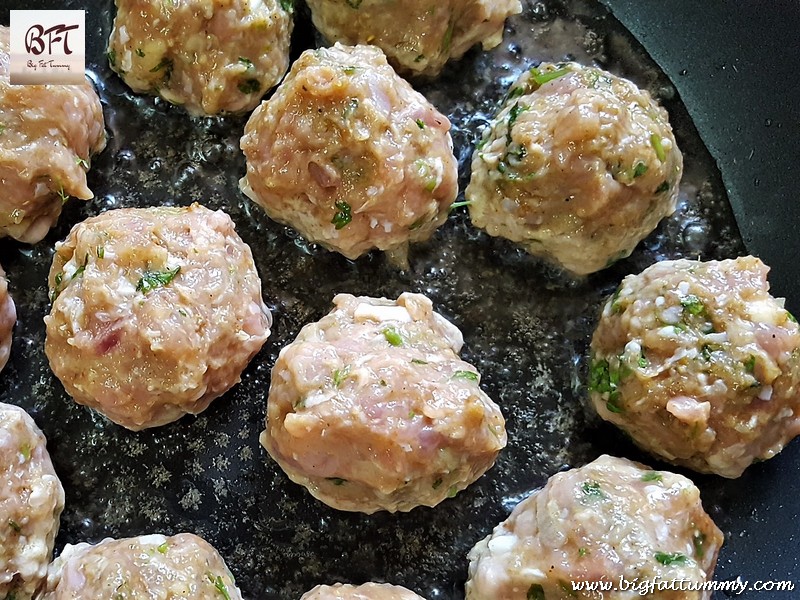 2nd Part – Making the Gravy:
Ingredients:
[Standard Measure – 1 cup = 200 ml]
Onions (sliced) – 2 large
Ripe Tomatoes (deseeded & ground) – 3 medium
Green Chillies (slit) – 2
Ginger-Garlic Paste – 1 tbsp.
Red Chilly Powder – 2 tsp.
Jeera [Cumin] Powder – 1 tsp.
Corriander Powder – 1 tbsp.
Garam Masala Powder/Biryani Masala Powder – 1 ½ tsp.
Cinnamon – 1 inch
Green Cardamom – 4
Cloves – 4
Shahi Jeera [Caraway Seeds] – ½ tsp.
Cumin Seeds – ½ tsp.
Bay Leaf – 1
Corriander Leaves – ¼ cup
Mint Leaves [Pudina] – ¼ cup
Thick Curds (beaten) – 1 ½ cup
Stock Cube – 1 small
Lime Juice – 1 tbsp.
Oil – ½ cup
Salt – 1 tsp. or as needed
Step 3: Heat the oil in a pan and add the whole spices. Sauté for a few seconds on low heat. Then add the onions and sauté till light golden. Add the green chillies and sauté for a minute till aromatic.
Step 4: Next add the ginger-garlic paste and sauté till the raw smell disappears. Add the tomato paste and continue cooking on low heat for another 10 minutes.
Step 5: Then add the powder masalas and sauté for 2 minutes. Add the beaten curds, crushed stock cubes and 1 cup hot water. Check for salt and add if required. Cook the gravy for 6 minutes and then add the chicken balls, lime juice and the mint and corriander. Mix and cook covered on low heat for 12 to 15 minutes till the balls are well cooked.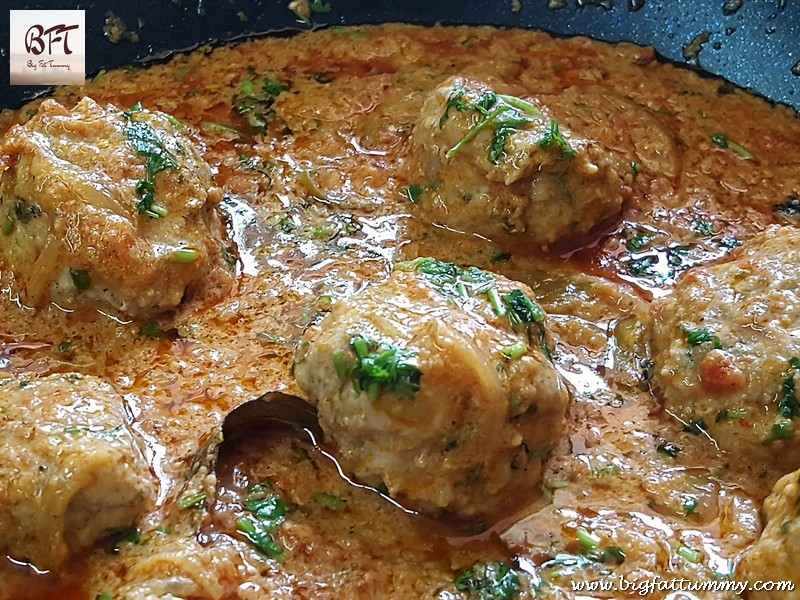 3rd Part – Assembling the Biryani:
Ingredients:
[Standard Measure – 1 cup = 200 ml]
Basmati Rice (cook as detailed here) – 1 ½ cups (uncooked)
Birista (click here) – ½ cup or as needed
Cashew Nuts (fried in some ghee till crisp) – as needed
Green Corriander Leaves (chopped) – 2 tbsp.
Orange Food Colour (dissolved in 2 tbsp. water) – a few drops
Saffron [Kesar] (soaked in 2 tbsp. warm milk) – 10 to 12 strands
Step 5: Take a vessel suitable to assemble the biryani. Spread half of the cooked rice in the vessel. Then spread the gravy and chicken balls evenly over the rice. Layer again with the remaining rice.
Step 6: Sprinkle the ghee, saffron milk and food colour over the rice. Garnish with the green corriander and the fried onion (birista). Cover the opening of the vessel with foil and place a lid on it.
Step 7: Place a thick tawa (griddle) on heat and place the vessel on the tawa. Cook on low heat for 15 to 20 minutes. Later switch off the heat and allow to rest. Serve after 15 to 20 minutes with raita.