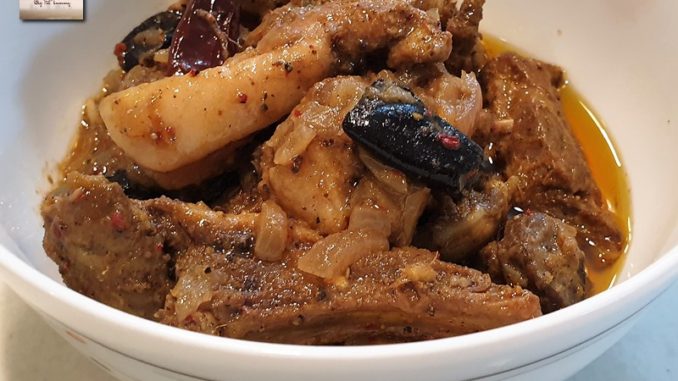 Pork Amsol is a Goan preparation of Pork Ribs with minimal spices. It is a tangy preparation and gets its tang primarily from kokam [Garcinia Indica] and tamarind.
Serves: 6 to 8 Persons
Prep. Time: 30 Mins
Cooking Time: 50 to 55 Mins
Ingredients:
Pork Ribs (chopped) – 1 kg
Dry Red Chillies (broken) – 2 to 3
For the Masala Paste:

Black Pepper Corns – 1 tsp. / 20
Cumin – ¼ tsp.
Cinnamon – 1 inch
Cloves – 8 to 10
Turmeric Powder – ¼ tsp.
Ginger – 1 inch
Garlic – 1 small pod / 10 cloves
Vinegar – 2 tbsp.

Onion (cubed) – 2 medium
Kokam – 4 to 6 petals
Tamarind (soaked in 300 ml hot water) – 1 lime sized ball
Sugar – ½ tsp. (optional)
Salt – 1 tbsp. or to taste
Step 1:     Wash and drain the ribs. Marinate with 1 tbsp. salt and ½ tsp. sugar. Leave aside for 30 minutes.
Step 2:     Grind all the ingredients for the masala paste with the vinegar and a little water.
Step 3:     Apply the ground masala paste and marinate overnight in the refrigerator.
Step 4:     The next day, take the marinated bone-meat in a vessel and add the onion, kokum and dry red chillies. Also, pulp and strain the tamarind water into the vessel.
Step 5:     Place on heat and cook covered on low heat for 50 to 55 minutes till the meat starts leaving the bone.
Note:
This recipe was cooked and clicked at 'Lianne's Apartment', Betalbatim, Goa. Thank you Lianne Dias Valadares for the use of your kitchen.